The 2013 Nebula Award winners were announced on Sunday, May 17 at the annual Science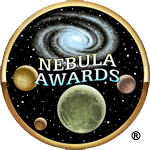 Fiction and Fantasy Writers of America's Nebula Awards Weekend in San Jose, California.  A highlight of the weekend was the induction of Samuel R. Delany as the newest SFWA Grand Master.
However, the most exciting news was the announcement of the Award winners, as voted on by active SFWA members.  According to the SFWA website, "Since 1965, the Nebula Awards have been given each year for the best novel, novella, novelette, and short story eligible for that year's award. The Award for Best Script was added in 2000. An anthology including the winning pieces of short fiction and several runners-up is also published every year."
And this year's winners are:
Best Novel:  Ancillary Justice by Ann Lechie
Best Novella:  The Weight of the Sunrise by Vylar Kaftan
Best Novelette:  The Waiting Stars by Aliette de Bodard
Best Short Story:  If You Were a Dinosaur, My Love by Rachel Swirsky
Ray Bradbury Award for Outstanding Dramatic Presentation:  Gravity (Alfonso Cuarón, director; Alfonso Cuarón & Jonás Cuarón, writers)
Congratulations to all the winners and nominees!
Subscribe to our Newsletter