On Thursday, June 12, the Library of Congress announced that Charles Wright would be this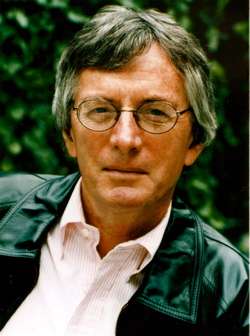 year's poet laureate.  (In the United States, the poet laureate position lasts a year – sometimes two – and has few official duties other than overseeing a series of readings and lectures at the Library of Congress, and generally promoting poetry throughout the year.)
Mr. Wright, from Tennessee, humbly (and we must believe with a smile) describes himself as the rare Southerner who cannot tell a story.  While that might be somewhat debatable, his poetry has certainly received many accolades.  Among his awards are the National Book Award (in 1983 for Country Music:  Selected Early Poems) and the Pulitzer Prize (in 1998 for Black Zodiac).  According to an article in the New York Times (click on the link, it's a great article!), James Billington, the librarian of Congress, had this to say of Mr. Wright's appointment:
His "combination of literary elegance and genuine humility — it's just the rare alchemy of a great poet," Dr. Billington said. Mr. Wright's work, he added, offers "an infinite array of beautiful words reflected with constant freshness."
For a taste, here is the poem "Clear Night", from the 1982 collection Country Music:  Selected Early Poems:
Clear night, thumb-top of a moon, a back-lit sky.
Moon-fingers lay down their same routine
On the side deck and the threshold, the white keys and the black keys.
Bird hush and bird song. A cassia flower falls.
I want to be bruised by God.
I want to be strung up in a strong light and singled out.
I want to be stretched, like music wrung from a dropped seed.
I want to be entered and picked clean.
And the wind says "What?" to me.
And the castor beans, with their little earrings of death, say "What?" to me.
And the stars start out on their cold slide through the dark.
And the gears notch and the engines wheel.
Lovely.  Our congratulations to Charles Wright, newly appointed poet laureate of the United States!
New York Times article: Charles Wright Named America's Poet Laureate