Today at the dog park, one of the topics discussed by us "8:30 regulars" included high school graduations.  It is, after all, that time of year, for mortarboards and diplomas and college visits and looking forward.  Some of the folks at the park have kids who are graduating in a few weeks, or next year; some of us have children who are done with their schooling, but even those without kids could remember what it was like to hit that rite of passage – graduation – and the thrill of making our way forward to the next phase of life.  Some talked of colleges and universities their sons and daughters were attending or had attended, some talked fondly of their own collegiate choices.  The sun was shining (finally!), the air was cool, the dogs were frisky and life was good.
Upon returning home with the Mighty Belle and checking in on Facebook while the morning coffee brewed, I found my news feed inundated with "The 21 Greatest Commencement Speeches of the Last 60 Years", and "10 Great Commencement Speeches by Writers", and the like.  (It is, after all, that time of year, and social media loves to bait us up onto their "timely" bandwagons.)  One of the highlighted speeches in one of the posts I glanced at was from my own son's 2012 graduation ceremony at the University of Wisconsin-Madison, given by Carol Bartz, former President and CEO of Yahoo!.  I will attest to it being a pretty kick ass commencement speech.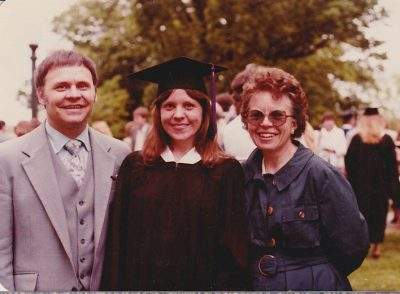 I don't remember who the speaker was at my own college graduation ceremony (and don't feel compelled beyond a few unsuccessful Google searches to find out).  Of course, that happened decades ago, back before there were videos of everything available almost everywhere.  I think the speaker was a fairly local politician, and I'm sure it was a fine speech.  But I was simply giddy in knowing I had made it through four years of college and had graduated with some level of honors, and that the day was fine, and my parents were there, and that I had my whole life spreading out in front of me.  Life was good.
Since then, I have heard and experienced many fine speeches.  Been inspired by many great speakers, on stages large and small.  But today, in celebration of those who are standing at the threshold of their burgeoning lives, and for those of us who may be more comfortable in where we are but still understand that there is wisdom, always, in looking ahead, I wanted to share the commencement speech that never ceases to give me goosebumps, even now, with its immeasurable wit, humor, eloquence and insight:  J. K. Rowling's 2008 commencement address to the graduates of Harvard University.  (Neil Gaiman's 2012 speech to the graduates of the University of Arts in Philadelphia and David Foster Wallace's speech in 2005 at Kenyon University come close, but Jo takes the prize, in my book.)
So when you can, clear 20 minutes from your busy schedule, sit down, close your eyes, and prepare to be inspired.  Whether you are graduating from high school or college, whether or not you have loved ones in a glorious state of transition, if you remember the headiness of accomplishment, or simply enjoy a wonderful speech elegantly delivered, you will surely take something wonderful away from this address.
And wherever you are, I hope the sun is shining, the air is cool, the dogs are frisky, and life is good.  Until next week, enjoy.
~ Sharon Browning
*This piece first appeared on LitStack in May of 2016*