Gimbling in the Wabe – It's Too Danged Hot!

Dang, it's hot.  Too hot.
I know you folks in Southern climates may well be guffawing at us Northerners now, like we don't know hot, but I don't care.  Heck, I moved North to get away from all this!
For those who may not know, I live in Minneapolis, Minnesota; I have for 35 years.  Normally, I love it here.  But today, the temperatures are supposed to be in the upper 90s, possibly tipping 100.  Okay, that's do-able.  But when the humidity levels are in the mid- to upper-70s, the heat index soars to where it is literally off the charts. Meteorologists say it's going to be 115 or hotter in the shade.  And it's instant sauna when  you step outside.  Worse than a sauna, because here in the city, where I live, the air quality is piss poor.  It makes it hard to breathe.
Okay, okay, so LitStack Editor-in-Chief Tee Tate, down in her home in Louisiana, may be chuckling to herself, and saying "Oh, sugar, you don't know heat like we know heat!"  True.  And my friends in Florida or Texas have no sympathy for my plight at all.  So be it.
I would gladly take wind chills at -40 rather than heat indices at 110+.  Any day.  As we were commiserating at the dog park yesterday as the heat was starting to ratchet up, in the cold, you can always put more on:  flannel shirts, woolen socks, blankets, comforters.  But in the heat, there's only so much you can take off.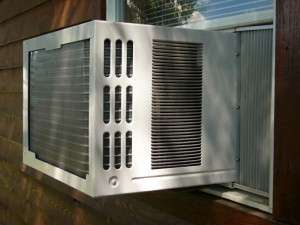 Thank heavens for air conditioning!  We don't have central air in our 100 year old house, but we do have a couple of window air conditioners, one upstairs and one downstairs.  We try not to run them at the same time, and because they are so inefficient (and expensive to run), we don't turn them on until the sweat starts to trickle or sleeping becomes unbearable.  But in this heat, they are a godsend.  I live in fear of the electricity going off during a hot spell like this.  Call me frail, I don't care.  It's true.
So what to do when it's so hot?  Well, as little as possible.  If I sit with the ceiling fan running and a standing fan oscillating back and forth, it's not too bad.  I can read; that doesn't take much effort.
Luckily, I'm of an age and station where I don't have to go out into the heat much.  The only time today I plan to be out in the atmospheric soup was when I taxied my son from his apartment to a friend's house this morning; a group of them were gathering to head out for a weekend camping trip.  I won't go into how worried this makes me, with the heat and the impetuousness of youth, especially when I see how a huge storm ripped through that area last night – two campers in the Boundary Waters Canoe Area, close to where they will be making camp, died in the storm that had 80 mph winds and knocked out power to a large swatch of the northeast part of the state.  (Okay, I guess I will go on about it.) But what can a mother do?  Caution him against heat exhaustion and go over the warning signs for heat stroke, even though he doesn't want to hear it from me ("I need to say this to you, even if you don't really need to hear it!" I told him), and warn him not to swim in rivers even if they seem to be placid on the surface, because the waters right now are really high, and the deep currents really fast.  Tell him to hydrate.  To make sure their car is fully gassed up before leaving the City, because they may pass through places with no electricity.  Ask him to text me when they get back to town on Sunday, and be comforted when he promises that he will.  Tell him you love him, and to have fun.  And pray.
Driving back home, with the windows rolled down (our old car has air conditioning, but when it's on the engine runs ragged, and I'm scared to death of stalling out in traffic), I saw a bunch of city workers out repairing sidewalks in the morning heat, shirts off, sweat rolling off strong backs, hair wet from perspiration, dirty and covered with cement dust and grime, bandanas wrapped around dripping brows and stuck into back pockets.  "Make sure to drink lots of water!" I tell them lightly as I drive slowly by, and they laugh good naturedly and wave at me.  "We will!"
I returned to my home, and gave a sigh of relief when I walked inside.  The fans were going, the ambient coolness from the upstairs AC gave a modicum of comfort, enough that I could settle in and write this.
Next, I will spend some quiet time in the air stream of the oscillating fan, reading.  But I won't read about heat, or the tropics, or squalor, or environmental strife.  Nope, something escapist, something to do with the coldness of outer space, I think.  Something that doesn't mention sweat, or oppressive heat, or debilitating thirst, or if so, only in passing.  Something exciting, though, to take my mind off what's laying heavy like a sweltering blanket outside.  Something to take me away, to take my mind off reality, like Wesley Chu's new novel, Time Siege.  Yeah, that would be very, very good.
First, though, I'm going to get a big glass of ice water.  Fill that puppy as full of ice cubes as it can possibly get.  I won't even think yet of later, when I'll have to toil away in a hot kitchen making dinner.  I'll try to forget about my son, hurtling north with his friends, to be out in the elements that I wouldn't even dream of tackling.  (It won't work, but I'll try.)  Be glad that my daughter, who is very sensitive to heat, doesn't have to work today; her bus ride would have been brutal.
And I'll remember winter.  That soon, this heat will pass, and cooler temperatures will return.  Not too far away, we'll be pulling out snow shovels and unpacking winter coats, and stocking up on hot cocoa.  It will come.  And I'll embrace it.  Because I'm from the North, and that's what we do.  You can have this heat, Tee.  I gladly defer to your tenacity in loving your Southern life, and tip my hat to you.  But I can't wait for winter to come.
Okay, now for that cold water, and to have Wesley Chu sweep me away in a tale that will leave all this damned reality behind.  Outside, it may be too hot and too sluggish, but in here, adventure awaits.  And I'm ready for it.
~ Sharon Browning