The Refugees: Stories, by Viet Thanh Nguyen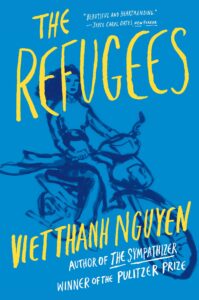 The Sympathizer, the debut novel by Viet Thanh Nguyen, won the Pulitzer Prize in 2016, and much of the superb writing, voice, and storytelling can be found in Nguyen's second book of fiction, which centers on lives more ordinary than that of The Sympathizer's protagonist, yet is no less powerful. The Sympathizer interrogates the effects of the Vietnamese War, complex allegiances, and a clash of cultures through the lens of its unnamed narrator, while his book of short stories about refugees, The Refugees, takes a broader look at the nuances of displacement and belonging.
---
Ordinary Lives and Extraordinary Circumstances
These may be quieter lives compared to The Sympathizer's double-agent narrator, but the conflicts are no less powerful. Identity, family loyalty, dislocation, and memory drive each of the nine stories. In one of these short stories about refugees, memories of Vietnam and the ghost of a brother haunt a young woman who earns her living as a ghostwriter. A couple and their young son, living in 1970s San Jose and running a market, are faced with difficult memories of the past when a friend presses them for a donation to fight the Communist forces in Vietnam. An immigrant to San Francisco is sponsored by a gay couple and is stunned by the openness and freedom of his new American life. Each story is illuminated by Nguyen's insights in prose that is at once vivid and elegiac. In the introductory story, "Black-Eyed Women," a sister haunted by the ghost of her brother tells him, "Looking back…I could see that we had passed our youth in a haunted country."
---
Surprising and Perceptive Connections
There are contrasts drawn between American-born and native Vietnamese. In a striking story, "Fatherland," Phuong, the eldest daughter of a father who left Vietnam for the U.S., discovers he's begun a new family there and given his three children the same names as those he left in Vietnam. When her eponymous half-sister visits Saigon, she appears to be the ideal of American success. She spends money on expensive dinners, presents, and excursions for her second family. Except the American Phuong has given herself the foreign name of Vivien:
Phuong knew instantly why her sister had taken upon herself a foreign name, and whose name it must have been: Vivien Leigh, star of Gone With the Wind, her father's favorite film, as he had once told her in passing. Phuong had seen the film on a pirated videotape, and was seduced immediately by the glamour, beauty, and sadness of Scarlett O'Hara, heroine and embodiment of the doomed South. Was it too much to suppose that the ruined Confederacy, with its tragic sense of itself, bore more than a passing similarity to her father's defeated southern Republic and its resentful remnants?
The parallel of the defeated South Vietnam and GWTW's doomed South is among the many surprising and perceptive connections in these short stories about refugees. There are echoes here of Jhumpa Lahiri's debut collection, Interpreter of Maladies (that won the Pulitzer Prize in 2000), as Lahiri's stories, like Nguyen's, look at the tensions experienced because of diaspora, migration, and acculturation, shown through unforgettable characters.
---
Nguyen's sequel to The Sympathizer, The Committed can be found here, and don't miss this post at Literary Hub on Viet Thanh Nguyen's being named the first Asian American member of the Pulitzer Prize Committee.

—Lauren Alwan