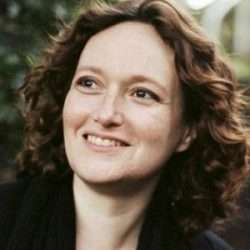 Ghost Talkers
Mary Robinette Kowal
Tor Books
Release Date:  August 16, 2016
ISBN 978-0-7653-7825-5
Mary Robinette Kowal is the absolute queen of historical speculative fiction.
First, in her Glamourist Histories series, she invokes Regency England but with a twist – her England includes an elegant magic, known as "glamour", which allows a practitioner to reach into the ether so as to bend / fold light and sound to create artistic images (something every genteel young lady learns, along with embroidery and playing the piano-forte). In her five book series, Ms. Kowal uses glamour as an anchor point to spin tales of love and intrigue in the best Jane Austen-esque style.
Now she has come out with a novel that again injects history with a fantasy twist. Ghost Talkers takes place in 1916, near the front lines in France during World War I. Ginger Stuyvesant is a spirited, red-haired American heiress engaged to Benjamin Harford, a British intelligence agent. But here's the twist:  Ginger is a medium for the Spirit Corps, a secretive, highly specialized Spiritualist force aiding the Allies. Soldiers are conditioned to "report" to the mediums on the event of their death, to give insight on how and where they died, so as to pass on vital information to military intelligence.
What could be a macabre idea is instead handled impeccably by author Kowal. The Spirit Corps is efficient, professional and compassionate; soldiers reporting in are proud to be of value to the cause, even in death, and have the opportunity to send messages back to loved ones before they pass over to the other side. The work takes its toll on the mediums and their assistants – physically, emotionally and spiritually – but they know their own sacrifices pale to those which the soldiers have already given in service to God and country.
But what happens when those sacrifices become personal, and the information revealed, suggests a conspiracy that may have penetrated to the higher levels of leadership as the Germans strive to uncover this nebulous advantage that the Allies seem to possess? Intrigue and suspense, that's what happens. Ginger warns the camp's British commander of the information uncovered, but as she is not only a woman but also an American, her fears are dismissed. This leaves Ginger to take matters into her own hands, to find irrefutable proof that not only are the Germans working on their own Spiritualist function, but are also targeting the Spirit Corps for disruption or worse.
In Ghost Talkers, Mary Robinette Kowal has crafted a story that excels on many levels. While the characters talk of the war with words full of honor, duty and bravery in the best Downton Abbey-esque parlance, there is also a gritty acknowledgement of its horrors. There is intrigue and subterfuge and espionage, daring escapes and haunting betrayals. There is heartbreak; oh, there is heartbreak. But there is also romance, not only between the American heiress and her intelligence agent fiancé, but also a romance of time and place, of a bygone era.
Ms. Kowal's meticulous research shines throughout the narrative; the world she builds is far more familiar than it is strange despite the supernatural undercurrent. The courtship between Ginger and Ben rings true, hearkening back to a simpler time. And even though Ginger is very forward thinking for 1916, she is not an overt feminist crusader; that historical restraint lends an authenticity to the story that would be compromised if a more modern sensibility was slipped in for the sake of our current mindset. Even the fantastical element of spiritualism has realistic constraints and liabilities; this is no convenient fantasy, but a vital – and intrinsic – aspect of the novel's take on its world.
But what makes the book truly a pleasure to read is that its emotional core is not in the ghosts or the spiritualism, although they are the fulcrum on which the story pivots, and not even the war itself, although it is the stark backdrop of the narrative. The emotional core lies in the characters, their strengths and their frailties, the ways they react to the unthinkable that must nevertheless be endured. While the action of the story may seem forthright and at times almost fanciful, there is a complexity and even tension in the emotional layering of the novel that draws us in, for this is something which we can relate to, even without the harshness of life during wartime.
It makes for a very fine read from a very talented author.
As far as I know, Ghost Talkers is a standalone novel, and it feels finished as is. But I would be delighted to hear that Ms. Kowal is working on another book in this realm, whether it be about Ginger Stuyvesant or simply the Spirit Corps itself. Heck, if I'm honest, I'll be stoked no matter what she's working on, because if it's Mary Robinette Kowal, with her winning track record, it's bound to be a wonderful read.
~ Sharon Browning
Subscribe to our Newsletter