Another gorgeous MinaLima title launched today, this one exploring Snow White and other Grimm fairy tales in exquisite detail. Like the previous titles—Beauty and the Beast, Peter Pan, Alice's Adventures in Wonderland—this latest edition includes lush artwork and vivid interactive features. This is a perfect addition to the deluxe edition collector's bookshelf and a great holiday gift. Check out the full description below and purchase your copy today.
"The book—hardcover with no jacket, printed on imitation cloth with debossing and gold foil type—is filled with a combination of MinaLima's magical artworks and one-of-a-kind interactive features making it an engaging and appealing colorful adventure, accessible to illustrated book lovers, collectors, and families."
The ninth book in Harper Design's deluxe classic illustrated series—a beautiful and inventive fresh take on the Grimm Brothers' fairy tales, including "Snow White," with stunning full-color artwork and interactive features created by MinaLima, the award-winning design studio behind the graphics for the Harry Potter film franchise.
Snow White and Other Grimms' Fairy Tales includes twenty-three of the most popular tales penned by German brothers Jacob and Wilhelm Grimm, taken from their original collection Children's and Household Tales, first published in 1812.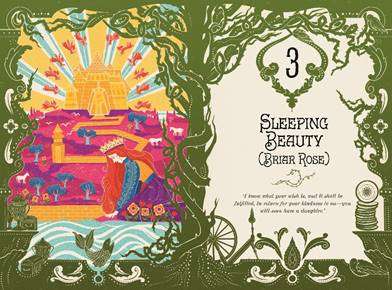 Here are beloved characters, including Snowdrop (Snow White), Briar Rose (Sleeping Beauty), Ashputtel (Cinderella), Rapunzel, Hansel and Gretel, Rumpelstiltskin, The Elves and The Shoemaker, all reimagined by the brilliant award-winning designers at MinaLima. This deluxe edition is illustrated with specially commissioned artwork and includes nine extraordinary interactive features ranging from a pop-up forest and pull-tab mirror for Snow White and a wall of thorns encasing Sleeping Beauty to a three-dimensional ball gown for Cinderella and a pop-up tower for Rapunzel.
Filled with marvels, this beautiful edition will enchant readers of every age and is sure to become a treasured keepsake.