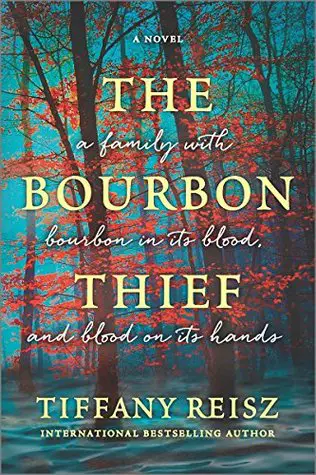 The Bourbon Thief
Tiffany Reisz
ISBN #0778319423

When Cooper McQueen wakes up from a night with a beautiful stranger, it's to discover he's been robbed. The only item stolen—a million-dollar bottle of bourbon. The thief, a mysterious woman named Paris, claims the bottle is rightfully hers. After all, the label itself says it's property of the Maddox family who owned and operated Red Thread Bourbon distillery since the last days of the Civil War until the company went out of business for reasons no one knows… No one except Paris.
In the small hours of a Louisville morning, Paris unspools the lurid tale of Tamara Maddox, heiress to the distillery that became an empire. But the family tree is rooted in tainted soil and has borne rotten fruit. Theirs is a legacy of wealth and power, but also of lies, secrets and sins of omission. The Maddoxes have bourbon in their blood—and blood in their bourbon. Why Paris wants the bottle of Red Thread remains a secret until the truth of her identity is at last revealed, and the century-old vengeance Tamara vowed against her family can finally be completed.
 We tell ourselves lies to survive when we know the truth will kill us.
The roots of the Maddox family tree are rotten.
Long since destroyed, right along with the family's Red Thread Bourbon distillery, this family has a tangled past that comes to light after Cooper McQueen takes a perfect stranger to his bed. Paris, the mysterious bedfellow, has lifted a million-dollar bottle of bourbon from Cooper's stores, and during the confrontation, Paris tells Cooper why she took it: the bottle is rightfully hers.
In the telling of her story, the beautiful stranger recounts her family's history and the heartbreaking tale of Tamara Maddox and Levi Shelby, star crossed lovers from different worlds, separated by class, race and circumstance, some forties years in the past.
It is not a story for the faint of heart, but in Tiffany Reisz's hands, it's a story readers will be unable to step away from.
Flitting from the past to the present and back again, Tamara and Levi's story unfolds in vivid detail; all the love and lies, all the betrayal and heartache are laid open and raw for the reader's easy perusal. There are dark, hidden secrets and motives driven by greed and prejudice.
And there is love, an all-consuming, belly deep love that will have readers wishing for the happily ever after that often comes in fiction. But Tiffany Reisz isn't a slave to the HEA. She's an artist who can craft an elegant, decadent tale that rips you up from the inside and in the same breath, make you blissfully content for the shredding.
I'm putting The Bourbon Thief on my Top Ten Reads of All Time list.
Obviously, highly, highly recommended.