Taste: My Life Through Food, a memoir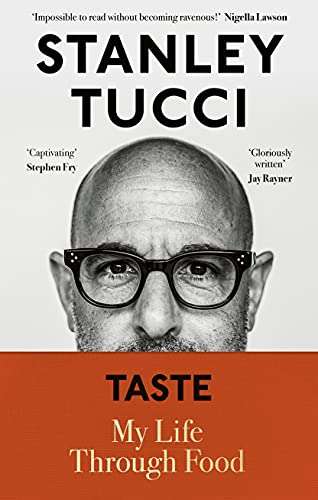 "Cook. Smell. Taste. Eat. Drink. Share. Repeat as necessary." For better or worse, as Stanley Tucci writes in his affecting memoir, Taste: My Life Through Food, those actions are defining ones for him, and without them, he tells us, he'd cease to exist. Taste spent eighteen weeks on the New York Times Bestseller list, and has been praised by literary and culinary readers. Of Taste, Yotam Ottolenghi says, "Come hungry for the food, the cocktails, the gossip, and the fun."
In this stylish and revealing memoir, Tucci makes a compelling argument as to how, and why, food has come to define him, and as perhaps with so many from immigrant families—in which food is the home's center and daily life, and recipes part of a legacy, time, place and culture—there's little separation between people and the meals they eat around a table.
A stylish, knowledgeable memoir
This is a book that goes down easily. Tucci's knowledge of food and wine, culinary history, and techniques is vast, and his prose style is by turns precise, funny, and just high enough to conjure the elan for which he's so well known.
There are too the restaurants that growing up, Tucci rarely went to but frequented in his years as a young actor in New York—Nick's Burgers on the upper west side, the Chinese-Cuban cafés—a period that also included a stint bartending. This was his introduction to what would become a vast knowledge of wines, spirits, and mixology. This life experience, of his family's cooking alongside his exposure to diverse food and drink in Manhattan, brought an expert's knowledge of ingredients and their preparation and formed the basis of his style as an epicurean host, offering his guests drinks from a fully stocked bar, and having a natural sense of what makes a meal a pleasurable experience for all the senses.
We learn of his years growing up in Westchester County, his Calabrian ancestry, and the traditional dishes his mother, Joan, cooked when he was growing up—the pasta and bolognese sauces and parmigianas, alongside foods that were ubiquitous in middle-class homes of the sixties and seventies: Velveeta cheese, peanut butter, Twinkies.
Food as a personal narrative
Tucci is fastidious, there's no doubt. With a highly developed palate, and a career that sent him to distant locales, Tucci has seemingly tasted everything—and his anecdotes of meals, both as a guest and a host, make for great stories. There's a meal eaten on location with the cast of Julie and Julia, including Meryl Streep, and the unfortunate order of something called andouillette, which turned out to be inedible; the annual extravaganza of preparing his parents' Christmas Day tradition, timapano, a massive torte that takes the better part of a day to prepare and cook. And there's his fascination with an elegant pasta dish eaten on the Amalfi coast made with only five ingredients that becomes an obsession.
Happily, Tucci includes recipes for many of the dishes, though most are easily prepared—few are as technical as the suckling pig he and his wife, the literary agent Felicity Blunt, happily whip up one afternoon—which includes hacking off the head as the pig won't otherwise fit in his barbecue (it was later cooked in a pizza oven).
The food in Taste makes for a personal narrative, but there's life history here too: his career as an actor in film and television; marriage to his first wife, Katherine Spath, with whom he had three children, and who sadly died in 2009 of breast cancer; meeting and eventually marrying Felicity Blunt, with whom he has two children and their life in London. Tucci is frank about the hectic life he leads as a creative person and parent to young children.

While Tucci is candid throughout, it's in the account of his 2018 illness that we understand the larger significance of the story. Diagnosed that year with cancer of the salivary gland, Tucci undergoes a grueling treatment of radiation and chemotherapy, and after the treatment is finished, can take nutrients by tube through his stomach for six months. The irony is tragic that having grown up relishing and consuming food, our narrator could potentially lose his ability to taste and swallow. We understand then, as Tucci explains, that although "each week there was some progress, I could not help but feel that things would never return to the way they were, when life was edible."
It's a profound and lovely observation that life, in its essence, is edible, and makes for the beautiful center of this book.
—Lauren Alwan