Tremor reckons with the passing of time, survival, and how stories make up the fabric of our lives.
In This Spotlight on Tremor
About Tremor
Teju Cole is back with his first major novel since Open City. Another brilliant work of autofiction, Tremor.
Life is hopeless but it is not serious. We have to have danced while we could and, later, to have danced again in the telling.
A weekend spent antiquing is shadowed by the colonial atrocities that occurred on that land. A walk at dusk is interrupted by casual racism. A loving marriage is riven by mysterious tensions. And a remarkable cascade of voices speaks out from a pulsing metropolis.
We're invited to experience these events and others through the eyes and ears of Tunde, a West African man working as a teacher of photography on a renowned New England campus. He is a reader, a listener, a traveler, drawn to many different kinds of stories: stories from history and epic; stories of friends, family, and strangers; stories found in books and films. Together these stories make up his days. In aggregate these days comprise a life.
Tremor is a startling work of realism and invention that engages brilliantly with literature, music, race, and history as it examines the passage of time and how we mark it. It is a reckoning with human survival amidst "history's own brutality, which refuses symmetries and seldom consoles," but it is also a testament to the possibility of joy. As he did in his magnificent debut Open City, Teju Cole once again offers narration with all its senses alert, a surprising and deeply essential work from a beacon of contemporary literature.
Editorial Reviews for Tremor
Critic and novelist [Teju] Cole (Open City) explores such philosophical questions as, "How is one to live without owning others? Who is this world for?" in his remarkable and experimental latest. 
It begins like autofiction; a 40-something photographer and Harvard art history professor named Tunde, who is of Nigerian descent, meditates on authenticity and colonialism while shopping for antiques with his wife in Maine, where he buys a ci wara headdress from West Africa for $250, its only difference from those that go for six figures being its lack of "provenance." 
Cole then takes a thrilling point-of-view swerve by addressing a mysterious "you" character, an unnamed friend of Tunde's who died three years earlier. Another turn comes in the form of a lecture Tunde gives at the Museum of Fine Arts in Boston, where he poses discomfiting questions about the white art world's paternalistic attitudes toward African art. Tunde also interrogates his own classism, remembering how as a young man he photographed African street vendors in Paris and incurred their rage, and explores his passion for what Americans call "world music," including desert blues and Malian pop. 
Elsewhere, the narrative departs from Tunde and gives voice, successively, to 24 residents of contemporary Lagos, their vignettes depicting a taxi driver's capricious client, a woman's legal battle with her sexist siblings over their family estate, and a breathtaking description of a painter making public and ephemeral art on a bridge. Everything hangs together brilliantly, due to Cole's subtle provocations and his passion for art and music. It's a splendid feast for the senses. (Oct.)—Publishers Weekly
Praise for Tremor
Tremors is, "A master class in the morality of art . . . a novel of ideas but also of voices, of different perspectives claiming the first-person narrative I. The precision of detail stresses the importance of seeing, but identity, perspective, and context determine who is seeing what. . . . A provocative and profound meditation on art and life in a world of terror."—Kirkus Reviews (starred review)
"Reading Cole's books is like spending time with a smart friend. He's interested in the planet and people's place on it, and his writings are entry points into conversations about identity, culture, and what it means to be human. [Cole's] remarkable and experimental latest . . . begins like autofiction [before taking] a thrilling point-of-view swerve. . . . It's a splendid feast for the senses."—Publishers Weekly (starred review)
"Lyrical and beautiful."—Booklist
About Teju Cole, Author of Tremor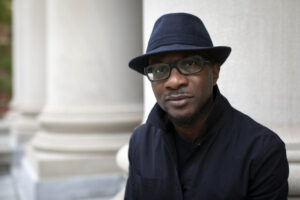 Teju Cole was born in the United States in 1975 to Nigerian parents and grew up in Lagos. His books include the novel Open City, the essay collections Known and Strange Things and Black Paper, and the experimental photo book Blind Spot. He has been honored with the PEN/Hemingway Award, the Internationaler Literaturpreis, the Windham-Campbell Prize, and a Guggenheim Fellowship, among other accolades. He is an elected member of the American Academy of Arts and Sciences.  Cole is currently a professor of the practice of creative writing at Harvard University and a contributing writer to The New York Times Magazine.
You can find and follow Teju Cole on his website, and on Facebook.
Titles by Teju Cole
Other LitStack Resources
Be sure and check out other LitStack Spotlights that shine a light on books we think you should read.
As a Bookshop, Amazon affiliate, LitStack may earn a commission at no cost to you when you purchase products through our affiliate links.