Desertion is a brilliant dramatization of the personal and political legacies of colonialism.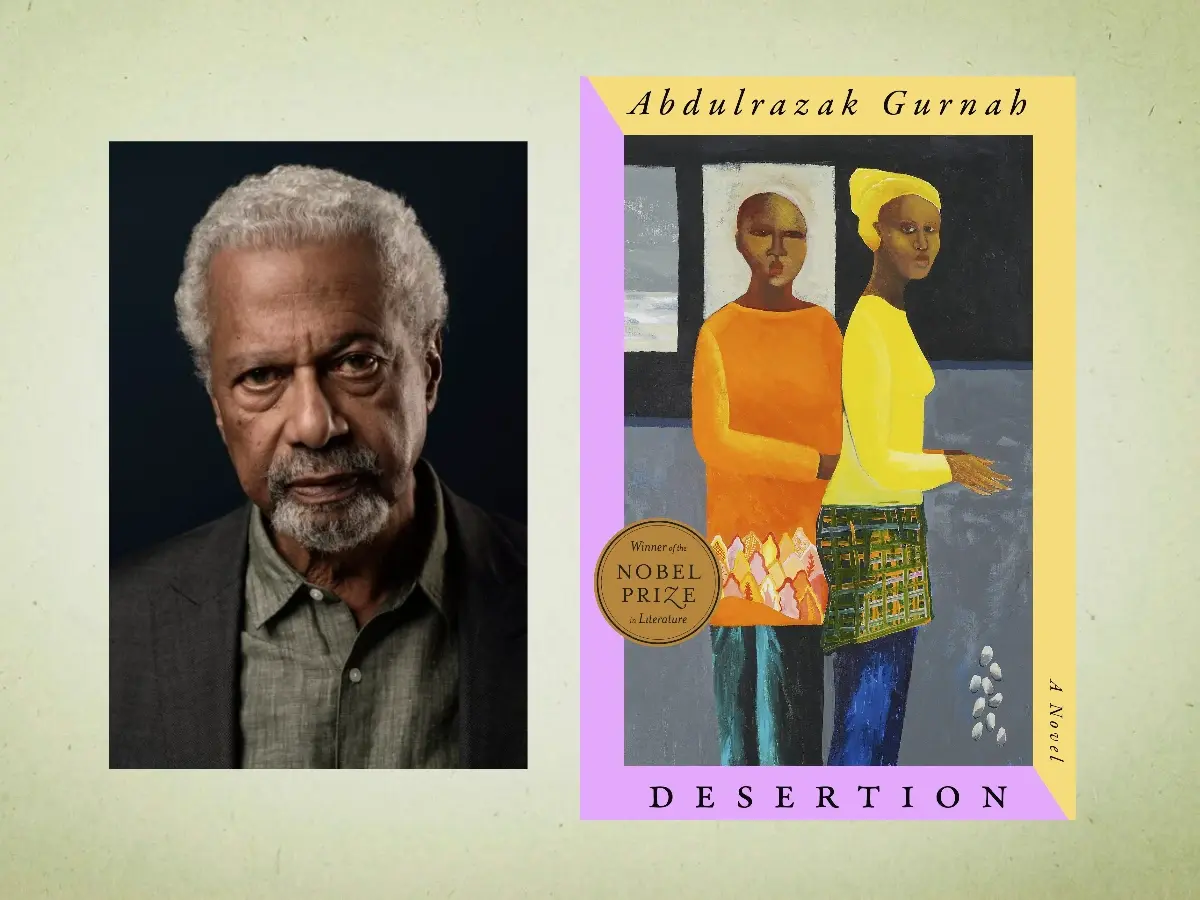 In this Spotlight of Desertion
The Consequences of an Illicit Love Affair
Desertion is a masterwork by the 2021 Nobel Prize winner in Literature, in which the consequences of an illicit love affair reverberate from the heyday of the British empire to the aftermath of African independence
About Desertion
Early one morning in 1899, an Englishman named Martin Pearce stumbles out of the desert into an East African coastal town and collapses at the feet of Hassanali, a local shopkeeper. When Hassanali's sister, the beautiful and disillusioned Rehana, nurses Pearce back to health, a love affair sparks, with consequences that will ripple decades into the future, when another clandestine affair bursts into flame, with equally unforeseen and dramatic consequences. In this devastating and ingeniously spun tale, the Nobelist Abdulrazak Gurnah brilliantly dramatizes the personal and political legacies of colonialism.
Praise for Desertion
"Against the backdrop of colonial Africa, Booker-nominated Gurnah (By the Sea; Paradise) crafts a dense, decade-straddling story of cross-cultural love and its repercussions in his seventh novel [Desertion], which begins in Zanzibar in 1899. After Somali guides abandon him in the desert, English orientalist Martin Pearce is rescued and cared for by Indian Muslims, Hassalani and his sister, Rehana, until a government official finds him. Martin is a sympathetic hero, somehow more enlightened than the European colonialists, for whom racism is endemic. When he returns to thank Hassalani for sheltering him, he falls for the beautiful Rehana, and they begin a transgressive affair.
"The narrative then leaps forward to the late 1950s (just before Zanzibar's independence from colonial rule) to follow the lives of two brothers: Rashid, who will go to London on scholarship, and Amin, who embarks on a passionate, forbidden affair with Jamila, the sophisticated, divorced granddaughter of Rehana and Martin. Though the shift in time between Part I and II diffuses this richly textured novel's momentum, the author's luminous prose makes it easy to forgive the disjointedness as he explores Africa's emergence from European rule and the continuing fallout from Rehana and Martin's near-unthinkable union."—Publishers Weekly
"Gurnah's seventh novel [Desertion] (after By the Sea) is a spirited horse straining at the bit, so it is a great pity that the author doesn't loosen the reins more and let it run. The plot is promising: in the late 19th century, a half-dead Englishman is discovered on the edge of the desert in an African town by Hassanali, who with his sister Rehana nurses him back to health. Rehana then begins an illicit and doomed affair with the foreigner. Its repercussions are felt generations later when a young man, Amin, falls helplessly in love with Rehana's granddaughter just before Zanzibar's violent struggle for independence.
"Meanwhile, Amin's brother, Rashid, wins a scholarship to study in England, where he experiences his own bittersweet coming of age. The novel's final chapters focus on his slow assimilation and painful separation from his family during Africa's intense political unrest. Gurnah's prolixity sometimes obscures evocative details, and the book's sense of immediacy is uneven. As a result, this novel gives a solid showing-Gurnah is certainly an accomplished narrator-while never breaking free of the pack. For larger literary fiction collections only.-Prudence Peiffer, Cambridge, MA Copyright 2005 Reed Business Information."—Library Journal
"The divisive legacy of colonialism afflicts three generations of African and English families in the Zanzibar native (now British) author's moving yet ungainly seventh novel [Desertion]. An initially unidentified narrator reveals events following the 1899 appearance of orientalist Martin Pearce in an unnamed village on Africa's east coast, in what was then the Uganda Protectorate. Pearce (who had been robbed and beaten by his African guides) is taken in by Muslim "shopseller" Hassanali Zakariya. Later, having been rescued from his rescuer by fellow Englishman Frederick Turner (a district officer), when Pearce returns to thank Hassanali's family, he falls in love with the shopseller's beautiful sister Rehana.
"What happens next is withheld, pending lengthy chunks of historical and ethnographic background information-and the story leaps ahead to the early 1950s, as Gurnah (By the Sea, 2001, etc.) traces the fortunes of three siblings (in what was then Zanzibar): underachieving, virginal Farida and her brothers, Amin and Rashid (the latter, we gradually learn, has attempted to piece together the earlier story of Rehana and Pearce, whose relation to Rashid's family will be even later revealed in a flurry of convoluted afterthoughts).
"The story does become more involving, as Gurnah details the bookish Rashid's uneasy relationship with the confident Amin, Amin's doomed love affair with a divorced woman (Jamila) who leads "a life of secrets and sins" and is involved in anticolonial political agitation, Farida's own love for a man she cannot have-and Rashid's departure to study in London (where he achieves second-class citizenship and learns "how to live with disregard").
"But the complicated links joining Rehana, Pearce, Turner and Rashid's family are themselves kept secret for so long that, while the opening chapters here take forever to build momentum, its concluding ones are hurried and overcrowded with last-minute explanations. Probably a partially autobiographical story, but one that Gurnah has not fully shaped into a coherent narrative."—Kirkus Reviews
Desertion is "An admirable achievement. . . . A serious inquiry into the nature of love, race and empire."—San Francisco Chronicle
Desertion is "Affecting. . . . Gurnah perfectly renders the breathless exhilaration of first love and his characters–pulled from a time and place that seem to come from firsthand experience–seem true to life."—The Christian Science Monitor
"Gurnah writes beautifully: The brief affair between Amin and Jamila all but burns on the page."—Los Angeles Times Book Review
"Here is a writer at the top of his form, who commands a strong sense of narrative, a meticulous eye for family dynamics, and an understanding of the corrosive psychology of colonialism."—The Seattle Times
Desertion is "Beautiful, elegial. . . . As seductive as the Zanzibar shore it describes."—The Boston Globe
About Abdulrazak Gurnah, Author of Desertion
Abdulrazak Gurnah, winner of the 2021 Nobel Prize in Literature, is the author of ten novels: Memory of Departure, Pilgrims Way, Dottie, Paradise (shortlisted for the Booker Prize and the Whitbread Award), Admiring Silence, By the Sea (longlisted for the Booker Prize and shortlisted for the Los Angeles Times Book Award), Desertion (shortlisted for the Commonwealth Writers' Prize) The Last Gift, Gravel Heart, and Afterlives, which was shortlisted for the Orwell Prize for Fiction 2021 and longlisted for the Walter Scott Prize. He was Professor of English at the University of Kent, and was a Man Booker Prize judge in 2016. He lives in Canterbury.
Other Titles by Abdulrazak Gurnah
Other LitStack Resources
Be sure and check out other LitStack Spotlights to find what you should read. It's also always a good idea to look at New Releases, for books already released or upcoming.
As a Bookshop affiliate, LitStack may earn a commission at no cost to you when you purchase products through our affiliate links.
Subscribe to our Newsletter