We didn't call the police right away.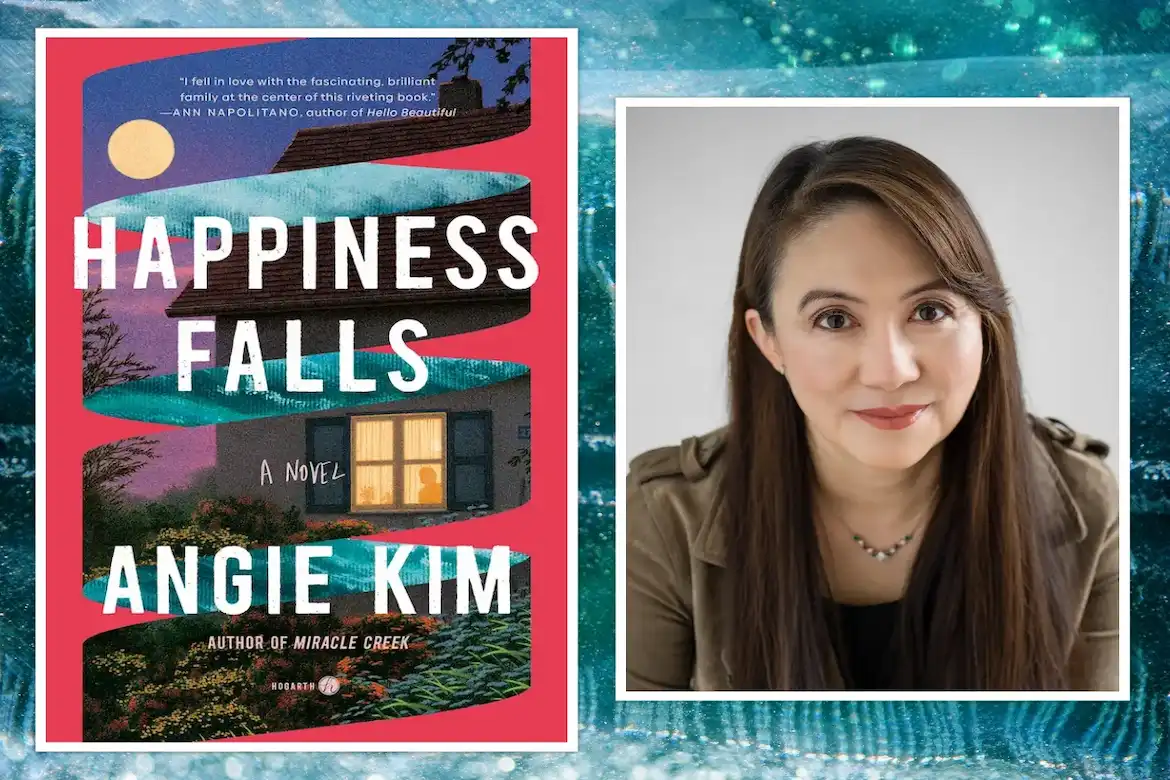 In This Spotlight on Happiness Falls
An Unwinding Tangle of Family Secrets
In Happiness Falls, the search for a missing father begins to unwind a tangle of family secrets in this riveting new novel from the author of Miracle Creek. Angie Kim weaves together a page-turning mystery, a domestic drama and a philosophic inquiry into the nature of language to create a novel that is wholly original and completely unforgettable.
About Happiness Falls
"We didn't call the police right away." Those are the electric first words of this extraordinary novel about a biracial Korean American family in Virginia whose lives are upended when their beloved father and husband goes missing.
Mia, the irreverent, hyper analytical twenty-year-old daughter, has an explanation for everything—which is why she isn't initially concerned when her father and younger brother Eugene don't return from a walk in a nearby park. They must have lost their phone. Or stopped for an errand somewhere. But by the time Mia's brother runs through the front door bloody and alone, it becomes clear that the father in this tight-knit family is missing and the only witness is Eugene, who has the rare genetic condition Angelman syndrome and cannot speak.
What follows is both a ticking-clock investigation into the whereabouts of a father and an emotionally rich portrait of a family whose most personal secrets just may be at the heart of his disappearance. Full of shocking twists and fascinating questions of love, language, and human connection, Happiness Falls is a mystery, a family drama, and a novel of profound philosophical inquiry. With all the powerful storytelling she brought to her award-winning debut, Miracle Creek, Angie Kim turns the missing-person story into something wholly original, creating an indelible tale of a family who must go to remarkable lengths to truly understand one another.
ISBN-13: 9780593448205
Publisher: Random House Publishing Group
Release date: 08/29/2023
Praise for Happiness Falls
Kim's bittersweet second novel (following Miracle Creek) intertwines an intimate family drama, a missing-persons mystery, and a philosophical rumination on happiness. Korean American college student Mia Parkson and her twin brother, John, are spending the Covid-19 lockdown at their parents' house in suburban Virginia. One morning, their autistic 14-year-old brother, Eugene, races home from a hike with their father, his clothing spattered with blood. Their father is nowhere to be found, and Eugene—who is nonverbal—isn't able to say what happened. While Mia and her family help authorities sift a bewildering array of clues, Mia studies analytical notes her father left behind, which posit that the experience of happiness is relative to an expected outcome—leading her to wonder whether her father is subjecting them all to an elaborate social experiment.
Meanwhile, the Parksons investigate therapies Eugene has been undergoing that suggest they have underestimated his intelligence and ability to communicate—a revelation that dovetails with Mia's own complex thoughts on how factors including race, language, and emotion all impact people's interpretation of information and ability to relate to one another. Readers will be fascinated with how Kim bends the structure of a whodunit to serve a broader exploration of the dynamics of human relations and moved by her skill at wresting joy from tragedy. Agent: Susan Golomb, Writers House.—Publishers Weekly
A brilliant novel that has everything I want in fiction—great writing, fascinating characters, suspenseful storytelling, and thought-provoking themes. Readers are going to fall in love with Happiness Falls."—Imbolo Mbue, New York Times bestselling author of How Beautiful We Were
"I read Happiness Falls in a single day. I can't remember a book with more layers—this is a nuanced story about bias, language, ableism, racism, and family dynamics—but above all else this is a story with so many twists and turns I was riveted through the last page."—Jodi Picoult, #1 New York Times bestselling author
"Happiness Falls is another superlative effort in what is fast shaping up to be a remarkable career."—#1 New York Times bestselling author David Baldacci
"A sublime literary mystery that is a mesmerizing update to the missing person story, a layered and innovative exploration of family, love, happiness, and race."—Jean Kwok, New York Times bestselling author of Searching for Sylvie Lee
"[A] revelatory masterpiece . . . I stayed up half the night to finish this novel, and when I woke in the morning, I turned back to the first page to begin again."—Anthony Marra, New York Times bestselling author of Mercury Pictures Presents
"I began reading Happiness Falls expecting a murder mystery. What I got was the most moving and humbling portrait of humanity I've read in quite some time."—Mary Beth Keane, New York Times bestselling author of Ask Again, Yes
"Brilliant, immersive, and deeply moving . . . a book that will change the way you think—a book that will change your life."—Julia Phillips, bestselling author of Disappearing Earth, finalist for the National Book Award
"Happiness Falls . . . keeps you thinking and guessing and feeling all at the same time."—Liz Moore, New York Times bestselling author of Long Bright River
"[A] page-turner about a missing man and a precise (and luminous) exploration of what it's like to be the teens he has left behind."—Chris Bohjalian, #1 New York Times bestselling author of The Lioness
"Kim is a tremendous writer . . . a compelling mystery as well as a guide to managing the uncertainties of life and the challenges of family."—Steph Cha, author of Your House Will Pay
"One of best mystery novels ever written."—Gary Shteyngart, New York Times bestselling author of Our Country Friends
"An exhilarating literary tour de force . . . [Happiness Falls] will introduce you to extraordinary characters whose lives will leave you forever changed."—Danielle Trussoni, New York Times bestselling author of The Puzzle Master
"Happiness Falls is on the one hand a profound meditation on the meaning of life and the nature of happiness, while on the other hand a riveting mystery replete with suspense."—Chris Pavone, New York Times bestselling author of Two Nights in Lisbon
"This book will stay with you long after you turn the final, satisfying page."—Alafair Burke, New York Times bestselling author of Find Me
"[A] rare book that can change your entire outlook on the world."—Janelle Brown, New York Times bestselling author of Pretty Things
The claim that a book will change your life often seems like exaggeration. Here the potential is real.—Kirkus Reviews
From the Publisher:
When her father disappears, 20-year-old Mia Parkson cannot ask the one person who knows what happened—her brother, who does not speak.
After Miracle Creek (2019), the title of Kim's second novel could make it seem to be part of a series—and thematically, it is, again combining an exploration of neurodiversity and its effects on family dynamics with a mystery, in this case a missing person story, again set in the Northern Virginia suburbs, again with a smart woman lawyer named Shannon Haug on the scene to make brilliant charts. Here, Kim has done even more with what are now clearly her signature materials by nesting this whole situation inside the philosophical question of what creates happiness, one which the missing man, Adam Parson, was privately studying in notebooks documenting his research and experimentation (most of it on his own family). All of this comes to us through the narrator, his daughter, Mia, a brilliant, acerbic chatterbox whose relentless analysis spills from long, ropy sentences into parentheticals and footnotes that lasso the reader into turning the pages.
Listen to her: "Labeling anything about our family 'typical'—I just have to shake my head. I'm not even thinking about the typical-adjacent stuff like John's and my boy-girl twin thing, our biracial mix (Korean and white), untraditional parental gender roles (working mom, stay-at-home dad), or different last names (Parson for Dad + Park for Mom = mashed up into Parkson for us kids)….Where we're in­dubitably, inherently atypical is with my little brother Eugene's dual diagnosis: autism and a rare genetic disorder called mosaic Angel­man syndrome (AS), which means he can't talk, has motor difficul­ties, and—this is what fascinates many people who've never heard of AS—has an unusually happy demeanor with frequent smiles and laughter."
Got all that? Mia is an amazing creation, as is Eugene. But what is most remarkable about this book is the way Mia's father's "happiness quotient" theory ripples not just through the plot of the novel, but through the life of the reader.
About Angie Kim, Author of Happiness Falls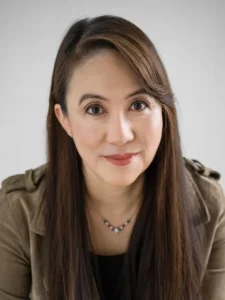 Angie Kim moved as a preteen from Seoul, South Korea, to the suburbs of Baltimore. After graduating from Interlochen Arts Academy, she studied philosophy at Stanford University and attended Harvard Law School, where she was an editor of the Harvard Law Review. Her debut novel, Miracle Creek, won the Edgar Award, the ITW Thriller Award, the Strand Critics' Award, and the Pinckley Prize and was named one of the best books of the year by Time, The Washington Post, Kirkus Reviews, and the Today show. Angie Kim lives in northern Virginia with her family.
You can find and follow Angie Kim on her website, on Facebook, and on Instagram.
Titles by Angie Kim
Other LitStack Resources
Be sure and check out other LitStack Spotlights that shine a light on books we think you should read.
As a Bookshop and Amazon affiliate, LitStack may earn a commission at no cost to you when you purchase products through our affiliate links.
Subscribe to our Newsletter