All the Birds in the Sky, by Charlie Jane Anders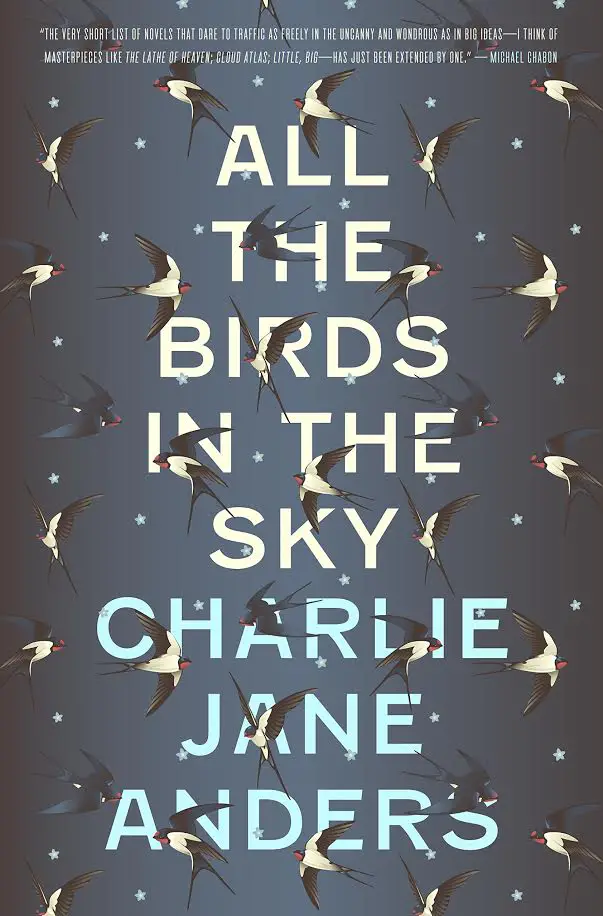 A young girl who talks to birds; a young boy who builds a two second time machine in his room.  Two hideously awful middle school experiences.  A member of the Nameless Order of Assassins who knows 873 ways to kill someone.  And the end of the world.  Charlie Jane Anders' novel All the Birds in the Sky is a perfect blend of science and magic, a cautionary tale of annihilation through climate change and a tribute to the enduring ties of unexpected friendship.  And it just won the Locus Award for Best Fantasy Novel. What's not to like?
When Patricia was six, she discovered her ability to speak to animals while attempting to save a bird with a broken wing, leading to a redemptive experience that convinces her she is fated to become a witch, meant to serve nature.  Meanwhile, young Laurence goes from playing video games to writing his own code; by his early teens he is building a supercomputer in his bedroom closet.  Both children are social outcasts – (and you thought your middle school experiences were bad!) – so by default they end up thrown together and of course, an unlikely friendship develops, one that for a time keeps their abysmal lives bearable.
Eventually the two go their separate ways, but over the years their paths continue to cross.  The world around them is alternately amazing and full of dire warnings about the future, and the competing societies in which they move are convinced that their opposing viewpoints could save the collapsing world.  Their friendship, at times distant, at times contentious, endures.
In the end, though, it is this very friendship that may not only doom Patricia and Laurence, but life as we know it.
The writing in All the Birds in the Sky is delightfully quick and quirky.  It cavorts between the real and surreal, fact and fantasy so straightforwardly that we happily go along for the ride.
For instance, I had no problem accepting an assassin in disguise who, after seeing a vision of "a war between magic and science that would leave the world in ashes", would follow the children destined to become the adults at the epicenter of the chaos to a local mall in an effort to stave off that bleak future; however, after ordering a brownie sundae at The Cheesecake Factory in order to fit in, he fears that the treat might have been poisoned yet eats it anyway because "life would not be worth living if he couldn't eat ice cream from time to time without worrying it was poisoned."   Of course, he becomes violently ill  – the ice cream indeed been poisoned. To top it all off, the hapless assassin is banned from The Cheesecake Factory for life.
Yet the novel is not all fun and fancy.  There is moralizing in this book, and discussions of magic versus technology, cause versus effect, assistance versus vanity, guilt, responsibility, even healing magic versus trickery, but never via navel gazing; instead, the talks happen over elf-shaped bongs, or in the midst of an argument or perhaps during a confession, or even while having a "conversation" with an IA tentatively named CH@NG3M3.
What doesn't occur in this book is a clear delineation of right versus wrong or the validity of nature over technology, or science trumping magic.  Instead there are simply well meaning efforts from opposing viewpoints whose main damning quality is in thinking that they may be the only means of changing the rules of the game.  Ah, there is so much to be learned at the end of the world!
And maybe, just maybe -if it's like what we see in All the Birds in the Sky – the end of the world won't be so bad, after all.
—Sharon Browning
Save
Save
Save
Save
Save
Save
Save
Save