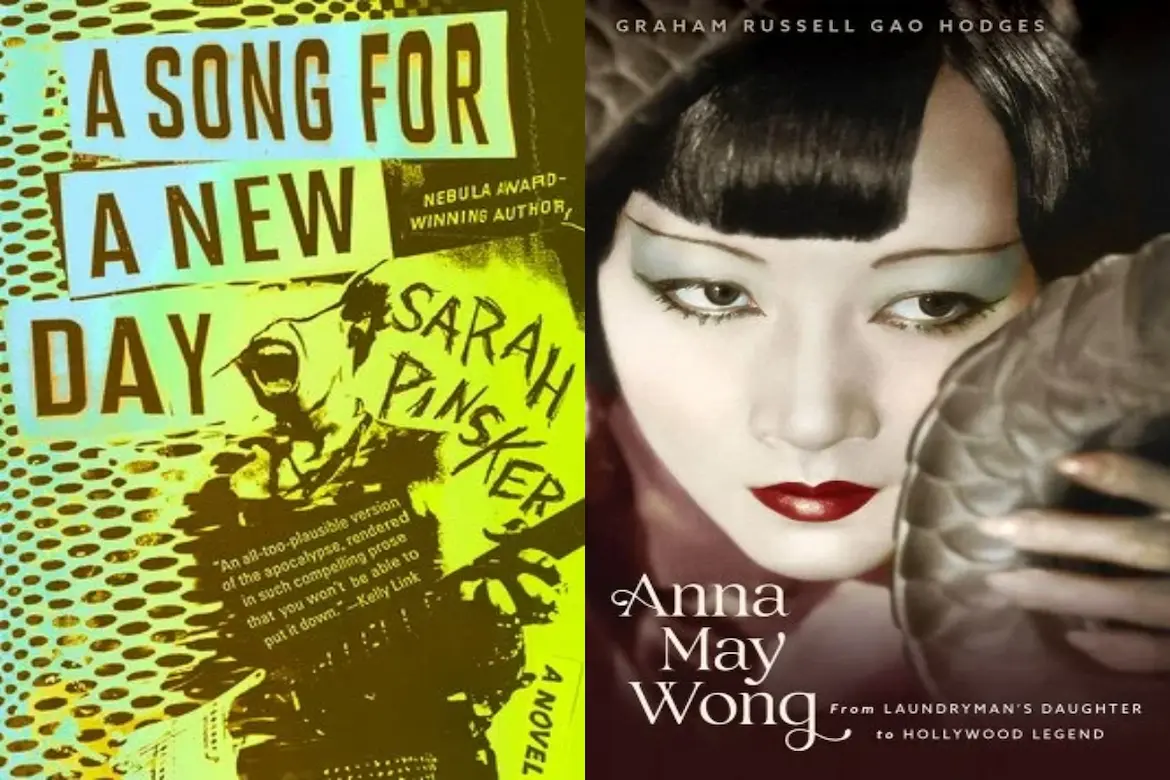 In this LitStack Rec:
Anna May Wong: From Laundryman's Daughter to Hollywood Legend, by Graham Russell Gao Hodges
For fans of Anna May Wong, the news that Working Title Films will develop a biopic of the legendary Anna May Wong was both long overdue and exciting. And the screenplay, to be written by Asian-American playwright David Henry Hwang, will be adapted from Graham Russell Gao Hodges' biography Anna May Wong: From Laundryman's Daughter to Hollywood Legend (first reviewed here in 2019), with Gemma Chan is set to star.
Anna May Wong was the first internationally acclaimed Asian American actor, with a career that spanned decades, from 1919 to 1961, and Hodges' 2012 biography is a meticulously researched and carefully constructed account of one of early cinema's most notable icons. Many of the sixty-one films she made have been lost, but many survive, along with numerous black and white portraits by Carl Van Vechten, Edward Steichen, and George Hurrell who photographed her in the twenties, thirties, and forties.
Because of her strong screen presence, and an artistic range that ran from sultry to tragic, rumors about her private life have circulated for decades. Anna never married—convinced that a traditional Chinese marriage could never work due to her unconventional life, while anti-miscegenation laws and social stigma at the time prevented her from marrying someone outside her race.
That led to lore like the still-persistent rumor of an affair with Marlene Dietrich. On that, Hodges' careful research, here in regard to Wong's work on Shanghai Express with Marlene Dietrich in 1932, gives as clear a picture as any: "In Hollywood, gossip columnists Louella Parsons and Hedda Hopper operated out of restaurants opposite the major studios and effectively policed the movie community. Both columnists liked Anna May and gave her appreciative publicity; both had spies everywhere to dig up any clue of gay activity. Lesbian chic, so popular in the 1920s, was now going underground in the newly conservative era. Anna May especially had to be completely above suspicion.
Nonetheless, her scenes with Dietrich offered coded signals to gay people about her own sexuality. Gay love among actresses of this era was hardly news, and if Anna May and Dietrich did have an affair, it would offer yet another example of Anna May's courage in crossing boundaries." 
Early on in her career, Wong preferred working in Europe, already weary of the inherent bias of the Hollywood film industry against actors of color. From the beginning, the roles studios offered her were limited, either tragic or negative in their portrayals. Here too, Hodges does an excellent job of providing the larger picture of the history of racism in film and the Hays Code that banned interracial love scenes. That meant the roles Anna was offered were stereotypes—villainesses, thieves, servants—whose moral corruption required they die in the end:
I left America because I died so often. Pathetic dying seemed to be the best thing I did.
Even after the Hays Code was repealed, the typecast roles for Anna remained. The struggles she faced, as a woman of color in early Hollywood, on set and off, and the facets of her character—as an actor as well as an activist and a poet, are part of her legacy. Anna's dream of being able to play a character and not a type was a battle against larger forces, and the story of a life lived ahead of its time.
To learn more about Anna May Wong, see KQED's series ASIAN AMERICAN, Part 1: Breaking Ground, and read this Litstack Rec of a reimagined portrayal of Anna May Wong, Marlene Dietrich, and Leni Riefenstahl, in Amanda Lee Koe's Delayed Rays of Star.
—Lauren Alwan
Lauren Alwan's fiction and essays have appeared in The Southern Review, ZYZZYVA, Nimrod International, and other publications. Read her column at Catapult, "Invisible History," a chronicle of family stories of heritage and belonging and the complexities of her bicultural experience. More at www.laurenalwan.com
A Song for a New Day, by Sarah Pinsker
While I have recommended this book before, our current world outlook makes it eerily prescient to what we all are dealing with in our lives today, and what we may be dealing with in our future. While the situation in Sarah Pinsker's novel is far more acute than (hopefully) we are realizing, it's effect cannot be easily overlooked. It is a very timely read.
A Song for a New Day is a book that is set in a dystopian future that follows two women: Luce, a musician in the Before who must find her voice again in the After, and Rosemary, who knows only the After yet must learn how to keep that from limiting who she can be.
The After is a world that has become isolated. A combination of rampant terrorism and a highly contagious, deadly virus has created a society that exists in a virtual environment. Not only are gatherings – large and small – banned, but people are terrified to come in contact with others. Socializing is done through VR interfaces, business functions occur via technological networking. If one does need to venture out of the safety of isolation, discrete distance is kept between bodies and clothing covers all parts of the body that may come in contact with contaminated surfaces.
This new reality is anathema to Luce. For her, the power in the music comes not just from the song, but how it is shaped by the live audience. She is unable to accept how "live" performances are now the agency of intricately staged virtual productions micromanaged by megacorp StageHoloLive.
Rosemary lives a reclusive existence with her parents on their remote farm, working at a plodding job for the conglomerate SuperWally. But when her intuitive technical acumen catches the attention of an executive with StageHoloLive, she is handpicked to venture out into a carefully modulated larger world. This terrifies her, but she also knows it may be her only chance to know what lies beyond the walls of her bedroom.
When the two disparate worlds of Luce and Rosemary meet, dystopia becomes merely environment and the human element comes to the fore – reclaiming passion vs overcoming fear, and doing the right thing from two very different vantage points, even when the "right thing" may be at odds. Huge things happen in this story, but they happen at such a personal level, with such genuine characters, that the feeling is immediate rather than earth-shattering. And at the center of it all is the power of music – the power to make it, the power to allow it to be made, and how it connects us all.
A Song for a New Day is a dystopian speculative fiction novel, yes, but it's less about how to stay alive as to how to be alive. And this is exactly what makes it a wonderful read.
—Sharon Browning
Other LitStack Resources
Be sure and check out other LitStack Recs for books to read. You can also read other articles by Sharon Browning and Lauren Alwan.
Subscribe to our Newsletter