Delayed Rays of a Star, by Amanda Lee Koe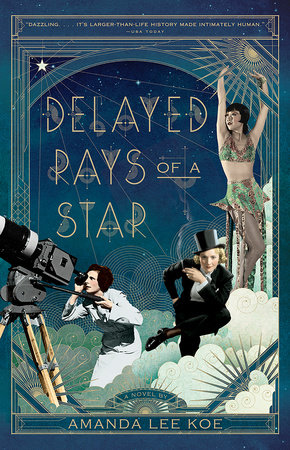 At a New Year's Eve ball in 1928, the German-born American photographer and photojournalist Alfred Eisenstaedt snapped a now-legendary photo of three women: Marlene Dietrich, Anna May Wong, and Leni Riefenstahl. In Amanda Lee Koe's debut novel, Eisenstaedt's impromptu portrait is the starting point of a leap into a reimagined portrayal of these iconic women's lives.
Delayed Rays of a Star springs from this chance moment to recount their stories: Marlene Dietrich, the legendary gender-bending goddess of film, so famous at her height that no newspaper or magazine was complete without mention of the most trifling detail of her life; Leni Riefenstahl, the Berlin-born actress, and filmmaker of Nazi propaganda, portrayed here not as a villain so much as an artist incapable of seeing beyond her own nationalistic prejudice; and Anna May Wong, in her time as internationally famous as Dietrich, but due to Hollywood's racial bias, would never see the same acceptance.
As artists, the three are independent women who pursue their careers with single-minded purpose. Yet all are misunderstood by their native or adopted countries, and the idolatry they receive burdens as much as it uplifts. The novel unfolds in sections that center on each woman's voice, speaking about their work, their love affairs, and their politics, especially as artists in the years before World War Two. Koe allows each the chance to reveal the interior facets of her historical narrative—fame, work, and love—and the historically familiar reimagined in deeply felt accounts. Imagined here too is the affair between Dietrich and Wong, gleaned from the dynamic in their performance in the 1932 film, Shanghai Express, and the ambiguity of their off-screen relationship, is portrayed across time, from their first encounter in Berlin after the New Year's Eve ball, to a madcap evening in Las Vegas in the 1950s—an era when Anna is no longer getting parts and Dietrich is selling out venues with her cabaret tour.
It's Anna's story that is most heartbreaking, both in art and life. In 1938, weary of playing doomed murderesses and fallen women, Anna sought the part of O-lan, the female lead in the highly anticipated film, The Good Earth. But Wong, who was born in Los Angeles to parents who'd immigrated from southern China, was told she was "too Chinese to play Chinese" (MGM gave the part to German actress Luise Rainer, who played O-Lan in yellowface). Wong's story has perhaps the most tragic arc here. Brilliant, unconventional, and forward-thinking in her art (she once proposed to Paramount a series of films in which she'd star as a female detective in the vein of Charlie Chan), Anna as portrayed by Koe is a fiercely committed artist whose career is derailed by Hollywood's production codes, and after decades of fame, is left ill and alone. And yet her life, like Dietrich's and Riefenstahl's, is at times itself a work of art—as here, when she meets critic and philosopher Walter Benjamin, and he observes:
…he admired how even from a distance, she could suggest so immediately and implicitly two aspects of herself. The one that was superficial, and the one that was secret. What she did in being he could do only in thought, in writing; how the life the mind fell short the moment you placed it next to life itself.
Koe delves too into the lives of the characters who surround them. Walter Benjamin fleeing Nazi Germany for Spain. The ill-fated affair of a gay soldier on Riefenstahl's Nazi-appointed film crew. The Chinese-born maid to Dietrich who's endured sex-trafficking to escape China for France, and who, as the Berlin Wall is about to fall, abandons Dietrich, now a recluse in her Paris apartment. These interwoven stories allow Koe to span time and place in sweeping fashion, rather than show her subjects in their familiar eras, which could, in the end, make them feel untouchable. Delayed Rays of a Star, in its detail and deeply imagined first-person accounts, takes the historical novel into new territory and makes art out of life.
Amanda Lee Koe is a graduate of the University of Iowa's Writing Program, a recipient of the Singapore Literature Prize, and the author of Ministry of Moral Panic, a story collection. Read an interview with the author here.
— Lauren Alwan
Lauren Alwan's fiction and essays have appeared in the O. Henry Prize Stories, The Southern Review, ZYZZYVA, World Literature Today, and other publications. More at www.laurenalwan.com