Last week, when the Emmy nominations were announced, the BBC Three series Fleabag received eleven nominations—for writing, acting, and direction, and no wonder. Written by and starring creator Phoebe Waller-Bridge in the eponymous role, the series is a marvel of wit and dark humor. Broadcast in the US on Amazon Video, Fleabag has caused a cultural ripple—no, make that a wave—and the two six-episode seasons, which chart the emotional turmoil of an unnamed young woman are classics of tragicomic character-driven storytelling.
Since its debut in 2016, the series has received awards from BAFTA, Britain's Royal Television Society, and the Writers Guild of Great Britain, among others. Nominations for performances include lead actress Waller-Bridge along with Supporting Actresses Sian Clifford and Olivia Colman, and Guest Actresses Kristin Scott-Thomas, and Fiona Shaw, in a brief but spectacular star turn as Fleabag's incisive, dry (and not just her forearms) therapist. In that indelible scene, the unnamed therapist crisply mirrors Fleabag's own anxious chattering words back to her, to devastating effect, as her, when she sums up Fleabag's plight:
Just a girl with no friends and an empty heart. By your own description.
Season One introduced us to the travails of Fleabag, shouldering on in London following the suicide of her best friend and café business partner Boo (Jenny Rainsford), an event that haunts Fleabag (for reasons eventually disclosed) and the recent death of her mother. There's also Fleabag's final breakup with the fastidious and emotionally fragile Harry (Hugh Skinner), frictions with her high-strung older sister Claire (Sian Clifford) and Dad (Bill Paterson), as well as her passive-aggressive artist godmother-turned-stepmother (Olivia Colman), plus liaisons with those known only as Arsehole Guy and Bus Rodent, culminating with the unwanted attentions of Claire's unsavory husband Martin (Brett Gelman). Given the viral online presence of Fleabag, you are likely aware of Season Two's premise: We meet Fleabag one year later, when she develops an obsession with the #hotpriest who's hired to officiate at Dad and Godmother's wedding. The Priest, as he's known, is played by the excellent Andrew Scott, in a performance that moves between deep pathos—"I can't have sex with you because I'll fall in love with you"—and the gleeful absurdity for which the actor is rightly celebrated.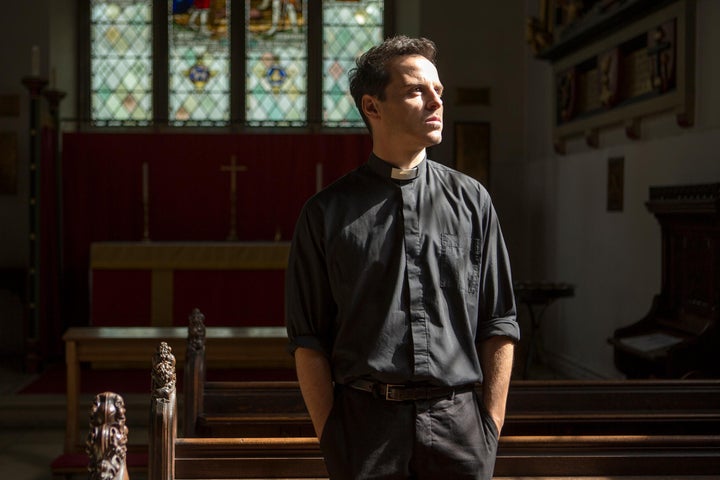 Situation and character alone are more than enough, but Waller-Bridge adds the now-celebrated formal move of breaking the fourth wall in Fleabag's frequent asides to the camera. This implicates the viewer, and we become another unnamed character, "always there," a confidant and co-conspirator as the action moves forward. You can read a wonderful study of it here.
Waller-Bridge is an accomplished storyteller, and has much to offer writers in her skillful use of classic story devices. There is, for example, her use of oppositions—conflicting forces, often seen in details—that drive a story through the tensions both small and large. Take the opening episode of Season Two. To the sounds of piped-in Muzak, we see Fleabag in a well-appointed ladies room, clearly out for the evening andwearing the now-legendary black jumpsuit. She stands at the sink with her back to us, though as the camera moves in, her reflection in the mirror reveals the shock of blood at her nose and mouth—what appears to be the result of a punch to the face (which it is). If that weren't enough, as we watch her blot away the blood (and pass a washcloth to a young woman who inexplicably appears to have a similar injury), she turns to the camera and announces:
This is a love story.
In literary terms, it's a classic inciting incident—one decisively ramped up—and the family dinner table drama that follows (Father and Godmother's engagement dinner at a London restaurant) rivals the best of Chekhov.
Oppositions drive Fleabag, and it's worth a writer's time to follow and observe how these frictions not only keep the action lively but infuse the story with narrative tension and the sense that essences are being revealed. Oppositions can have an incongruous, even inappropriate quality. They often don't fit into the story's landscape and run against the story's or character's grain, a quality that lends narrative power. In Fleabag, there's a guinea pig that lives in the cafe, a gift from Fleabag to Boo. There is Martin's eccentric son, Jake, who has an obsession with Claire. And when Claire falls for a co-worker during a work assignment in Finland, his name is Klare. There is also the unifying element of recurring details: a sculpture, a fox, a pencil, all of which accumulate meaning with each return. Waller-Bridge makes use too of the power of objects, as in the repeated stealing and returning of a sculpture made by Godmother. Objects that are portable, that can be slipped into a pocket, as Micheal Byers tells us, have a unique role to offer, as they compactly and elegantly hold the desires of the characters.
Of course, it was devastating news to learn that Fleabag's second season would be the last (here is where I look at the camera with a disapproving expression). But like the best writers, Waller-Bridge crafts her ending in terms that are both emotionally satisfying and boundary-breaking. There is the resonance of emotional truth—but as to what happens next, those events are left to be savored in the way the best characters remain with us long after the story is done.
—Lauren Alwan
Subscribe to our Newsletter