Four New Adaptations from Kirkus Reviews' Book to Screen
This week at Kirkus, the legendary book review site, their Book to Screen column ran a feature on four very different upcoming book adaptations for the small screen, literary miniseries that range from mystery to YA to historical, all of which will air in July. Kirkus also reviewed each of these titles when they were first published, so be sure to check out the links included in the Book to Screen roundups.
The AMC+ series,The Beast Must Die, premieres July 5, and is based on the 1938 crime novel by the English poet Cecil Day-Lewis (father of Daniel), who wrote the series of detective novels under the pseudonym Nicholas Blake to generate the income his poetry did not. There were nineteen Nigel Strangeways novels, as they were called, and the success of the series enabled Day-Lewis to continue writing poetry. The six-part series stars Billy Howle ((Star Wars: The Rise of Skywalker) as detective Strangeways, and re-envisions the original character of Frank Cairnes as Frances, played by the English actress Cush Jumbo (The Good Wife and spinoff The Good Fight). In episode one, Frances' son is killed in a hit-and-run, and when she discovers the man she believes was behind the wheel, played by Mad Men's Jared Harris, she plots his murder. The series is directed by Tolkien's Dome Karukoski.
Cecil Day-Lewis published a dozen poetry collections, three collections of essays, and numerous translations, novels, and children's books. A professor of poetry at Cambridge and Oxford, he received the CBE from George V in 1950, and was named Poet Laureate of Britain in 1968. He died in 1992, and is buried in the cemetery at Stinsford in Dorset, near the resting place of his literary hero, Thomas Hardy. 
Coming July 8 from HBO Max, Gossip Girl, a series based on the 2002 YA novel by Cecily Von Ziegesar. Gossip Girl has previously taken form as a televised series, in 2007 on CW TV, and the latest incarnation picks up where the previous series left off, following the privileged Upper East Side adolescents at the exclusive Constance Billard private school. The HBO Max series updates the storyline with an anonymous Instagram account (@GossipGirl) that spies on the students and sows discord in the pecking order of influential adolescents. There's also a new cast, including Doctor Sleep's Emily Alyn Lind, along with a member of the original cast. The Good Place's Kristen Bell lends a familiar voiceover as the titular narrator.
Cecily von Ziegesar was born into an aristocratic German family and grew up in New York. Like her Gossip Girl characters, she attended an exclusive Upper East Side prep academy, The Nightingale-Bamford School, and was a serious student of ballet before studying creative writing. The Gossip Girl series was among The New York Times bestsellers list in 2002. A follow-up series, The It Girl, was a bestseller in 2005.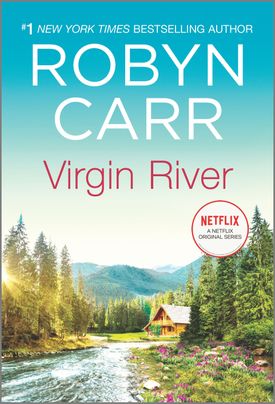 This July 9, Netflix will air the Season 3 premier of Virgin River, based on Robyn Carr's bestselling 21-novel series of the same name. Searching for a fresh start, the widowed nurse practitioner Melinda Monroe moves from LA to a remote northern California town looking to start over. Depictions of small towns typically feature a cast of quirky characters, and Virgin River's include Annette O'Toole (Nash Bridges, Smallville) as the town's mayor, Tim Matheson as the local doctor, and a romantic interest in a military veteran played by Jack Sheridan (Grey's Anatomy). Catch up with the previous two seasons, both of which are available on Netflix.
Robyn Carr began writing as a young mother in 1970, and has since published almost fifty novels. The Virgin River series was her first, and eleven of her novels New York Times bestsellers.
Nancy Mitford fans will have to wait until July 30 for Amazon Prime's newest series, The Pursuit of Love. The series is based on Mitford's enduringly popular novel, The Pursuit of Love, published in 1946, which follows the Radletts. Set in the inter-war period in England, the novel is based on Mitford's own eccentric and privileged family. Told from the point of view of a cousin, Fanny (Cruella's Emily Beecham) who's come to stay at Alconleigh, the Gloucestershire estate, we're introduced to the bored, pleasure-seeking sister, Linda (played by The Dig's Lily James). Linda's series of exhilarating and tragic romances include an engagement to a Scottish aristocrat, marriages to Tory politician and a Communist, and a French duke named Fabrice. Andrew Scott, the hot priest of Fleabag fame, plays the glamorous and racy Lord Merlin.
Mitford was the eldest of six sisters—Jessica, Diana, Unity, Pamela, Deborah, and Nancy—who together were known as bright young things of the nineteen twenties and whose influence was far-reaching in the social sets of inter-war Europe and the US. An aristocratic autodidact, Mitford was the author of novels, biographies, and translations, and especially her fiction contained a trademark wit and satiric tone that ran against the grain of her upper-crust upbringing. Her writing began as a means to supplement the limited allowance from her family, and in time she gravitated to politics, and while her leanings were considered moderately socialist, her body of work held close to the upper-class values she grew up with. At the end of World War 2, Mitford moved to Paris, and spent her final years in Versailles, writing, receiving a CBE from Queen Elizabeth, and publishing her final book, a biography of Frederick the Great, in 1970. Mitford died in London in 1973.
The Pursuit of Love is written and directed by British character actress Emily Mortimer (The Newsroom and The Perfect Girl in Notting Hill, among others), and marks her directorial debut. In this series, Mortimer also plays the juicy role of "Bolter," Fanny's flighty mother, named for her preferred method of ending love affairs. Read Mortimer's thoughts on her character, and her project, here.
—Lauren Alwan
Subscribe to our Newsletter