The Night Angel Trilogy
The Way of Shadows / Shadow's Edge / Beyond the Shadows
Brent Weeks
I really like Brent Weeks. He's a genuine reader's author. He's very accessible. His blog is fun; he is very open and witty in his postings, many of which occur while he's in the process of writing. He's also one of my favorite folks on Twitter; his tweets almost always make me smile. He even replied to me in a direct message once; I was in heaven for a week.
But that's not all. All three books of his Night Angel Trilogy are substantial, each weighing in at over 600 pages, but somehow they don't seem intimidating. And they all come with great tag lines: "The perfect killer has no friends – only targets." "The perfect killer has no identity." "The perfect killer has no conscience." Have any idea what they may be about?
Weeks shows a lot of savvy from the very beginning – starting small and letting the story grow. We are introduced to the main character – the street urchin Azoth – in the first paragraph. The second main character – the master assassin Durzo Blint – is also introduced quickly, and comes into play at Chapter 3 of the first book. By Chapter 4, actions that will haunt the entire trilogy have been put into play. Everything that follows is an outgrowth of this beginning – the apprenticeship of the kid with nothing to the man who has nothing to lose.
It is Azoth's development from helpless victim to the assassin Kylar that is central to the entire trilogy, but as his life touches others, the story grows. And like most epic heroes, Kylar struggles with the path set before him, even though he himself selects this path. He first apprentices with Durzo in order to escape being a victim and to protect those he loves, but soon learns that life isn't black and white, and it extracts sacrifices; the higher the stakes, the higher the sacrifice. We also learn that Durzo has his own reasons for taking on Kylar as an apprentice, and his own ability to move unseen has deeper implications than simply the taking of another's life.
The trilogy is grounded on the friction between doing what is right and doing what is easy, as well as the question of what exactly is "right". Of course, due to his profession, there are factors at play for Kylar beyond the norm, even beyond the "normal" assassin, for he and Durzo are "wetboys" (according to street cred in the books, "a wetboy is like an assassin – in the way a tiger is like a kitten"). Kylar's ascension to the ranks of the wetboys, his balancing between his public personae and his hidden one, and his own internal sense of honor keep him, and us, on edge.
Indeed, Kylar finds it difficult to live up to the central tenant that Durzo teaches – that wetboys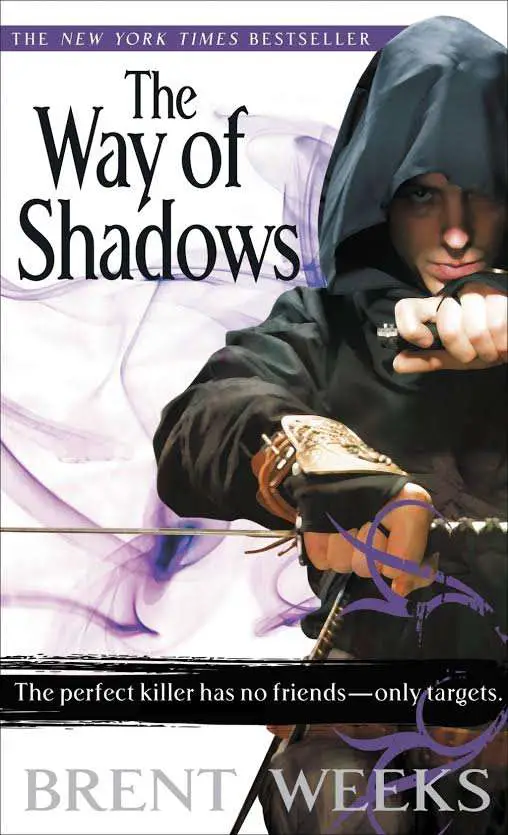 do not love, in friendship or in desire. Kylar understands this, and accepts it, but he struggles with being able to follow through. As the stakes surrounding Kylar's life continues to grow to almost unbearable proportions, the line between right and wrong and survival becomes so entangled as to be indelibly corrupted.
It is to Weeks' credit that he can take a rather overdone convention – the consummate killer with a conscience – and make it seem fresh. He does this with a story that is constantly on the move, but rarely frenetic. The characters that swirl around and are pulled to Kylar are at times familiar, but for the most part are not cookie cutter creatures of convenience. My favorite secondary character is Logan Gyre, son of a nobleman who befriends Kylar and remains staunchly honorable and loyal to the wetboy, even when he has to make difficult decisions that feel like betrayal. The ordeal that Logan endures at the end of Shadow's End and into Beyond the Shadows still has me cringing.
There are some weaknesses in The Night Angel Trilogy. Most notably, Weeks' female characters do not ring true. Yes, some of them are more successful than others and he does at least put them in less than conventional situations, but most fall short of allowing us to stay submerged in the story line. Specifically, his character of Vi, the female wetboy (uh huh) is the least nuanced, and therefore the least successful. Where Kylar successfully straddles the line between his conscience and his actions, Vi simply careens from one extreme to another, dependent on where the story is being driven. This makes her come across as shallow and contrived; where she is a pivot, the story suffers.
Still, it's easy to skip over the weaknesses and thoroughly enjoy the tale that Brent Weeks spins in The Night Angel Trilogy. Kylar's is a whopping good story, and one that will provoke a response in the reader, which for me is always a benchmark of a great read. After all, we all know ourselves that life is not as simple as it should be; we can identify with the struggles Kylar has to go through and the hardships he endures. So go ahead – take the journey with The Night Angel Trilogy. You'll enjoy the ride.
—Sharon Browning