The Romanoffs, by Matthew Weiner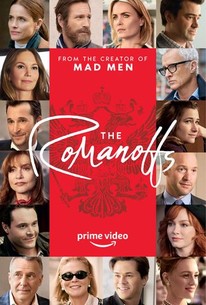 The thing I love most about linked story collections is the strategy of slow accrual. We are shown an idea, or character, or setting from different points of view and  varied points in time and space, and as with the novel, the narrative facets develop to a full and satisfying conclusion. The Romanoffs, a new Amazon series that airs each Friday on Amazon Prime, comes via the creator of Mad Men, Matthew Weiner. And while The Romanoffs (the American spelling is evidently intentional) it isn't a story collection, at times it feels like one—with an important difference. Unlike linked story collections, such as Olive Kitteridge, Elizabeth Strout's exploration of her titular character, or Tim O'Brien's The Things They Carried, the epic chronicle of the Vietnam War's effect on a U.S. platoon, The Romanoffs explores an idea: what it's like, in this moment in time and culture, to be a descendant of the Russian imperial family assassinated by the Bolsheviks in 1918.
Weiner's project explores the Romanov connection in degrees of distance and closeness—sometimes using a central point of view, other times a minor stance, varying point of view in each episode to show his subjects, their effect on those around them, and to investigate a sense of privilege and assumptions of entitlement—whether around love, work, marriage or social standing.
Episode One, "The Violet Hour," launches the series with a purely character-driven story. Anushka La Charnay (Marthe Keller) is an aristocratic, bad-tempered, and bigoted Frenchwoman with a weak heart, cared for by her nephew Greg (Aaron Eckhart) since her only son's death, along with a series of long-suffering hired caregivers. Greg is a transplanted American, with a Parisian girlfriend, Sophie (Louise Bourgoin), who covets Anastasia's glorious apartment, brazenly anticipating the day when Greg will inherit it. When the nursing agency sends the latest replacement, a young Muslim woman, Hajar (Inès Melab), Anuska's French nationalism erupts. "A terrorist!" she cries when Hajar appears at the door, and slams it closed. But "The Violet Hour's" character-driven focus ensure that individual desires govern the action and kindle one another: Anuska, whose aristocratic past appears to run back to Tsar Nicholas II, wants an inheritor; Greg secretly harbors a desire for children; Hajar wants Greg; and of course Sophie wants the apartment—all of which make for a narrative of turns, some earned, others not as convincingly. But by the episode's conclusion, I'd become so caught up with these characters, I was hoping to see them in Episode Two—which alas, wasn't the case.
Yet "The Royal We," Episode Two, is as satisfying, though takes a different tack with a similar theme of love and inheritance. Michael Romanoff (Corey Stoll) is the detached, bored husband of Shelly (Kerry Bishé), an accountant, and they live in an unnamed American suburb. The couple is in therapy but getting nowhere, until, enter Michelle, a British expat Michael meets at jury duty. Michelle is a sultry ex-ballerina, and her entrance gives the story takes a noirish turn.
Obsessed with the married Michelle, Michael deadlocks the jury, and persuades Shelly to take their coming cruise vacation alone. His resulting seduction of Michelle relies on some faux jury sleuthing, but more importantly, the cruise Shelly has takes by herself turns out to be a "celebration' for people who believe they are Romanov descendants, complete with a fancy dress ball, Russian prisyadka dancing, and an awkward all-dwarf reinactment of Rasputin's pursuit of Alexandra. Shelly's week away includes a dalliance with Ivan (Noah Wyle), and also gives her a window into Micheal's heritage. But Micheal's obsession with Michelle takes the story to its unexpected conclusion, and in classic short story fashion, we see an ordinary character transformed by extraordinary events.
In the third, and final episode aired to date, "The House of Special Purpose" (an excellent title that is also an historically accurate detail you may want to look up), the series takes a horror turn. Set in the Austrian woods, and an eerie Teutonic hotel, a onetime actress, Jacqueline Gerard (Isabelle Huppert), directs an on location made-for-European-television miniseries based on the history of the Romanov family. Sharp, chic, and edgy, Jacqueline may or may not be a Romanoff descendant, and pulls strings both behind and in front of the camera to get her lead actress into character. That would be a Hollywood actress, Olivia Rogers (Christina Hendricks), brought in to play Alexandra Fyodorovna after the lead drops out due to a drug overdose. In this episode, Weiner bypasses the character-driven genre in favor of the Gothic and unreal. As Olivia encounters the illusory in instances of violence, the ghostly, and hallucination, reality and nightmare become impossible to separate. Think of The Shining meets The Purple Rose of Cairo—with terrifying results.
Each episode of The Romanoffs runs ninety minutes—lengthy for this format—but it allows Weiner to mine his characters and build complex stories. This week's episode, "Expectation,"  follows a New York woman who's confronted with every lie she ever told. The cast includes Amanda Peet, John Slattery, Jon Tenney, and Mary Kay Place.
—Lauren Alwan
Subscribe to our Newsletter