After Atlas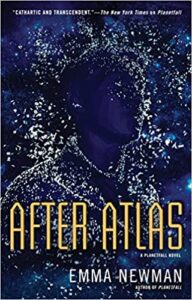 Emma Newman
Roc
Release Date:  November 8, 2016
ISBN 978-0-425282-40-3
Last year, Emma Newman's novel, Planetfall, chronicled the aftermath of an interstellar expedition whose participants thought they had found the resting place of God. Led by the unshakable faith of the genius scientist known as the Pathfinder, a thousand people left behind their homes, their families, their lives, in order to find humankind's place in the cosmos.
But what of those left behind?
After Atlas is not a sequel to Planetfall, not another installment in a linear series. Rather, it is a companion novel, a story linked to the other but along tangential lines.
Detective Carlos "Carl" Moreno is was one of those left behind. His mother, the Pathfinder herself, disappeared into the stars, leaving her infant son and shattered husband to pick up the pieces of their lives at a religious commune established by charismatic Alejandro Casales, who had himself once been attached to the Atlas project but now eschews technology of any kind.
Forty years later, the world is feverishly anticipating the opening of a time capsule left behind by the Atlas team; everyone is counting down the hours until the unveiling – everyone but Detective Moreno, who resents the attention anything associated with the Atlas brings to his own hermetic life. When Alejandro Casales, now an international celebrity, is found dead in a hotel room outside of London, Carl is assigned to the case due to his personal knowledge of the man and his teachings.
What follows is a gripping tale that succeeds on many different levels. It's a deftly written murder mystery, a fascinating – and alarming – glimpse into a distinctly possible future, and a deeply moving character study of an outwardly successful man who is in reality trapped in a kind of indentured servitude – one that is completely legal even if it exists in the shadows of society.
All three of these levels are so seamlessly integrated that it's easy get lost in one without even considering the others. The procedural mystery engulfs us as we watch Carl struggle with his personal demons, even as the scope of the investigation grows beyond the bounds of this world. To be so anchored in the "present" while driven by the past, to be so focused on the actions that occurred in one room on one night that yet illuminate (in terrible clarity) the sweeping effects of so many other actions put into play on so many far-reaching levels, to feel part of an extremely personal story that is yet so inextricably tied into a world changing narrative, is simply amazing.
And yet along with these expansive themes, there are so many small touches, so many nuances, that are built into this novel – touches and nuances that do little more than keep the environment cohesive, yet make this remote world tactile, intimate, urgent. It feels utterly genuine.
While there are many different aspects to After Atlas that are intriguing, what has gotten under my skin the deepest is author Emma Newman's vision of the near future, when there are no longer countries but "gov-corps" ruthlessly run by combined political and commercial interests, where society has become homogenized yet feels more remote and impersonal, where technology is so ingrained – literally as well as figuratively – that surveillance and merchandizing and profiling are expected and accepted, and privilege includes strategic manipulation of that technology. Yet again, as I reader I was allowed to keep this dire future at arm's length, as Carl's compelling personal story deftly humanized its effects.  This is a master stroke by Ms. Newman, one that works incredibly well to mute the visceral reaction we have to these potential future developments and keep them in the realm of genre fiction rather than hinting at any kind of miasmic prediction. (No less chilling, though.)
In fact, it's easy to see that Emma Newman is (according to her biography), a "keen role-player". First Ren in Planetfall and now Carl in After Atlas are such well developed characters  that they transcend the more fictive aspects of their respective stories – this can only be achieved by someone who can anchor any story, no matter how fantastical, with a complex yet cohesive central character. Add to that a believable (if disquieting) environment, a powerful story line, a compelling cast of supporting characters, and a realization that consequences, once set in motion, are not easily mitigated, and you have some mighty fine reading.
And oh, yes – After Atlas is mighty fine reading, indeed.
~ Sharon Browning