An elevated beachside read in the Outer Banks Bookshop Mysteries series. Murder on Mustang Beach is perfect for fans of resourceful amateur sleuths and thriller-leaning cozies.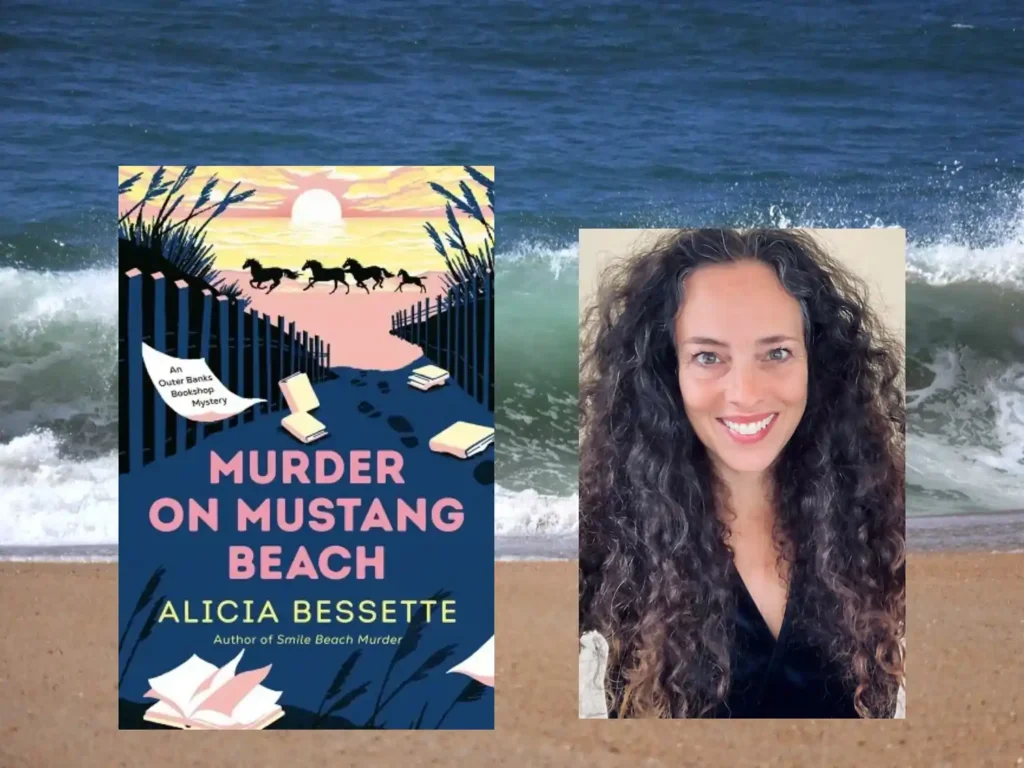 Table of Contents
About Murder on Mustang Beach
When a killer stirs up trouble in the Outer Banks, amateur sleuth and bookseller Callie Padget is on the case, in a new beachside mystery from author Alicia Bessette.
Cattail Island in the Outer Banks is a popular destination for honeymooners and nature lovers alike. So it is a huge blow when the murder of a newlywed grinds the pre-summer season to a screeching halt. Bookseller Callie Padget launches her own investigation, after mysterious customer Geri-Lynn Humfeld, caretaker of the island's protected wild horses, brings in an irresistible piece of information.

Determined to restore order and safety to her beloved hometown, Callie searches for answers—even as those answers cast suspicion on her soon-to-be boyfriend, Toby Dodge, whose martial arts studio was the scene of the crime. As she digs deeper, Toby becomes the police's prime suspect. The truth raises troubling questions and sends her scouring the bookshop's shelves for guidance.

Meanwhile, a well-loved member of the mustang herd—a pregnant mare whose anticipated foal is a symbol of summery hope for locals and visitors alike—may be facing dire circumstances. With help from Geri-Lynn, Callie unearths startling secrets surrounding not only the compromised mare, but the murdered newlywed, too. And when another body shows up, this time on isolated Mustang Beach, she must race against time to stop a killer from claiming any more innocent lives.
Praise for Murder on Mustang Beach
"Readers, pack your bags and take a trip to fictional Cattail Island, North Carolina, where you'll find down-to-earth characters, a charming coastal bookstore, untamed natural beauty, and a cleverly plotted mystery." —Ellery Adams, New York Times bestselling author
"What a great read! Elegant prose. A twisty plot. Characters I wanted to know. Truly, I was captivated by Alicia Bessette's Murder on Mustang Beach. Beautifully crafted, thoroughly enjoyable." —Jane K. Cleland, bestselling and Agatha Award-winning author of Mastering Plot Twists and the Josie Prescott Antiques Mysteries
Excerpt from Murder on Mustang Beach
Running the Mustang Beach footpath was the sweetest kind of torture.
To my right, through the trees, wild horses frolicked in the surf, kicking up sand and seawater. They tossed their manes against the backdrop of the Atlantic Ocean, which twinkled emerald and sapphire.
To my left, Toby Dodge trotted alongside me. His breathing was hardly disturbed, and he had barely broken a sweat. His black shoulder-length hair was tied at the nape of his neck except for one uncooperative strand, which he kept tucking behind his ear. A head taller than me, he'd adjusted his stride to my slower pace, one of many chivalrous gestures that I'd grown to appreciate over the past eleven months, as we'd gotten to know each other.
What was so torturous about this run? I could look, but I couldn't touch. That rule went for both the wild horses and my running companion.
"Middle name?" he asked, continuing our back-and-forth quiz game, which we'd been playing on and off since we first met. "I'm sure I've asked you this already," he added, "but I can't think of the answer."
"That's because I don't have a middle name," I said. "I'm just Calista Padget. Short and sweet."
"You're short. I don't know about sweet."
"Ha ha. First job? Wait-I know this. Retail, right? Your mom's gift shop."
"I swept the floors and kept the shelves stocked. You?"
"Boring: babysitting. Best first date you've ever been on?"
"Hasn't happened yet. But it will in approximately"-he consulted the time on his phone-"eight hours."
My stomach fluttered, my head felt full of clouds, and a ridiculous smile, one I couldn't control, made my face feel lit from within. You see, Toby was just coming off a yearlong abstinence experiment. As playful as he could be, he also had a serious side, one that let him accomplish things like start his own business and last a whole year without dating anyone in order to heal from a previous relationship.
That year ended tonight. Which meant that we were going to have our first official date. I didn't know what he had in store, but I needed to be prepared for anything. That's what he kept telling me.
At the end of the two-mile path, we slowed to a walk. The wood chips under our feet transitioned to a ramp that sloped upward. Emerging from the maritime forest, we strolled to the observation platform, and the view stretched open before us. The horizon went on forever, ocean indistinguishable from sky. Dolphins surfed the breakers, their fins glinting as they arced out of the water. A strand of pelicans swept over the crashing waves. And on the beach, two jet-black mustangs stood head-to-tail, flicking flies from each other's faces.
Mustang Beach is the sole domain of Cattail Island's several dozen wild horses. A few hundred fenced-in acres of pristine oceanfront, plus the surrounding dunes and woods, are theirs alone to roam. They forage for sea oats and pampas grass, acorns and Tinnakeet grapes. They drink from puddles and seasonal pools. They survive thanks to the knowledge embedded in their DNA, passed down through five hundred years of adaptation.
Their survival is also thanks to the fence.
A generation ago, wise Cattailers realized that if they allowed the mustangs to continue comingling with humans, the herd, unique in all the world, would soon go extinct.
The fence isn't there to keep the mustangs in. It's there to keep the people out.
So, as much as I wanted to climb the wire-and-wood barrier and gallop for all that cool liquid turquoise and dive in; as much as I wanted to approach a mustang, tell her my name in a soothing voice, stroke the white blaze between her eyes, caress her velvet nose-I had to settle for simply admiring the postcard-worthy view. Aside from the platform holding us above the dunes, the scene of sea and sky, of sand and horses, probably looked exactly the same as it did three hundred years ago.
My breathing back to normal, I rested my forearms on the railing. My baseball cap kept my long hair in place and shielded my eyes, but the morning sunlight reflecting off the ocean was dazzling, and I couldn't keep from squinting. "The pregnant mare must be hiding out," I said. Any day now, one of the herd's adult females was going to give birth. We'd been hoping to catch a glimpse of her. Apparently, though, she was keeping a low profile. Sheltering in the scrub pines, maybe.
Toby and I shared a bottle of water, taking turns gulping until it was empty. "Check out that little house." He pointed northward, at a cedar-shake bungalow of traditional Outer Banks architecture nestled in the grass-topped dunes. Bottle-green hurricane shutters were propped open. Rocking chairs dotted the wraparound porch. Three second-story windows were dormered, and above them, three cupolas crested the apex of the green-shingled roof.
"That's Sanctuary Bungalow." I explained that the once home had been converted into a tiny museum and office for the herd caretaker of Mustang Beach. "She lives in an apartment on the second floor, as far as I know."
"I love those old Outer Banks bungalows. I'd like to live in one someday."
"Me too." A fantasy flickered in my mind. Me and Toby, cohabiting. We somehow acquire Sanctuary Bungalow and convert it back into a proper home. Our home. We plant petunias and snapdragons along the path leading to the porch. We pass summer nights in the rocking chairs, sipping ice-cold Cattail Island Blonde from bottles, gazing at the Milky Way, which looks like it's shooting straight up from the black ocean . . .
"What are you thinking?" His baritone voice had a mellow musical quality that I loved.
I tuned back in to reality. My gig at a small independent bookshop would never afford me an oceanfront home-or the means to renovate it, even if it was all of nine hundred square feet.
Moreover, while Toby and I had been flirting hard for the past eleven months, and spending time together almost every day-and while there was an ease between us that I'd never experienced with any other previous boyfriend-the truth was, it was bananas to be daydreaming about a committed, blissful future with the guy.
Just like with running, I needed to take things one step at a time. "I was thinking," I said, "about how excited I am for tonight."
"Tonight?" He scrunched his forehead. "What are you talking about?"
I play-punched him in the gut. Laughing, he caught my wrist and pulled me in for a sweaty hug. "Don't worry," he said. "There is nothing on this planet that could keep us from having the most epic first date ever."
ISBN-13: 9780593336915
Publisher: Penguin Publishing Group
Publication date: 05/16/2023
About Alicia Bessette
Before authoring the Outer Banks Bookshop Mysteries, Alicia Bessette worked as a reporter in her home state of Massachusetts. Her writing won a first-place award from the New England Newspaper & Press Association. A pianist, published poet, and enthusiastic bird-watcher, she now loves living in coastal North Carolina with her husband, novelist Matthew Quick. 
Alicia Bessette on Facebook. Alicia Bessette on Instagram.
Buy Books by Alicia Bessette
LitStack may earn a commission at no cost to you when you purchase products through our affiliate links.