LitStack Review: Falling Away by Penelope Douglas
Falling Away (Fall Away #3)
Penelope Douglas
Penguin Group
Jaxon is the guy she's supposed to avoid.

K.C. is the girl he won't let get away….

K. C. Carter has always followed the rules—until this year, when a mistake leaves her the talk of her college campus and her carefully arranged life comes crashing to a halt. Now she's stuck in her small hometown for the summer to complete her court-ordered community service, and to make matters worse, trouble is living right next door.

Jaxon Trent is the worst kind of temptation and exactly what K.C. was supposed to stay away from in high school. But he never forgot her. She was the one girl who wouldn't give him the time of day and the only one to ever say no. Fate has brought K.C. back into his life—except what he thought was a great twist of luck turns out to be too close for comfort. As the bond between them grows, he discovers that convincing K.C. to get out from her mother's shadow is hard, but revealing the darkest parts of his soul is nearly impossible.…
We only hurt the ones we love and Jax Trent knows how to hurt deep.
But if he expected K.C. Carter to take what he gave her without fighting back, then he was sadly misguided.
Falling Away follows Jax and K.C. as they navigate the push/pull game of new love. It's a time in both their lives where pain is present, where the shadow of the past has yet to relinquish its hold on their hearts. The scars each of them carry runs deep, stings sharply, and it is through each other that those scars can be healed.
We first met K.C. in Douglas's Bully, book one in her Fall Away series. K.C. was the heroine, Tate's, best friend and seemed to step over those girl-code bounds that kept her at a distance from the reader. But with book two, Until You, Douglas calmed her worried readers who thought K.C. had used best friend bad form. It is in this book that we meet Jax, Jared Trent's half brother.
The Trent brothers are very similar. Each have faced traumatic pain at the hands of the one person who was meant to protect them. But where Jared used his fists to protect himself, Jax used his immense intelligence. It's that same clever mind Jax uses to outwit would-be villains in the third novel, Rival and how he deviously convinces K.C. that he's the man for her.
Falling Away is a beautiful story of strong-willed people fighting their love for one another while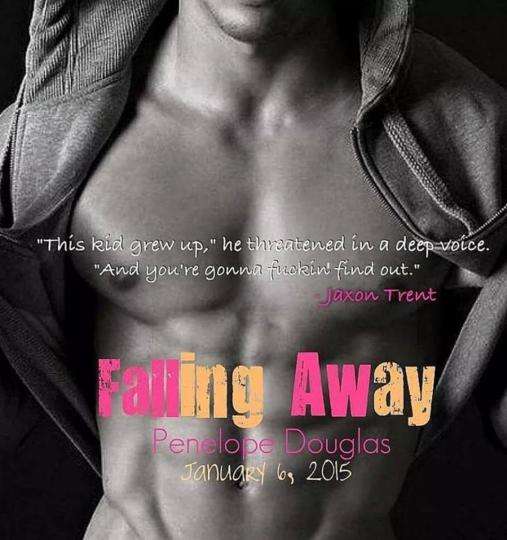 trying to navigate through the turmoil that keeps them from claiming the love that is waiting for them. What Douglas does best is draw flawed, beautifully witty and painfully real characters that leap from the page. Their chemistry is undeniable. Their banter is brilliant and it all gives the reader the feeling that these characters are more that fictional realizations of the people we could have all been at twenty.
Jax and K.C., like Jared and Tate, and Madoc and Fallon, all love very deeply, with a passion that leaves scorch marks on every page. Picking up Falling Away would be a treat for anyone who loves a great story of love and lust, struggle and triumph. Picking up the entire series would keep that promise ten fold.
Highly recommended.