Ophelia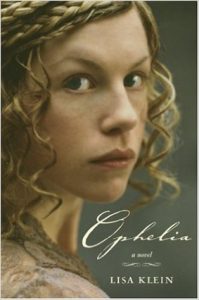 Lisa Klein
Bloomsbury USA Childrens
Release Date:  December 26, 2007
ISBN 978-1-58234-801-8
Earlier this month, word broke on the entertainment wires that Daisy Ridley and Naomi Watts were in negotiations to star in a movie project based on Lisa Klein's YA novel Ophelia, a story written from the viewpoint of one of most tragic of Shakespeare's female characters:  Hamlet's doomed love, Ophelia.  (Ms. Ridley is to play the title character, while Ms. Watts will portray Queen Gertrude.)
LitStack Editor-in-Chief Tee Tate will attest to the fact that I have very strong feelings about the treatment of fair Ophelia; I have yet to see a staged production of Hamlet -some of them exceptional – where I feel the approach to this character has been even adequate.  The acting is often superlative, but the direction regarding the role?  Not so much, which is a shame, because Ophelia could be such a potent and exceptionally heartbreaking character.
However, since I adore Daisy Ridley ("Rey" in Star Wars: The Force Awakens) and am ever the optimist, I dashed off to obtain a copy of Ophelia to discover how Ms. Klein had reimagined the Bard's classic tale, this time with Ophelia in the starring role.
What I found was a lovingly construed story, with an outstanding sensitivity to the "look" and feel of a Shakespearean tale.  Along with the events depicted in Hamlet, we learn of Ophelia's early life, and what occurs after Fortinbras comes across the carnage in Elsinore.  We know from Shakespeare's play that Ophelia's mother dies giving birth and she was raised by her father, but in Lisa Klein's tale, Polonius is not a doting parent but an aloof schemer, more concerned with trying to curry favor at court than give any guidance or affection to his daughter.  He bids her to study every day, more to keep her out from under foot than from any concern for her wellbeing, but this suits her well, as she has a keen mind and a rambunctious spirit.
When Ophelia is eight, Polonius's plan bear some fruit, and they move from the village to Elsinore Castle.  Before too long she catches the attention of Queen Gertrude and is made one of the Queen's attendants where she begins to learn the ways of being a proper young lady under the watchful eye of an elderly maid.  In a more roundabout way Ophelia also catches the eye of Prince Hamlet, and before too long they begin a clandestine courtship.  Her life seems to be following a satisfactory if somewhat placid path – until the beloved King suddenly dies of a supposed snake poisoning, even though such creatures are unknown in that part of Denmark.
Soon the tale that we know from Shakespeare's play unfolds – but not in the way we have been led to expect.  Author Klein's departure from the Bard's script is fanciful, but not outrageous, and she underpins the unexpected with well executed environments and insights, lending them a credence that our minds may argue with but our sensibilities accept readily enough.
In this book, Ophelia does become a more complex (if somewhat conflicted), more astute character, as does Queen Gertrude, which is no mean feat.  By giving Ophelia a strong back story, she becomes less a foil and more a fleshed out character, although by no means a mover and shaker; that's actually part of what is good about this book – it doesn't try to do too much.  Instead, we get a glimpse into that which inspires and constrains women of the time, without moralizing or trying to change the world.  By contrast, the men fare a bit less well, but then again, this is not their story!
If I may quibble with one thing, it is that the author does not utilize the beauty of Shakespeare's words nearly enough.  While I can understand not using his script verbatim, there seems to be many places where we long to hear familiar words and phrases, to see events unfold as we have learned them in classes and performances, which would not deter from the more fanciful story that we are seeing now through Ophelia's eyes.  Instead, we are given a wealth of narrative that seems to rob the drama of even this lopsided telling.  (For instance, Ophelia's key "mad" scene scarcely touches on the magnificent verbiage of Shakespeare's play, and while being able to see into Ophelia's mind while it plays out – and there are some deft touches there – it feels only half formed, and lacking the pathos that could be even more wrenching given the added insight into the scene that the book asks us to accept.)
Still, it's an interesting story, well told.  It should make a very enticing movie, regardless of who will be in the starring role… but I just gotta say, having Daisy Ridley as Ophelia ain't gonna hurt!
~ Sharon Browning