Roar (Stormheart #1)
Cora Carmack
Tor Teen
ISBN-10: 0765386313

In a land ruled and shaped by violent magical storms, power lies with those who control them.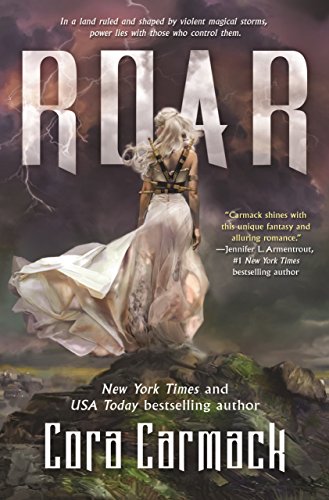 Aurora Pavan comes from one of the oldest Stormling families in existence. Long ago, the ungifted pledged fealty and service to her family in exchange for safe haven, and a kingdom was carved out from the wildlands and sustained by magic capable of repelling the world's deadliest foes. As the sole heir of Pavan, Aurora's been groomed to be the perfect queen. She's intelligent and brave and honorable. But she's yet to show any trace of the magic she'll need to protect her people.
To keep her secret and save her crown, Aurora's mother arranges for her to marry a dark and brooding Stormling prince from another kingdom. At first, the prince seems like the perfect solution to all her problems. He'll guarantee her spot as the next queen and be the champion her people need to remain safe. But the more secrets Aurora uncovers about him, the more a future with him frightens her. When she dons a disguise and sneaks out of the palace one night to spy on him, she stumbles upon a black market dealing in the very thing she lacks—storm magic. And the people selling it? They're not Stormlings. They're storm hunters.
Legend says that her ancestors first gained their magic by facing a storm and stealing part of its essence. And when a handsome young storm hunter reveals he was born without magic, but possesses it now, Aurora realizes there's a third option for her future besides ruin or marriage.
She might not have magic now, but she can steal it if she's brave enough.
Challenge a tempest. Survive it. And you become its master.
Our lives are woven with strife, tempered by joy and every hurdle, each struggle we endure are lessons we must learn from to adapt and move forward. But in the midst of who we will become, are the storms.
Princess Aurora of Pavan, heir to the throne of one of the most powerful Stormling families, knows a thing or two about storms. She knows their power. She knows their strength and as she grows older, Aurora knows what comes of us when the storms are too mighty, too fierce.
Caelira is a land overtaken by storms, by the wonder and worry that those storms bring. It's a place forged by the magic and mysterious dangers that comes with those storms. The Stormling protect the people of Caelira. They champion those not given their abilities and they ensure the safety of the weaker class. As princess, Aurora is set to rule. She is promised to the people, to protect them from every danger riding in the sharp light and burning wind that comes onto her lands.
It's her legacy.
It's her duty.
But Princess Aurora is living a lie.
She has no magic, no means by which even the smallest storm can be bested. She is living under the protection, and deception, of her mother's schemes and as Cora Carmack's, ROAR begins, Aurora is set to marry the powerful Stormling prince from another kingdom—with the hope that her secret will be left undiscovered. As the nuptials approach and Aurora learns the nature and plans of her betrothed, the more she's inclined to protect herself and the future of her people.
She has to try.
She has to fight and in that fight, Aurora learns just how deeply the storms well in her own heart.
Cora Carmack is an author known for her rich New Adult romances; books that delight and engage her reader. But with ROAR, Carmack steps into new waters, dipping her toe inside the upper YA world of the fantastical and what she attempts with this well constructed, complex fantasy, is executed beautifully.
The world is intricate, vast, the magic is without expected tropes and the characters are diverse, with backgrounds that are cultured and rich.
But at the heart of the story is a beautiful, poetic narrative that transports the reader alongside Aurora on her journey to find her magic. And what a thrilling ride it is. There is laughter and loss. There is deviance and hopelessness, but in the end ROAR is a finely constructed story about a girl on the cusps of womanhood and how she navigates that road, how it forms and shapes her; how she handles the greatest storm of her life.
Highly Recommended.