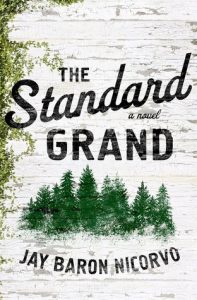 The Standard Grand
Jay Baron Nicorvo
St. Martin's Press
Release Date:  April 24, 2017
ISBN 978-1-25010-894-4
It's rare when an author is able to take characters that are not exactly admirable, and makes them beautifully memorable, especially when the author does not shy away from that which makes them, well, objectionable.
It's also rare to find an author who can write with beautifully fluid prose that nevertheless is not cloying nor pretentious in describing those characters. And without moralizing, to boot.
Such is the case with Jay Baron Nicorvo's debut novel, The Standard Grand. It centers somewhat around Antebellum "Bellum" Smith, an AWOL Army vet who at the start of the book is putting her ridiculous marriage in the rear view mirror, and feeling guilty about nothing except leaving behind her dog. Suffering from a huge chip on her shoulder as well as an untreated case of entrenched PTSD, she ends up homeless in New York City, living under a tree in Central Park.
Bellum comes to the attention of Milt, an ailing Vietnam vet who inherited a disintegrating resort in the Catskills that he turned into a retreat for ex-military who don't fit in anywhere else. Calling it the Standard Grande, it's the embodiment of isolation and self-sufficiency, where soldiers too broken for society can find an off-the-grid camaraderie and routine they need to keep from imploding. Usually.  But despite keeping a low profile, the land the Standard Grande sits on is still valuable, and Milt has to keep the dogs of commerce at bay even as the old resort falls deeper into debt.
The characters in The Standard Grand are flawed, frustrating, invigorating, and incredibly human; the same can be said for the action of the story. It all feels incredibly genuine – from the military mentality to the peevishness of the developers grubbing for the land to the characters who perform their jobs willingly divorced from the ramifications of their actions – we are borne along by the sense that we are peering into something real, magnified not by literary manipulation but by the drama of the true story.
I know this book is a work of fiction, but it sure felt like it must have happened somewhere, to real flesh and blood people. It is magnificent storytelling. A stunning debut novel, The Standard Grand definitely marks Jay Baron Nicorvo as an author to watch.
~ Sharon Browning