Mr. & Mrs. Witch by Gwenda Bond begins innocently enough on the morning of the wedding of two people—Savvy and Griffin—who are very much in love. It's sweet and funny and then, well, things escalate quickly once the bride and groom have their secret identities forcibly revealed.
Savvy and Griffin are hidden members of two rival secret agencies: C.R.O.N.E. and H.U.N.T.E.R. Each believe they're the good ones and the other group is evil. Until things blow up at the wedding, leaving them questioning everything. Enraged, Savvy and Griffin try to kill each other. Well, sorta. (This is a romance, so it's no spoiler to say that things eventually work out between them.)
But, first, they have to overcome their shattered trust, the secret agenda of their respective agencies, the friends who are outraged on their behalf, and a group of paid assassins before any happily ever after can take place.
What Makes Mr. & Mrs. Witch So Fun?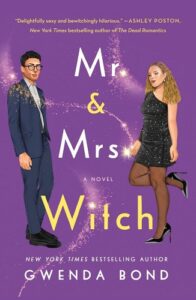 It's difficult to create, let alone sustain, so much humor and fun in a book about lovers who want to kill each other (sorta), but Bond's writing rises, seemingly effortlessly, to that task. There is the lovely meet-cute in their civilian identities, a second-meet cute as they each sidestep around their secrets and fall in love, all the while bantering.
For example:
I don't usually do this king of thing," Griffin says, for her ears only, as they descend. There's heat in his eyes as they rake down her dress.

"Oh? Fancy dinners in hotels? Then why did you pack that tux?"

HIs eyes meet hers. They're a gold-brown she could climb into. "Go to dinners in hotels with strange women, I meant." He says it lightly.

"We just met and here you're calling me strange.
Then there are the sex scenes. These two cannot keep their hands off each other, even though they have good reasons to distrust. Griffin calls Savvy a 'goddess,' while Savvy adores her buff and toned 'professor.'
The meeting of their lips is wild and wet, and frankly, the hottest thing he's ever experienced. He tastes her again and again, tongues licking into each other's mouths, and she seemingly can't get enough either. She lifts one thigh and his hand loops around it to bring them even closer, and they both make a noise that is pure need as she grinds her hips into his.
Loveable and Exciting Supporting Characters
The loveable supporting characters also lend the book a valuable richness. Griffin's parents are lovely together. I think I'm more than half in love with his silver fox father. Griffin's fellow hunters are appalled, then supportive on behalf of their friend/brother. The story also drops hints that at least one of them, Diego, is likely more than he seems, so I'm hoping for a sequel to explore that angle. (What is it with his sushi craving, eh?)
Savvy's two friends make a great girl trio as well. But it's Melissa, the Gorgon and sometime assassin, who steals the show. Melissa is Savvy's high school girlfriend and initially tries to kill Savvy to collect a bounty. But the would-be assassin reveals herself to be a far more interesting character, a Gorgon of concealed hurts and complexity. She gets many of the best lines.
A Big Action Climax, Paris and a Cat
Naturally, a book with this premise must have a big action climax and Mrs. & Mrs. Witch does not disappoint. After resolving their differences, our couple and their family and friends team up to defeat a 300-year-old evil. Cool gadgets are features, but the big showpiece is the walking house on chicken legs. (Yes, it is awesome.)
Add in Paris, the cat familiar who receives a short point of view, various witch spells, and anti-witch gadgets with friends, family, and enemies, and the story is a fast-paced, delightful triumph.
Gwenda Bond is also the author of Not Your Average Hot Guy which I reviewed earlier in 2021, and she was also the recipient of a Locus Award in 2017 for her Young Adult book Lois Lane: Double Down by Gwenda Bond.
As an Amazon affiliate, LitStack may earn a commission at no cost to you when you purchase products through our affiliate links.
Subscribe to our Newsletter