The Scene
1970s Manhattan, a city falling apart. The main character: Carmen Valdez, is a young woman dreaming of having her voice heard through superheroes. Harvey is a young man determined to make his mark in comics, at any cost. Their collaboration will destroy one and be the making of the other.
That's Secret Identity, a new prose mystery by Alex Segura that's up for pre-order and will be released on March 15. Given its pulp and superhero influences, it hit all my favorite mystery tropes. Better, it met all my expectations. I was hooked from the opening line:
A scream tore through the office. It was barely eleven and Carmen Valdez already wanted to die.
The Premise of Secret Identity
Secret Identity is Carmen's story. She moves from Miami to New York City to chase her dreams of comic book writing and to escape her estrangement from her family. Unfortunately, the best she can do is a job as an assistant at a failing comic book company. She craves writing work but misogyny puts up roadblocks that she can't punch through.
Enter Harvey, an assistant editor, who makes her an offer that she can't refuse: they can work together on the creation of a new superhero comic the Lethal Lynx. She'll be uncredited for the first few issues but once the book is selling well, she'll receive co-writer credit. It's a lousy offer but the lure of having her own creation appear in a comic is too tempting to resist. But then Harvey is murdered, drawing Carmen into investigating the seedy secrets of the comic book industry.
Meanwhile, Carmen, who is not out at her work, is personally struggling with the re-appearance of a mentally abusive ex-girlfriend who wants her back (but on her terms). Carmen's stuck, professionally and personally.
The Setting
New York City of the 1970s has been dubbed the Savage City. It's the decade that produced the infamous "Ford to City: Drop Dead" headline. Segura delves into a microcosm of that city, the barely-scraping-by comic book world of the same period. It's a decade when many comic companies folded and others struggled to make any profit at all. It's the decade before most people saw the dollars in licensing or the worth in disposable monthly issues. Abuse of the talent was rife, the pay was low, and yet those who loved superheroes put their all into getting a shot. Not to mention it was still a world dominated by men.
Harvey was, as far as these things went, one of her only friends at work. But being a nice guy among a squad of over-the-hill assholes didn't really mean much.
There are real people who show up briefly but one of the main characters, brilliant but unstable artist Dick Detmer, is, according to Segura, an amalgam of two brilliant real-life artists, Wally Wood and Jack Cole, who had bitter, unhappy endings.
There are fun sequences in the clubs of the day, complete with appearances by Patti Smith and others who played at places like the Bottom Line and CBGBs. This era of New York comes alive:
She watched the people walk by the building, all hypnotized by their own to-do lists and problems. an overburdened mother dragging a toddler behind. A leather-clad man wearing visor sunglasses nodding to a beat only he could hear. An elderly couple looking like a pair of Rip Van Winkles, awakening to a world they didn't recognize. The flurry of people seemed to blend into the gray, polluted skies of the kinetic city Carmen now called home, creating an energy she still hadn't found a way to channel or understand.
The Murder
Carmen is keeping secrets. As with any good mystery, the secrets that lead to Harvery's murder reflect her inner secrets. She's covering up so much, from her involvement in the Lethal Lynx comic, to her identity as a lesbian, and even lying to the cops about her discovery of Harvey's body.
Superhero stories, at their best, are metaphors for real-life problems. Superman is an immigrant story. Batman is about how to cope with grief. Spider-Man is about how to become a protector, not a bully. Carmen's wearing a mask at work and even in her private life.
To solve the crime and move forward, she's going to have to rip off these masks.
The Comic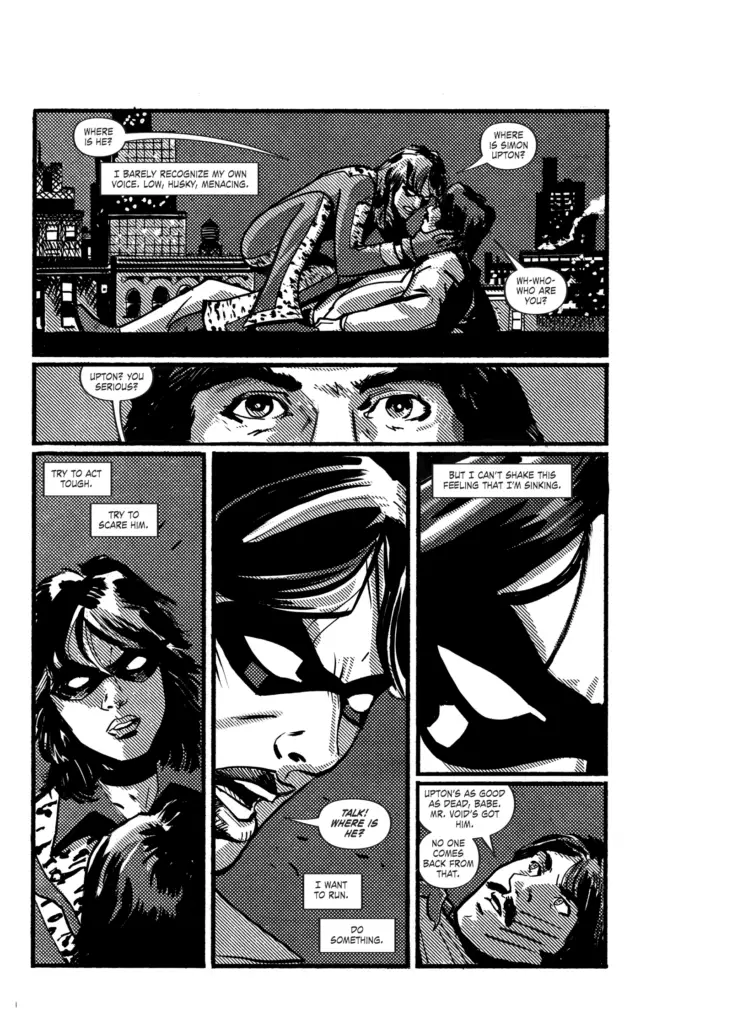 This book is filled with pages from the comic within the novel, The Lethal Lynx. The comic panels appear intermittently throughout the book, each at a critical point in the story, with the fiction reflecting the reality of Carmen's world.
The flow of the black-and-white Lynx comic is terrific, with art by Sandy Jarrell and letterer Taylor Esposito. I love how this panel moves from a wide shot and then zooms in to the faces, the eyes, and the mask.
Conclusion: Immerse Yourself in Secret Identity

There are many things I adored about Secret Identity, especially the setting, the process of creating the comic within the story, and, of course, the setting of a New York City almost lost beneath the crime but one still with a furiously beating heart. Segura has a gift for placing the reader into his world. Carmen's voice is immersive and intense, as she's facing decisions that will affect the course of her life. Her slow realization that she must make changes to become her authentic self is a terrific character arc. Other characters come to life perfectly, from the sleazy comic book publisher to the editors, and especially the lost Detmer. Detmer, for all his faults, kinda breaks my heart. He does the same for Carmen, though not in a romantic way.
I did, at times, wish for a faster pace but this isn't a story about a rush to catch a killer. It's a story about stepping into a treacherous world and discovering a way to navigate to one's true self.