This Spotlight shines on the gripping new novel The Last Language, from Jennifer duBois, "one of a handful of living American novelists who can comprehend both the long arc of history and the minute details that animate it" (Karan Mahajan) and "a writer of thrilling psychological precision" (Justin Torres).
In This Spotlight on The Last Language
About The Last Language
In 2001, a few months after the death of her husband, Angela is devastated when she is ejected from her graduate program in linguistics at Harvard University. Soon after, she suffers a miscarriage. Spinning and raw, and with suppressed unresolved trauma, the young widow and her four-year-old child move into her mother's house.
Trained with an understanding of spoken language as the essential foundation of thought, Angela finds underpaid work at the Center, a fledgling organization utilizing an experimental therapy aimed at helping nonspeaking patients with motor impairments. Through the Center, Angela begins to work closely with Sam, a twenty-eight-year-old patient who has been confined to his bedroom for most of his life. Sam quickly takes to the technology—and so does Angela. Her once deeply philosophical interest in language comes vividly to life through her interactions with Sam. Angela becomes intensely drawn to him, and their relationship soon turns intimate.
When Sam's family discovers their relationship, they intervene and bring charges. As Angela tells her story from prison in the form of an unrepentant plea, we are plunged into the inner workings of her mind as she rejects all else in pursuit of a more profound understanding of language and humanity. As the sole narrator and perspective giver, Angela's understanding pushes and pulls us into ambiguity, and a Nabokovian hall of mirrors emerges as she tumbles deeper and deeper into obsession.
Provocative and profound in its exploration of the basis of humanity, this is an extraordinary novel from one of our most acclaimed contemporary writers.
ISBN-13: 9781639551088
Publisher: Milkweed Editions
Publication date: 10/17/2023
Excerpt from The Last Language
Chapter 1
I have been asked, I'm afraid, to explain myself.
Not by the court—they don't want to hear it. And not by you, since we understand each other, and anyway they won't let me write to you. They've assured me of this several times, even though I haven't asked. I am under no illusions. I see how it all looks. I saw it all along, and yet—here we are. I guess that's the part that's supposed to be interesting.
Nietzsche says we must cease to think if we refuse to do it in the prison house of language. This seems to imply we have an option. Tell me a story about Zembla, you used to say, or, Tell me a story about Harvard. Tell me how you fell in love with language. Tell me how you fell in love with me. You'd tell me your own stories from your reading, your dreams, your own imagination—you had a real saga about a fortune teller and an illusionist and their great love affair in nineteenth-century New York City. I think you might have turned into a novelist, if we'd been allowed to go on.
I can only hope that, in the long years ahead, your stories will sustain you. That it's a better quality of silence, this time around. My deepest fear is that it isn't—that I have woken you in your coffin only to leave you there, forever. And yes, I do know how this sounds—as though I imagine myself to have conjured you, raised you Lazarus-like into existence, when we both know quite the opposite is true.
What I really mean to say is that this is how it feels, sometimes: as though I have left you something worse than dead. If I have—oh please, my love, forgive me.
Oh please, my love, forgive me either way.
Editorial Review of The Last Language
In the wild and witty latest from duBois (The Spectators), a speech therapist recounts her sexual relationship with a disabled client. Like Nabokov's Humbert Humbert, duBois's narrator is unrepentant. Angela, 27, strives to gain the reader's sympathy by beginning with the story of her husband's unexpected death. She's pregnant at the time, and after having a miscarriage, she's asked to take a leave from her PhD program at Harvard. 
In need of a job, Angela begins working at an experimental therapy center aimed at helping nonspeaking clients communicate using a typewriter-like device (or, as Angela describes it, "an overgrown graphing calculator"). She is sent to work with Sam, who at 28 has not spoken since he was a toddler. Resting her hands on his, Angela quickly gets Sam typing, and he expresses himself with intelligence, going so far as to craft an essay on Chekhov. 
A secret romance develops between Angela and Sam, but questions arise regarding the true author of Sam's writing. DuBois walks the high wire with Angela's audacious and unreliable narration, leaving room for readers to wonder how much of Angela's telling is true and to what degree she's manipulated Sam. This clever novel lingers long after the final page.—Agent: Henry Dunow, Dunow, Carlson & Lerner Literary Agency. (Oct.)—Publishers Weekly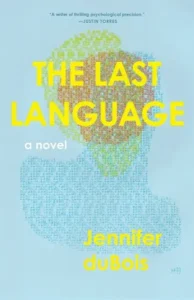 Praise for The Last Language
"duBois expertly unspools Angela's journey to the dock, as the unreliable narrator's mental state comes increasingly into question [. . .] A sharp, beguiling tale of madness, this is metafiction done right."—Kirkus Reviews, starred review
"duBois walks the high wire with Angela's audacious and unreliable narration, leaving room for readers to wonder how much of Angela's telling is true and to what degree she's manipulated Sam. This clever novel lingers long after the final page."—Publishers Weekly
"In her brilliant novel The Last Language, Jennifer duBois deftly examines the very foundation of consciousness while rendering an exquisitely multilayered love story. Equal parts grace and wit, compassion and erudition, this marvel of a book frequently astonishes with its piercing insight. A provocative, devastating masterpiece."—James Han Mattson, author of Reprieve
"The Last Language explores how language can both create our reality and utterly fail to capture it. As we fall deeply into the mind of the narrator, with her brilliance, humor, and humanity, duBois masterfully allows us to live in the ambiguities that the characters fiercely reject. A hauntingly beautiful, darkly comic, and unforgettable novel."—Stacey Swann, author of Olympus, Texas
"The Last Language left me heartbroken and shaken—adjectives that I reserve for some of my favorite novels. In an emotionally fraught narrative with a solid nod to Humbert Humbert, Angela, our imprisoned narrator, tells the tale of her facilitated communication work with twenty-eight-year-old Sam, with detours and asides that bring forth the book's many complex ethical, philosophical, and linguistic questions. I will be thinking about this book for a long, long time."—Esmé Weijun Wang, author of The Collected Schizophrenias
"A novel of razor-sharp intelligence and devastating emotional power, The Last Language asks how and whether we can ever truly understand each other. DuBois's fierce and witty writing illuminates every page as her characters explore the possibilities and limits of human communication, empathy, and love."—Anna North, author of Outlawed
"The Last Language is, depending on how you read it, a tragic romance, a manic chronicle of self-deception, or a knife fight with Nabokov—in any case it's a masterpiece. No one writes with more care and less pity than Jennifer duBois, whose depth of knowledge and insight into other people's minds is boundless."—Tony Tulathimutte, author of Private Citizens
"The Last Language is an absorbing, propulsive, compelling read, a breathless confession full of nuanced complexities surrounding morality and communication and power and love. I was drawn immediately into this book and raced through it, completely absorbed in Angela and Sam's story, right to the finish line. I mourned it when it was over. Another stunner from Jennifer duBois."—Lydia Conklin, author of Rainbow Rainbow
About Jennifer duBois, Author of The Last Language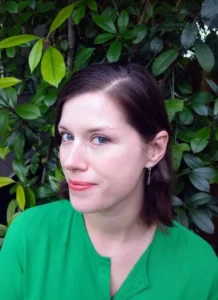 Jennifer duBois is the author of The Last Language. Her first novel, A Partial History of Lost Causes, was a finalist for the PEN/Hemingway Award for Debut Novel and winner of the California Book Award for First Work of Fiction. Soon after its publication, duBois received a Whiting Award and a National Book Foundation 5 Under 35 Award. Her second novel, Cartwheel, was a finalist for the New York Public Library's Young Lions Fiction Award and the winner of the Housatonic Book Award. And her third novel, The Spectators, was a recipient of a National Endowment for the Arts Creative Writing Fellowship and a Civitella Ranieri Fellowship. 
A graduate of the Iowa Writers' Workshop and the Stanford UniversityStegner Fellowship, duBois teaches in the MFA program at Texas State University. She lives in Austin.
You can find and follow Jennifer duBois on her website, and on X (formerly Twitter).
Titles by Jennifer duBois
Other LitStack Resources
Be sure and check out other LitStack Spotlights that shine a light on books we think you should read.
As a Bookshop, Amazon affiliate, LitStack may earn a commission at no cost to you when you purchase products through our affiliate links.