An American Master returns, Tim O'Brien's new novel, America Fantastica.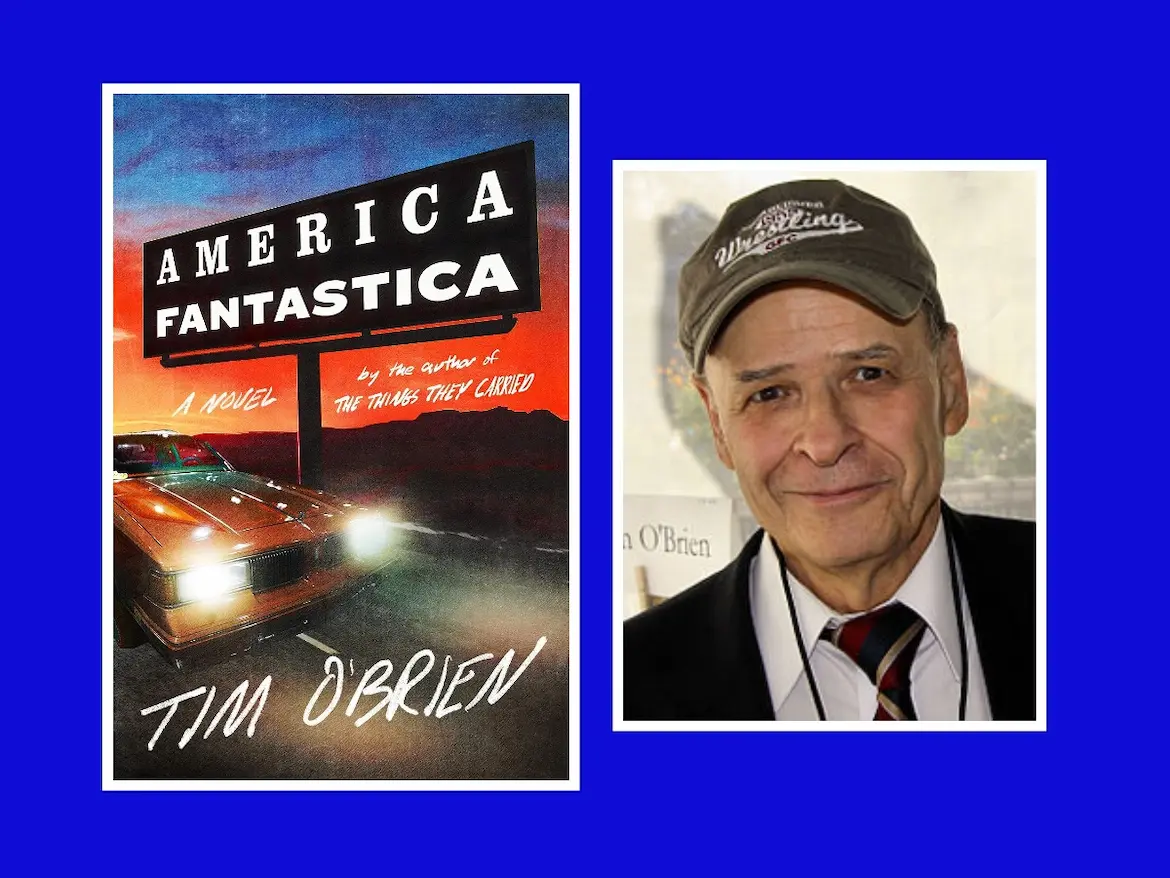 In This Spotlight On America Fantastica
About America Fantastica
The author of The Things They Carried delivers his first new novel in two decades, a brilliant and rollicking odyssey, in which a bank robbery by a disgraced journalist sparks a cross-country chase through a nation corroded by shameless delusion and deceit.
At 11:34 a.m. one Saturday in August 2019, Boyd Halverson strode into Community National Bank in northern California.
"How much is on hand, would you say?" he asked the teller. "I'll want it all."
"You're robbing me?"
"Not you," Boyd replied, revealing a Temptation .38 Special.
Angie Bing, the teller, scraped together $81,000.
Boyd stuffed the cash into a paper grocery bag. "I'm sorry about this," he said, "but I'll have to ask you to take a ride with me. …"
So begins the adventure of Boyd Halverson—star journalist turned notorious online disinformation troll turned JC Penny manager—and his irrepressible hostage, Angie Bing. Haunted by his past and weary of his present, Boyd has one goal before the authorities catch up with him: settle a score with the man who destroyed his life. By Monday Boyd and Angie reach Mexico; by winter, they are in a lakefront mansion in Minnesota. On their trail are hitmen, jealous lovers, ex-cons, an heiress, a billionaire shipping tycoon, a three-tour veteran of Iraq, and the ghosts of Boyd's past. Everyone, it seems, except the police. 
America Fantastica marks the triumphant return of an essential voice in American letters. Just as O'Brien's modern classic, The Things They Carried, so brilliantly reflected the unromantic truth of war, America Fantastica puts a mirror to a nation and a time that has become dangerously unmoored from truth and greedy for delusion.
Praise for America Fantastica
A satirical romp through a country plagued by deceit.
One day in 2019 a man named Boyd Halverson, who feels his life is "a breathtaking failure," robs a bank in Fulda, California and kidnaps the teller, a 4-foot-10-inch talkaholic named Angie Bing. They light out for Mexico and soon become reluctant allies as Boyd seeks to confront his former father-in-law, an unscrupulous industrialist named Jim Dooney. He ruined Boyd 10 years earlier—and forestalled a damaging news article—by revealing all the falsehoods on which the younger man, a compulsive liar, had built his journalism career. Dooney, fearing Boyd wants to kill him, moves from one mansion to another in Texas, Minnesota, and California. 
Angie's boyfriend, "a piece of stupid wrapped up in cowboy clothes," goes after his gal but gets waylaid by two ex-cons, on whom he gets medieval with a hoe. Dooney's successor at his conglomerate (and the current husband of Boyd's ex-wife) tells his CFO, a sadistic thug distantly related to mass murderer Richard Speck, to find Boyd and hurt him. The owners of the Fulda bank, who've been cooking the books for years, decide to rob the bank themselves. 
Running through all this amusing chaos are the shadows of Boyd's existential crisis, not least of which is the mystery behind his toddler son's accidental death. O'Brien also periodically pauses to rant on the national affliction of mythomania or lying, and takes swipes at the White House, fake news, big business, racism, and the extreme right. 
There are echoes of his famous Vietnam War novel, Going After Cacciato (1977), a book built on a darkly absurd pursuit amid individual and national uncertainty. O'Brien is less focused here, favoring scattershot barbs and humor over cohesion. Yet it's one of those books where you can sense the author enjoying himself and it's fun to be along for the ride.
A broadly engaging and entertaining work.—Kirkus Reviews
"The best American writer of his generation."—San Francisco Examiner
About Tim O'Brien, Author of America Fantastica
TIM O'BRIEN received the 1979 National Book Award for Going After Cacciato. Among his other books are The Things They Carried, Pulitzer Finalist and a New York Times Book of the Century, and In the Lake of the Woods, winner of the James Fenimore Cooper Prize. He was awarded the Pritzker Literature Award for lifetime achievement in military writing in 2013. He was born in 1946 in Austin, Minnesota.
Titles by Tim O'Brien
Other LitStack Resources
Be sure and check out other LitStack Spotlights that shine a light on books we think you should read.
As a Bookshop affiliate, LitStack may earn a commission at no cost to you when you purchase products through our affiliate links.