Here are seven author birthdays for this week. Check out which authors are your favorites, and find out who shares your day. You can find the books relating to our author picks at our bookshop, on our list of Sharon's Author Birthday Picks.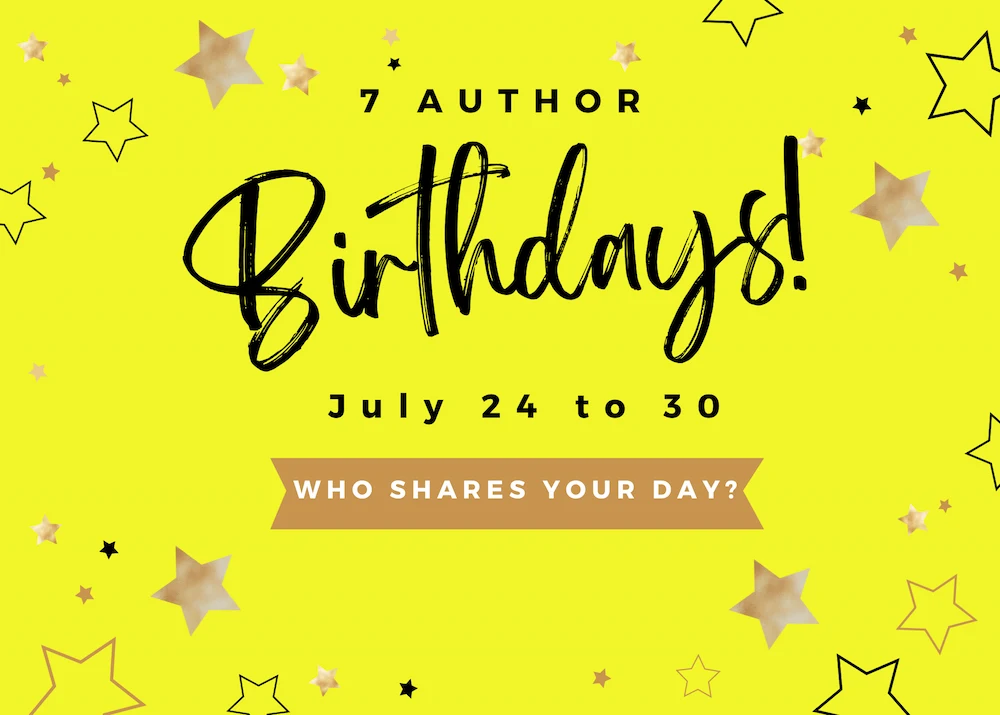 This Week's Author Birthdays
---
Alexandre Dumas – July 24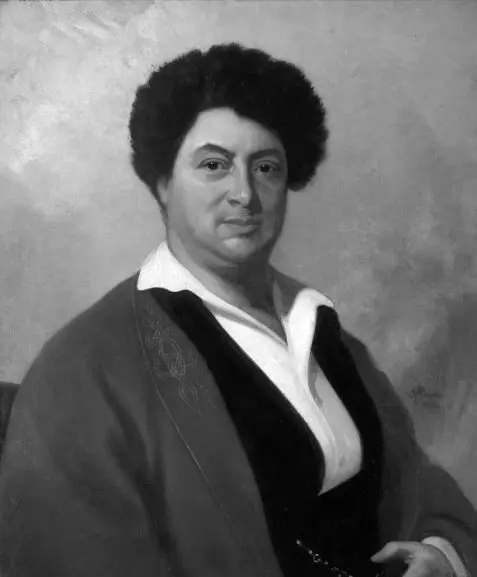 On this day, July 24, in 1802, Alexandre Dumas was born in Villers-Cotterêts, Aisne, France. His tales of high adventure, such as The Count of Monte Cristo and The Three Musketeers, have made him one of the most read French authors of all time, and have been the basis for nearly 200 movies, let alone countless other productions in other mediums. His imagination was piqued at an early age by stories of his father's bravery during the French Revolutionary War (his father died when he was four). 
He was an astute marketer of his own works, and also founded a newspaper (L' Indipendente) and the Théâtre Historique, in Paris. He died in 1870, at age 68.
---
Mur Lafferty – July 25
On this day, July 25, in 1973, writer and podcaster Mur Lafferty was born. She has been podcasting since 2004, starting with Geek Fu Action Grip, followed by I Should Be Writing, which won the 2007 Parsec Award for Best Writing. She also was the editor and host of the sci-fi podcast magazine Escape Pod from 2010 to 2012. Author of 2013's urban fantasy The Shambling Guide to New York City and its recent sequel, A Ghost Train to New Orleans, she was awarded the John W. Campbell Award for Best New Writer in 2013.
Her newest book, Station Eternity, was published earlier this year and its follow up, Chaos Terminal, is set to release this year. Today, she turns 50.
---
George Bernard Shaw – July 26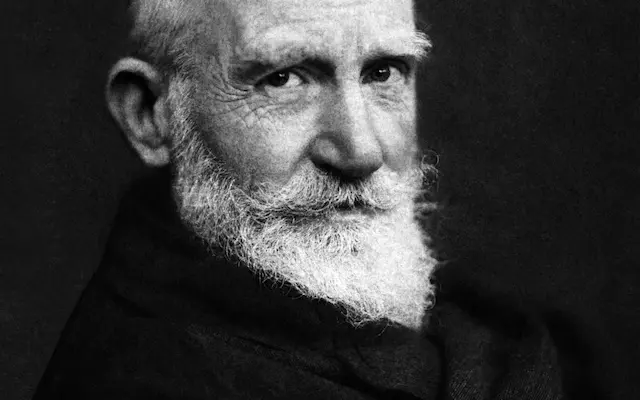 On this day, July 26, in 1856, George Bernard Shaw was born in Dublin, Ireland. This Nobel Prize winning playwright wrote more than 60 plays, including Pygmalion (the inspiration for the musical My Fair Lady), Arms and the Man, Major Barbara, and Man and Superman. He boldly voiced many contentious beliefs (he was for eugenics and against vaccinations, and admired both Mussolini and Stalin), and disdained melodrama, the dominant theatrical form at the time, instead pioneering "intelligent" theater. 
Due to his body of work and his views on theater and culture, he is considered second only to Shakespeare in his influence on Western theater. He died at age 94, after falling from a tree he was pruning.
---
Kate Elliott – July 27
On this day, July 27, in 1958, Kate Elliott was born in Junction City, Oregon. With over 30 novels under her belt, she is known for her Crown of Stars epic fantasy series, the alt-history fantasy series Cold Magic, the YA fantasy series Court of Fives, and the epic fantasy trilogy Crossroads (among others). In 2020 she published Unconquerable Sun, the first of her gender bending space opera trilogy The Sun Chronicles (based on Alexander the Great); the second novel Furious Heaven, dropped earlier this year. 
Her particular focus is immersive world building and centering women in epic stories of adventure and transformative cultural change. Currently living in Hawaii, today she turns 65.
---
Beatrix Potter – July 28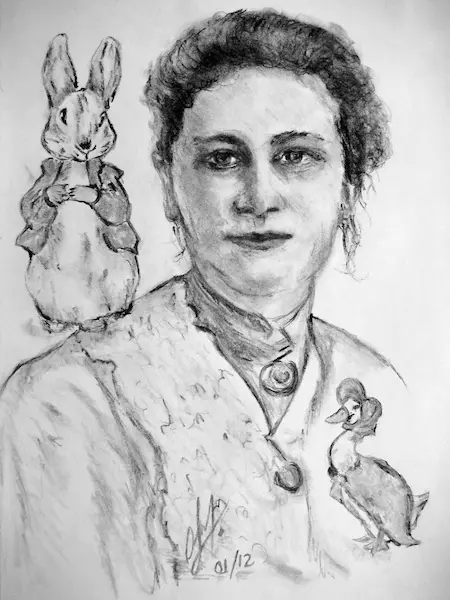 On this day, July 28, in 1866, Beatrix Potter was born in London, England. Although most famously known for The Tale of Peter Rabbit, her style of painting and the loving way she imagined the creatures that graced the pages of her 23 books are also instantly recognizable. Although she grew up in London in a somewhat sequestered family, her summers were spent in Scotland and the Lake District where she developed a lifelong love of the natural world. 
She became a natural scientist and conservationist, then later a farmer and land preservation activist, buying up land and then bequeathing it to the National Trust. She died of pneumonia and heart disease in 1943 at age 77.
---
Chang-Rae Lee – July 29
On this day, July 29, in 1965, novelist Chang-Rae Lee was born in South Korea (his family immigrated to the United States when he was three years old). He is the author of six novels so far, which have brought him a PEN/Hemingway Award (for Native Speaker), an Asian/American Literary Award (for A Gesture Life), and a Dayton Literary Peace Prize as well as a Pulitzer Prize nomination for his 2010 novel, The Surrendered. 
His 2014 novel, On Such a Full Sea, was a finalist for the National Book Critics Circle Award and his most recent work, My Year Abroad, has been called "A manifesto to happiness—the one found when you stop running from who you are," by the New York Times Book Review. Today he turns 58.
---
Emily Brontë – July 30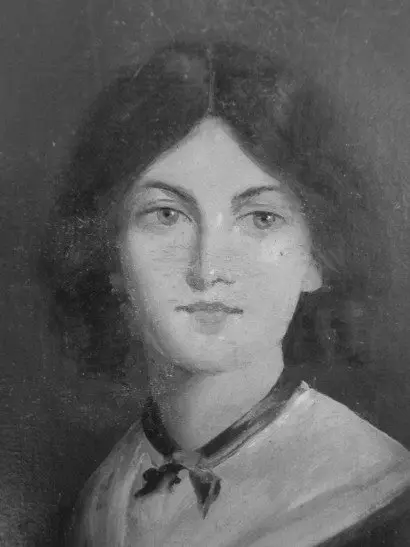 On this day, July 30, in 1818, Emily Brontë was born in the village of Thornton, West Riding of Yorkshire, England. The middle child of the three literary Brontë sisters, Emily was extremely shy and had very few friends or acquaintances beyond her family, often leaving the household only to go to church or to take walks in the surrounding countryside. Her only novel was Wuthering Heights, a surprisingly passionate book to have been written by such a shy and retiring soul. 
She never was able to realize the success of her book, for she died of tuberculosis a year after its publication, at age 30.
Other LitStack Resources
Be sure to look at other Author Birthdays, a weekly feature on LitStack from contributing writer Sharon Browning, and be sure and support independent bookstores – buy a book today at LitStack Bookshop, with tons of author birthday titles on our list of Sharon's Birthday Picks.
As a Bookshop affiliate, LitStack may earn a commission at no cost to you when you purchase products through our affiliate links.
Subscribe to our Newsletter