The Weaver and the Witch Queen explores the unbreakable bonds of sworn sisterhood
In this Spotlight:
An Oath Tested in The Weaver and the Witch Queen
In this subversive feminist myth retelling, national best-selling author Genevieve Gornichec captures the story of the Viking Queen Gunnhild, Mother of Kings, delivering a powerful tale about magic, betrayal, and the unbreakable bonds of sworn sisterhood. When a childhood oath is put to the test, Gunnhild, now on her way to becoming a powerful witch and approaching her destiny as the future Queen of Norway, will find the bonds that held her to Oddny and Signy tested in ways she could never have foreseen. Facing a powerful unseen enemy and destiny itself, Gunnhild must decide if the path to power is worth the bloodshed left in its wake.
About
The Weaver and the Witch Queen
The lives of two women—one desperate only to save her missing sister, the other a witch destined to become queen of Norway—intertwine in this spellbinding, powerful novel of Viking Age history and myth from the acclaimed author of The Witch's Heart.
Oddny and Gunnhild meet as children in tenth century Norway, and they could not be more different: Oddny hopes for a quiet life, while Gunnhild burns for power and longs to escape her cruel mother. But after a visiting wisewoman makes an ominous prophecy that involves Oddny, her sister Signy, and Gunnhild, the three girls take a blood oath to help one another always.
When Oddny's farm is destroyed and Signy is kidnapped by Viking raiders, Oddny is set adrift from the life she imagined—but she's determined to save her sister no matter the cost, even as she finds herself irresistibly drawn to one of the raiders who participated in the attack. And in the far north, Gunnhild, who fled her home years ago to learn the ways of a witch, is surprised to find her destiny seems to be linked with that of the formidable King Eirik, heir apparent to the ruler of all Norway.
But the bonds—both enchanted and emotional—that hold the two women together are strong, and when they find their way back to each other, these bonds will be tested in ways they never could have foreseen in this deeply moving novel of magic, history, and sworn sisterhood.
About Genevieve Gornichec, Author of The Weaver and the Witch Queen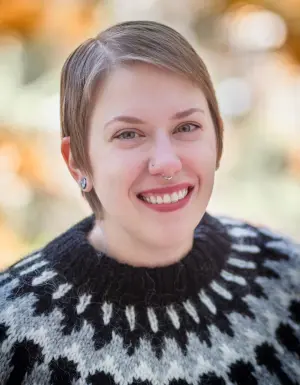 Genevieve Gornichec earned her degree in history from The Ohio State University, but she got as close to majoring in Vikings as she possibly could, and her study of the Norse myths and Icelandic sagas became her writing inspiration. Her national bestselling debut novel, The Witch's Heart, has been translated into more than ten languages. She lives in Cleveland, Ohio.
Praise for
The Weaver and the Witch Queen
"Intimate and sweeping, richly detailed and propulsive, tragic and uplifting, The Weaver and the Witch Queen proves Genevieve Gornichec really can do it all. Oddny and Gunnhild's story is epic, timeless, and most of all honest in its portrayal of the indomitable strength of women, the joys and pains of sisterhood, and the limitless power of love in all its many forms."—Vaishnavi Patel, New York Times bestselling author of Kaikeyi
"Gornichec is a masterful storyteller, crafting remarkable characters full of bravery and heart, a rich world, and the intimate and unbreakable bonds of sisterhood and love. I was both moved and fascinated by this wonderful historical fantasy – epic, tragic, with a slow burn enemies-to-lovers romance."—Sue Lynn Tan, bestselling author of Daughter of the Moon Goddess.
"The women will do everything in their power to find their blood-sworn sister, and Gornichec carefully weaves multiple story lines full of political upheaval, romance, and self-discovery into their quest…there's plenty to enjoy in this lush, Norse mythology-infused world. Fans of Circe and The Book of Gothel will be especially enchanted."—Publishers Weekly
"An epic novel about magic, sisterhood, and the bonds that can both bind and break us. This story stayed with me long after I finished reading."—Alexis Henderson, author of The Year of the Witching
"Gornichec showcases her knowledge of Icelandic folklore and history, while her storytelling reveals the complex and engrossing lives and emotions of her characters."—Library Journal
"From the moment I picked up The Weaver and the Witch Queen, I was enthralled. This is a rich, magical reimagining of Viking history, with all the bloodshed, tragedy and tangled webs of fate required of any great epic—but it is above all a gloriously woven tapestry of love, loyalty, and the extraordinary bonds of sisterhood."—Sangu Mandanna, national bestselling author of The Very Secret Society of Irregular Witches
"Gornichec presents a page-turner that gives readers a look into prejudices and what one can see when looking past them. It's a lesson in knowing someone truly to the core, creating bonds that cannot be broken. Friendship, love, power, and resilience reign in this historical fantasy full of witches, Vikings, raids, and braids."—Booklist
"Entwines impeccable storytelling, fascinating historical detail and characters so nuanced and mercilessly human that I fell for every one of them and still can't let them go. Give me everything Gornichec writes—I will devour it."—H.M. Long, author of Hall of Smoke
Other LitStack Resources
Be sure and check out other LitStack Spotlights that shine a light on books we think you should read.
As a Bookshop affiliate, LitStack may earn a commission at no cost to you when you purchase products through our affiliate links.
Subscribe to our Newsletter