"The past is a pebble in my shoe."
― Edgar Allan Poe
Ah, life.  It is fascinating.  Life stories are fascinating.  Sometimes, putting aside a writer's manuscripts and looking at their "mundane", real world life proves to be as fascinating as the stories they tell.
Take Edgar Allan Poe.  I've read Poe, who hasn't?  I've enjoyed "The Raven" and "The Tell-Tale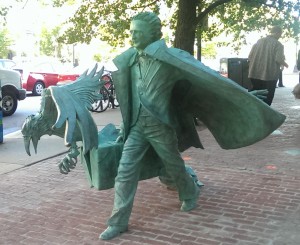 Heart", and appreciated that he took American literature on a dark and thrilling cant.  But it wasn't until a friend pointed out that a new bronze statue of Poe had been erected in Boston, the place of his birth, that I began to reintroduce myself to his works, and find out more about the man who sits in such a solid niche of our literary history.
The statue is compelling; the story it tells in attitude – and placement – even more so.
It took Boston over 200 years to erect a statue of Poe.  Why?  Because he really didn't like the place.  Yes, he was born there, in 1809 to Eliza and David Poe, two actors who had moved to Boston in 1807 with their performing troupe (there is even speculation that Edgar's name came from the Shakespearean play they were performing at the time of his birth).  He had an older brother (William Henry, known by "Henry", who was born shortly after the Poe's settled in Boston) and a sister, Rosalie, who was one year younger than Edgar.
However, the family was in turmoil.  It's strongly believed that Rosalie was only a half sister to little Eddy (his mother's name for him), as David Poe abandoned the family about the time that Rosalie would have been conceived.  Poor Eliza Poe died of consumption (tuberculosis) in 1811, shortly after her daughter's birth, leaving three small orphans in the wake of a shattered life.
The children were split up: four-year-old Henry went to live with his grandparents in Baltimore, and Edgar and Rosalie were sent to stay with separate families in Richmond, Virginia.  The siblings did remain in contact throughout their lives, and Henry, also a writer, was greatly influenced by his younger brother.  Sadly, Henry drank heavily and that most likely contributed to his death of tuberculosis at age 24 (in the same room and possibly even in the same bed that he shared with Edgar).  Equally tragic was the life of little Rosalie.  For reasons unknown (but speculated to be due to lack of proper care) she grew up to be a waif of a child, never "progressing beyond the developmental age of twelve" (according to historians at the Poe Museum).  Although she outlived both her brothers by many years, dying at age 68 (after decades of poverty, existing solely on the charity of others), she often said of herself that she felt "but half alive".
Edgar's foster family was headed by successful merchant John Allan, whose business dealings included not only tobacco, cloth and wheat, but also tombstones and slaves.  Although the Allan family never formerly adopted young Edgar, they did give him the name of "Edgar Allan Poe", raising him in a household that was at times both doting and strict.  In 1826, Edgar enrolled at the University of Virginia to study ancient and modern languages, but a fallout between foster father and son over scholastic costs (Edgar maintaining that John Allan did not give him enough for tuition, board and books, whereas the elder Allan held that Edgar had squandered his money on drinking and gambling) had Edgar leaving the university after one year and striking out on his own for Boston.  (That his sweetheart and possible fiancée had married another man while he was off at school might have also soured him on the thought of returning to Richmond.)
Young Edgar lived a nomadic life after that.  Being unable to support himself in Boston, he joined the Army (where he published his first book of poems, which garnered virtually no notice) but sought an early release, seeing that he had lied on his enlistment papers (he had said he was 22 when he was only 18).  His foster father agreed to support him after the discharge only if he enrolled at West Point, which he agreed to do but only after he lived a year in Baltimore with a widowed aunt and her young daughter, Virginia.  It was during this short stint in Baltimore that he published his second book of poems, also ignored.
Edgar's time at West Point only lasted a year:  he purposefully sought out court-martial for gross neglect of duty and disobedience, and it was speedily granted.  By now John Allan had remarried (his first wife died in 1829) which didn't sit well with his foster son, so he subsequently disowned the boy who had lived in his home since age two.  And what did Edgar do?  He headed to New York.
While in New York, he published a third book of poems, financed by fellow cadets at West Point (he appears to have been a far more popular classmate than soldier), but it still didn't bring much acclaim. With little to tie him to the big city, he moved back to Baltimore, this time to start a career in writing in earnest.  He put aside poetry and began to write short stories – and they began to bear fruit.  He was published in periodicals in both Philadelphia and Baltimore, which landed him a job at the Southern Literary Messenger in Richmond – from which he was promptly fired a few weeks later after being found drunk at work by his boss.  So he moved back to Baltimore – and married his 13-year-old cousin, Virginia.  He was 26.
Reinstated at the Messenger, he and Virginia returned to Richmond.  Edgar now was gaining traction not only as a writer (gothic horror, mystery, yes, but also defining detective fiction and influential early science fiction), but also as a sharp tongued critic of others' works.  His reviews could be so caustic, so savage, that he had gained the nickname, "The Tomahawk Man".  The public loved it – the literary community, less so.  In fact, this is where the connection to Boston – beyond its being his birthplace – comes in.
Edgar had no patience for the self-congratulatory intelligentsia that had settled in Boston (which hyped itself as "the Athens of America").  Writers who were ensconced there such as Ralph Waldo Emerson, Henry Wadsworth Longfellow, Nathaniel Hawthorne and even Henry David Thoreau – Edgar felt their works were bloated and didactic. He openly stated that they did not create art, they instead forwarded their own causes with bombast and sentiment.  He publically accused literary darling Longfellow of plagiarism (an accusation to which Longfellow did not respond; some believe his even-handed responses when asked about Poe were due to his knowledge that the plagiarism charges were in part quite true); the resulting furor was labeled "The Longfellow War".  By now, "The Raven" had made Edgar a household name, but upon reading it, Ralph Waldo Emerson shot back, "I see nothing in it."
But Edgar's vociferous objections went further than just the writers themselves, they embraced the entire glittering society of intellectual Boston.  As stated in a recent New York Times article, "Poe sneered at the city's luminaries. Riffing off the Frog Pond in the Boston Common [a revered public park in the heart of Boston – sb], Poe called the local swells 'Frogpondians,' their moralistic works sounding like the croaking of so many frogs. As for residents here, they 'have no soul,' he said. 'Bostonians are well bred — as very dull persons very generally are.'"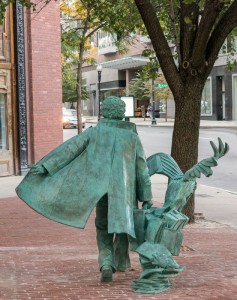 So even though Edgar was born in Boston, he literally and figuratively turned his back on it.  Which is where the lovely irony and ballsy beauty of the new statue comes in.  It shows Edgar in motion, stone faced and intense, his great coat swirling about him as if blown by a mighty wind, manuscript pages spilling from his briefcase, a larger-than-life raven at the fore.  But the statue is positioned so that Edgar's back is turned on the famous Frog Pond that lies a handful of yards away; instead he strides away from the historic landmark and towards his birthplace a few blocks down the road.  According to sculptor Stephanie Rocknak, the placement is deliberate, to show his famous disdain for Boston, as is the dismissive gesture of his trailing left hand.
It's transcendent.
It's also no surprise that the flesh and blood Edgar never returned to Boston.  He and his ailing wife moved to Philadelphia and then to New York, but although the reportedly happy marriage had weathered a few scandals (which may have been prompted by others' need for drama), Virginia died of consumption early in 1947 at age 24 after five years of failing health; Edgar spiraled into a depression that lasted many months.  Although he continued to write, he became increasingly erratic.  Numerous accounts of rampant alcoholism and drug use were circulated in the society pages of the local papers, most of which were disproved, and were acknowledged to be born of revenge, disrepute and a desire to whip up drama, but they nevertheless had left their mark.
Yet on October 3, 1849, Edgar Allan Poe was found wandering deliriously on the streets of Baltimore, wearing clothes that were not his own, incoherent, unable to voice what had happened to him.  He died four days later with the mystery intact; his death certificate and all documentation surrounding his death has been lost, but we still have the newspapers which gloated (or perhaps lamented) that "congestion of the brain" or "cerebral inflammation" was to blame for his demise, which was another way of saying that he had drunk or drugged himself to death.
Regardless of the reason, Edgar Allan Poe died at age 40, leaving behind a literary legacy that has influenced so much of what we know today in multiple genres:  horror, gothic horror, mystery, detective fiction, science fiction.  His presence pervades our written identity as a nation.  His story is tragic, acerbic, touching, compelling.
And now his statue strides down Boylston Street in Boston, in defiance of his detractors.  Not dark, not hidden, not cowering, but purposeful.  Intense.  Enduring.
Fantastic.