The Candy House: a novel, by Jennifer Egan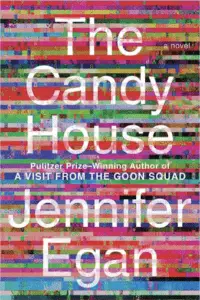 This intricate novel of futurism, connection, love and attachment—like the social media wonder that makes up its center—is impossible to resist once you've seen what it can do.
The novel. Egan's sixth, a follow-up to her Pulitzer-winning A Visit From the Good Squad (2011), was longlisted for the 2023 Andrew Carnegie Medal for Excellence in Fiction, Publishers Weekly named it one of the top ten works of fiction published in 2022, and also selected for The New York Times' "10 Best Books of 2022" list—it's also one of President Obama's favorite reads of 2022.
A stylized mosaic of humanity
The Candy House revisits the characters in Goon Squad, picking up their stories years later, and finds them tech innovators, music-business moguls, a bitcoin impresario, a disaffected novelist, a hired assassin—and more. These are only of few of Egan's generationally interconnected characters—parents and children, brothers, sisters, those in power, and those who aren't, whose stories move between their pasts and their futures.
Annalisa Quinn of NPR, wrote, "I drew a character map while reading Jennifer Egan's The Candy House, just for the pleasure of charting the swooping, kaleidoscopic intersections of parents and children," and you may want to do the same. The links are fascinating to draw, and the complexity of relationships, both personal and political, add to what's been called the sprawling, nineteenth-century mood of this very contemporary novel.
We follow the brilliant Bix Bouton, who at forty is "one of those tech demi-gods with whom we're all on a first name basis." Bix is the founder of Mandala, a Facebook-like platform, and as the novel opens, he's a father of four living with his family in Manhattan. Desperate for a new idea, he's out walking one night and see's a stapled flyer (it's 2010) for a conversation group around the theories of anthropologist Miranda Kline, whose algorithms explain trust and influence in Brazilian tribes. In disguise, Bix attends the meeting, and learns about the experiments based on Kline's theories, of downloading or "externalizing" memory. Within a decade, Bix's new technology, "Own Your Unconscious," allows users to access the totality of their own, and others, memories—and becomes central to the human experience.
Chapters that read like short stories
This is but one thread of many in these interlinked stories, but it's the central idea around which the others turn, which in the context of the futuristic setting is almost homespun: the ways family connects or doesn't, even when the means to know another's thoughts and feelings can be quantified by an algorithm in a downloadable app.
Each of the chapters easily stands alone as a sharp short story, though what I loved most was the range of styles Egan employs. In the epistolary "See Below," told in emails, contains the meaning of title's candy house, a euphemism for the allure of social media: "Tongue-in-cheek nostalgia is merely the portal, the candy house, if you will, through which we hope to lure in a new generation and bewitch them." There are stories here that read like conventional literary fiction, of growing up and disillusion, and there's a story told in tweets, stories steeped in the programming theory, and the thriller-like, "Lulu the Spy, 2035," which takes us on a harrowing mission by a character we last saw as a dreamy pre-teen, now welding weaponry and implanted with a variety of sensors that track, monitor, and communicate her thoughts and feelings as she hunts her target:
A button is embedded behind the inside ligament of your right knee…Depress twice to indicate to loved ones that you are well and thinking of them.
"Fiction," Egan has said, "is a collective dream life of the culture that makes it. It gives us what nothing else can. My job is to turn raw material into literature. I like to take characters from the natural world and stylize them, like Lulu, to turn the natural world into stylized storytelling."
The Candy House is a rich, intriguing, stylish mosaic of humanity set against boundary-breaking feats of technology. And for a perfect companion read, check out Sharon Browning's review of Gabrielle Zevin's Tomorrow and Tomorrow and Tomorrow, here.
—Lauren Alwan
---
As an Amazon affiliate, LitStack may earn a commission at no cost to you when you purchase products through our affiliate links.
Subscribe to our Newsletter