Gather the Fortunes
A Crescent City Novel, Book 2
Bryan Camp
John Joseph Adams/Houghton Mifflin Harcourt
Publication Date:  May 21, 2019
ISBN:  978-1328876713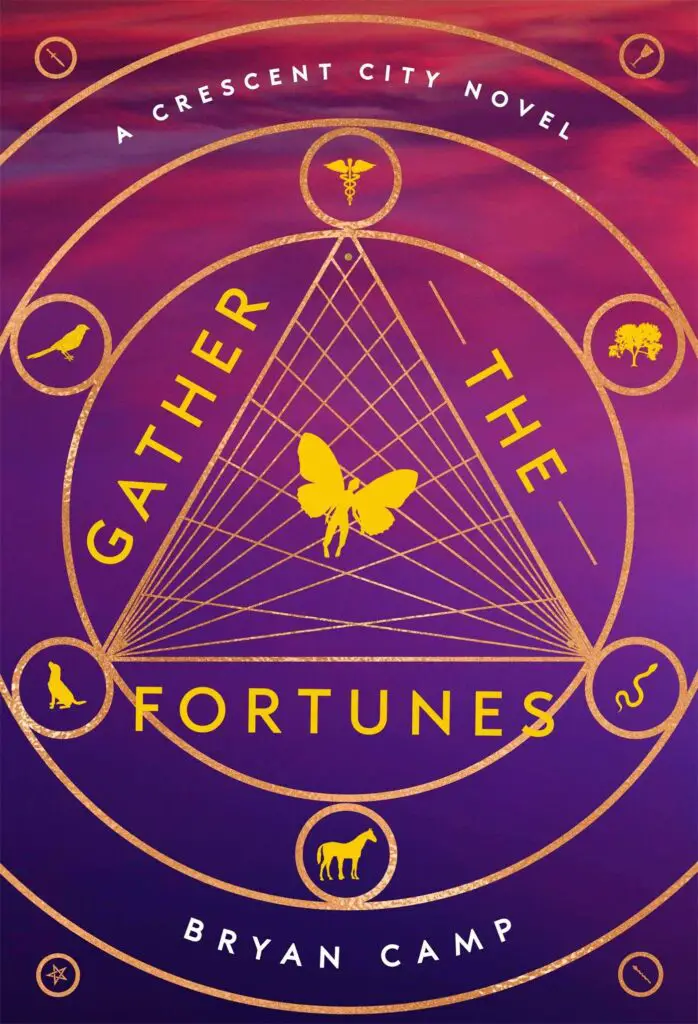 Renaissance Raines is an integral but somewhat minor character in Bryan Camp's superlative first Crescent City novel, The City of Lost Fortunes. In that earlier book, the seemingly innocuous occult store clerk makes the ultimate sacrifice to save Jude Dubuisson, trickster god in the making, and was "rewarded" with her own conditional resurrection. Gather the Fortunes is her continuing story, and while it is quite different from Jude's earlier tale, it is equally interesting.
Renaissance (or Renai, as she is known) is now a psychopomp – one who guides recently departed souls to the underworld. While not dead herself, she is also not completely living, but instead inhabits a shadowy existence between the two. For the most part, she is resigned to fulfill her role in relative anonymity. But then one day, a young man disappears after escaping his appointed death and another trickster deity comes to Renai with an offer – find Ramses St. Cyr and a favor will be owed. Renai has learned that supernaturals in any form are not to be trusted, but the chance to influence her own destiny, as well as her sense of duty, draws her into a spiraling menace that will not only test her strengths – both physical and mental – but her beliefs, as well. Oh, and it might just open the gates of hell, to boot.
Honestly, I wasn't sure how author Bryan Camp was going to follow The City of Lost Fortunes – it was one of my favorite books of 2018. But I am glad to report that he manages quite well, thank you very much.
This story is totally Renai's – and it turns out that seemingly innocuous occult store clerk is not so innocuous after all. Rather, she is smart under her sass, and the strong women in her family imbue her with a strong sense of self – even if she still hasn't figured it all out. Her journey from the underworld's foot soldier to complete badass unfolds intrinsically, and while the otherworldly events and beings that buffet – and buffer – her, defy the imagination, her reaction to them rings true, including the confusion, despair, anger and longing that come with moments of stress and hope.
And oh, my, New Orleans! Author Bryan Camp knows New Orleans, its light and its darkness, its style and substance, its breadth and its depth. Under his care, the swirling milieu of the Crescent City's colors and cultures – both sacred and profane – come to shambling and glorious life. More than a mere locale, New Orleans becomes a character of its own, a physical – and metaphysical – force to be reckoned with.
Strangely enough, it took me a while to read Gather the Fortunes. Not because I found it difficult, or complicated, or just too thick to take on all at once, but because I found reading it slowly so satisfying. Yes, this is due to Renai being a wonderful character, and her story which is full of surprises, fears, and even humor. And yes, there is the glamour and the grit that is New Orleans.
But the real fascination, the real reason why I wanted time to fully experience Gather the Fortunes rather than rushing through it was Bryan Camp's complex yet utterly seamless interpretation of the afterlife. A pretty difficult thing to do, with all the beliefs and deities and expectations (or lack of them!) which surround death, the afterlife, and the underworld. But this book accomplishes that by staying true to its own vision, as ugly or dark or gut wrenching – or even humorous – as it turns out to be. And it works, both chronologically and thematically, keeping the reader off balance even as the fantastical is grounded in purpose. And goodness, fantastical does not even describe all that these pages hold.
Again, a masterful work by a brilliant new author. As long as the quality of the writing stays this good, I hope there are many more Crescent City novels to come.
~ Sharon Browning
Subscribe to our Newsletter