The Gates of Evangeline
Hester Young
G. P. Putnam's Sons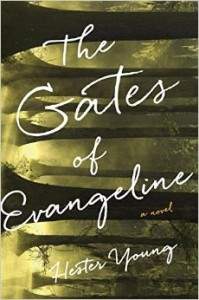 Release Date:  September 1, 2015
ISBN 978-0-399174-001
It's a compelling story.
A woman is haunted by the sudden death of her young son.  That it was from "natural causes" does not assuage mother's grief, ease the sudden emptiness, blunt the pervasiveness of memories.  She tries to move on, but it's so hard, the loss was so unexpected, so abrupt; she didn't even have a chance to say good-bye…
Charlotte "Charlie" Cates lives in Stamford, Connecticut and works in New York as managing editor at a woman's glamour magazine.  Her marriage went shaky after Keegan was born, and a few years later it fell apart; he cheated, she got sole custody.  Little Keegan became her whole world – losing him was devastating, but she was coping… barely.
Then the dreams start.  "You have to listen, Mommy.  It's time to start listening."
Desperately, Charlie tries to contact Keegan, but instead dreams of other children:  a premonition of an injury to a friend's daughter; a glimpse of a lost child from a news report.  Unsure of what is happening, Charlie turns to her down-to-earth grandmother, and is floored to learn that she is not the first in her family to have visions – visions that reflect hidden truths, that speak from beyond the veil.  But Charlie is a modern woman, a pragmatist, not a crusader.  While she does not doubt what she has learned, she keeps that knowledge secret. She waits to glean its purpose.
When the woman's magazine Charlie works for is bought out, she decides to make a new start and takes a freelance job with a former employer:  the lurid journal True Crimes.  The job is not exactly highbrow, but it will give her time to get back on her feet, and to figure out where to go next.  And there is one saving grace to the offer:  the project is for a book rather than the magazine, and although it touches on the sensational Deveau kidnapping from the 1980s, the story is supposed to be about the Deveau family itself (the very family that heads the upscale hotel chain) and the old Southern plantation where they live in Louisiana known as Evangeline.  And it will involve a few months of staying at the estate while gathering information, which will get her away from New York for a while, give her some breathing room.
And then she has another dream.  There is dark, swirling water – a swamp.  A big white house.  A young boy with dark hair and a chipped tooth, alone in a boat.  He's scared.  He's hurt.  He asks for help.  Could this be Gabriel Deveau, kidnapped at age two and disappeared without a trace?  Is she meant to solve the mystery of what happened 30 years ago in that Louisiana swamp?  Is that why life is pushing her in this direction – to bring justice to a little boy, even if she could not save her own?
Now, before you roll your eyes and think to yourself, "Great!  Another supernatural potboiler," let me assure you that The Gates of Evangeline is not supernatural and nowhere near a potboiler or any other sensationalist story.  This novel stands out for its clarity, its lack of hysteria, its open heartedness and level headedness – which is something to be said for a story that includes otherworldliness.  But author Hester Young has a wonderfully intact writer's voice that gives Charlie a real, tangible presence in our reading experience.  That's not easy to do in the most conventional of circumstances; throw in dreams of lost children and an antebellum landscape, and it shows incredible skill to keep it the story from veering into the precious.
But this novel does not.  It smacks of the genuine; less of craft and more of flow, which allows us as readers to be pulled in to a world that feels achingly real.  Even wryly humorous.
My whole family was outraged when Eric arrived at our son's funeral with Melissa in tow.  He has to rub her face in it, I overheard my aunt Suzie say, and maybe that was true.  Maybe, in some childish way, Eric has something to prove.  I didn't care about the wife.  I was angry that he showed up at all.  Eric had visited Keegan only once since he and Melissa moved to Chicago.  What right did he have to fatherly grief?

And still, Melissa comforted him.  Held him as if the loss were his.  No, I wanted to tell them both, that's MY son.

"You know she works in waste management," I inform Grandma, suddenly ready to take what cheap comfort I can.

"That explains why she loves trash," Grandma mutters.

I manage a wobbly smile.  We are Yankees.  These are her love words.
And although The Gates of Evangeline is centered around a mother's loss and spectral interventions, it is so much more:  part mystery, part thriller, a bit of Gothic tale, filled with New England sensibilities and Louisiana sensualities, a wide range of well developed characters, a touch of romance and just the right amount of pathos and terror.
Yup, a very compelling story.  And a great twist at the end, too.  If this is how Ms. Young starts her writing career, I can't wait to see what she comes up with next.
~ Sharon Browning