LitStack Recs: Vivian Maier & Frog Music
Vivian Maier: Street Photographer


by
For forty years, Vivian Maier worked as a nanny in Chicago, and on her days off, she took photographs. That may not seem extraordinary, but the work of Vivian Maier (1926 – 2009) is all that, and quickly proving to be our era's preeminent artistic discover—and maybe the kind that comes along once in a lifetime.
Maier's body of work, primarily black and white photographs (but which also includes color slides, documentary films and audio interviews with her subjects) was posthumously discovered in 2007 by a local historian, John Maloof, at a storage auction in Chicago. Seeking neighborhood history for a project he'd been working on, Maloof purchased several boxes of her undeveloped photos, on the block due to unpaid storage fees. Though as the negatives were printed, he soon understood he had something remarkable. And indeed, Maier's work is not only receiving universal critical acclaim, but has been compared to some of the twentieth century's most revered street photographers—Cartier-Bresson, Robert Frank, Weegee, Garry Winogrand.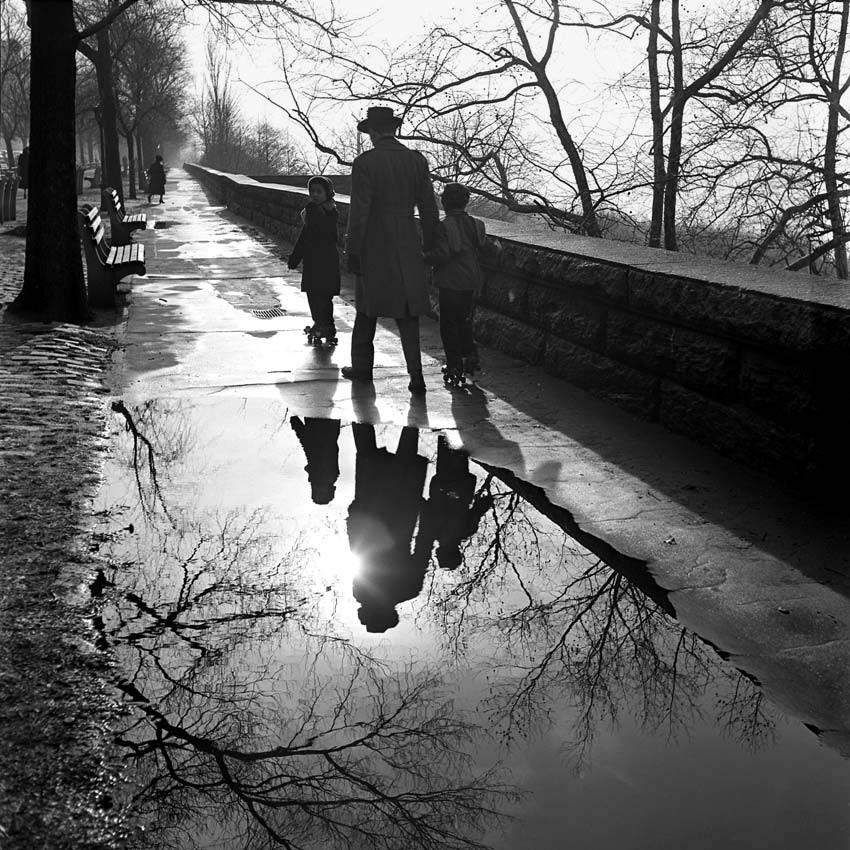 Earlier this year, Maloof, along with the Geoff Dyer, released a pictorial collection of her photos. In an introduction, the authors observe Maier's mystery and contradictions:
Vivian Maier represents an extreme instance of posthumous discovery; of someone who exists entirely in term of what she saw. Not only was she entirely unknown to the photographic world, hardly anyone seemed to know that she even took photographs. While this seems unfortunate, perhaps even cruel—a symptom or side effect of the fact that she never married or had children, and apparently had no close friends—it also says something about the unknowable potential of all human beings.
And indeed, no one knew of Maier's work, save for the children she nannied who sometimes accompanied her on photographic expeditions. It seems Maier herself never chose to see her work in print form. Whether for a lack of money, or lack of interest, she never printed her negatives. She simply processed the film and left it in the can. But she continued to take pictures, favoring the grittier streets of Chicago, often with her charges in tow.
The lot Maloof purchased at auction contained 100,000 negatives taken over forty years. Maier worked primarily from 1957 to the late 1990s, and with no formal training, or peers, her work emerged solely out of her own vision; one largely facilitated by a singular eye and expert control of her Rolleiflex camera. Her work is lush, perfectly composed, and her point of view true to the social causes she favored. According to Maloof, the children she cared for (and who the last years of her life, cared for her, by the way), described her as "…a Socialist, a Feminist, a movie critic, and a tell-it-like-it-is type of person. She learned English by going to theaters, which she loved." Maier was born in New York City and raised in Europe, and the influences she absorbed can only be speculated upon, but it's clear that once exposed to the medium of photography, her understanding of its possibilities was immediate, and from the outset, nearly complete.
A documentary film, Finding Vivian Maier, was released this spring and is currently screening  nationally. Learn more at the website of the Maloof Collection, which features some not-to-be missed shots of Maier's collection of cameras and bathroom darkroom, here.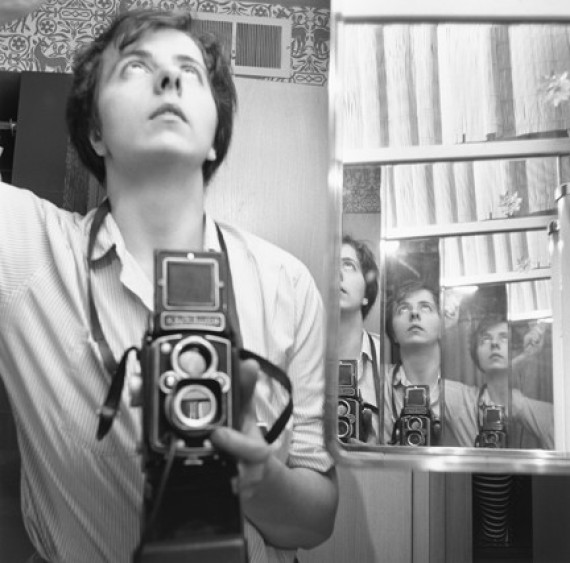 —Lauren Alwan