Featured Author Review: 'The Taken' by Vicki Pettersson
We're so pleased to bring back our Featured Author segment with the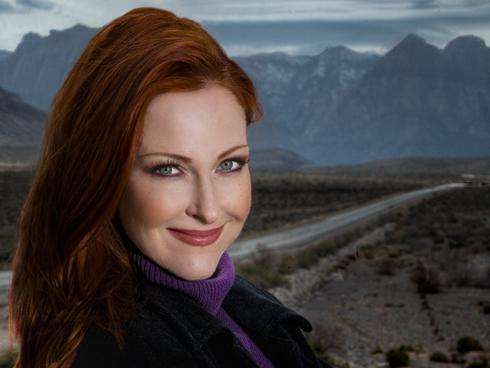 immensely talented and stunningly beautiful Vicki Pettersson, author of the Signs of the Zodiac urban fantasy series and Celestial Blues trilogy, both set in modern day Las Vegas.
New York Times and USA Today bestselling author Vicki Pettersson is a Las Vegas native who has always loved to read and write. Whether working in the paranormal or straight thriller genre, a hallmark of a Pettersson novel is a strong female protagonist, and today Vicki continues to write about the women who defy the odds, women who refuse to be written off.
This month we are featuring her Celestial Blues trilogy and begin our Featured Author segment with a review of the first book, The Taken.
The Taken, Celestial Blues, Book 1
Vicki Pettersson
Harper Voyager
ISBN 0062064649
Griffin Shaw used to be a PI, but that was back when gumshoes hoofed the streets . . . and he was still alive. Fifty years later, he's an angel, but that doesn't make him a saint. One small mistake has altered fate, and now he's been dumped back onto the mortal mudflat to collect another soul—Katherine "Kit" Craig, a journalist whose latest investigation is about to get her clipped.

Bucking heavenly orders, Grif refuses to let the sable-haired siren come to harm. Besides, protecting her offers a chance to solve the mystery of his own unsolved murder—and dole out some overdue payback for the death of his beloved wife, Evie.

Joining forces, Kit and Grif's search for answers leads beyond the blinding lights of the Strip into the dark heart of an evil conspiracy. But a ruthless killer determined to destroy them isn't Grif's biggest threat. His growing attraction to Kit could cost them both their lives, along with the answer to the haunting question of his long afterlife . . .
Down here in southeast Louisiana, we have a particularly yummy concoction called "gumbo." It's a soupy meal with bits and bobs of everything thrown in: veggies, stock, seafood, and some other things most of the country wouldn't expect to find in a delicious meal, all coming together to water the mouth, satisfy the appetite and ensnare the senses.
I like to think that Vicki Pettersson's The Taken is a little like an urban fantasy gumbo. In the book, there is mystery and romance and betrayal and determination, noir, all wrapped up in a lovely fedora, cherry-decorated Rockabilly package. And I adored it.
Griffin Shaw is a grizzled dective from the 60's. He's a no nonsense fella with a square jaw and little patience for BS. He's spent his afterlife as a shepherd of souls, guiding the violently killed into the Everafter. It's a somewhat straight forward gig, one that he seems to either give or take. That is, until, he lets his latest soul do a bit of a quick change so she won't have to spend eternity in hooker garb.
Then something weird happens: the past jumps at him, or at least, the past in the beautiful vision of a girl who could have easily lived and thrived during his time. That girl, Kit, is a savy reporter and the dead soul dressed like a hooker? That's Kit's best friend.
So begins the Grif and Kit saga.
Kit likes the past. She likes the simplicity of getting dolled up. She likes the poetic magic in the clothes she wears, the music she listens to and the flowers set in her hair. She's a rockabilly doll and she doesn't apologize for it.
And that's the beauty of The Taken. It isn't simply that Grif is an angel who admittedly isn't a saint. It isn't that some weird power he doesn't fully understand has given him back his breath, his heartbeat. It isn't even that Kit embraces the love of yesterday, something that drew Grif into her world. These various elements are part of Pettersson's UF gumbo. They stir into the roux, thickening the plot, bringing ferocity and depth to the story. There are elements of the past in this beautiful novel that have nothing to do with the rockabilly culture or the world Grif came from. Pettersson gives a nod to the genres of the past, those great, savvy noir stories that weave intricate, layered mysteries that keep readers flipping page after page before they realize they've spent hours in Vegas with Kit and Grif.
But that first meeting? That first interaction between Grif and Kit wasn't an altogether happy one. They pushed each other's buttons. They challenged each other and throughout the novel there is an invisible line tugging them together. There is the attraction, the draw toward something neither of them is willing to admit to, but it centers the tension in the story and breathes life into what will be an series-enduring relationship. One so thick with passion and flirtation that I had to fan myself just thinking about it.
The Taken is a wonderful introduction to a trilogy full of spicy heat, and just like that beloved gumbo we're so fond of eating down here, I finished reading the novel feeling quite satisfied and very, very full.
Highly recommended.