Will Seven Years Sever A Timeless Love?
In This Spotlight:
About The Seven Year Slip
The Flatshare meets The Time Traveler's Wife in this story about a book publicist whose perfectly planned future hits a snag when she falls for her temporary roommate… only to discover he lives seven years in the past!
Clementine is an overworked book publicist who has trouble opening her heart up to love. But that changes when she finds a strange man standing in the kitchen of her late aunt's apartment. A man with kind eyes and a Southern drawl and a taste for lemon pies. Except, he exists in the past. Seven years ago, to be exact. And she, quite literally, lives seven years in his future. Her aunt always said the apartment was a pinch in time, a place where moments blended together like watercolors. And Clementine knows that if she lets her heart fall, she'll be doomed.
About Ashley Poston, Author of The Seven Year Slip
Ashley Poston writes stories about love and friendship and ever-afters. A native to South Carolina, she now lives in a small gray house with her sassy cat and too many books. You can find her on the internet, somewhere, watching cat videos and reading fan-fiction. 
Find out more about Ashley Poston at her website and find and follow her on Twitter and Instagram.
Ashley Poston started writing when she was in middle school, and never stopped. She graduated from the University of South Carolina and went on to work in the publishing industry as both a social media coordinator and then a marketing designer, before she became a full-time author.
Her young adult novels have appeared on the Indie Next List multiple times, and have been featured in Teen Vogue, Seventeen, Entertainment Weekly, Hypable, Buzzfeed, and in the Goodreads Choice Awards.
Her first adult novel, The Dead Romantics, was Good Morning America's July Book Club Pick, Barnes & Noble's Fiction Pick for July, an Amazon Editor choice, and one of Publisher's Weekly's Best Romances of 2022, and both a New York Times Notable Book of 2022 and a Best Romance Novel of 2022. It is also a USA Today and New York Times bestseller.
When not writing, she plays Dungeons & Dragons and reads copious amounts of fanfic. She bides her time between New York and South Carolina, and all the bookstores between.
An Excerpt from The Seven Year Slip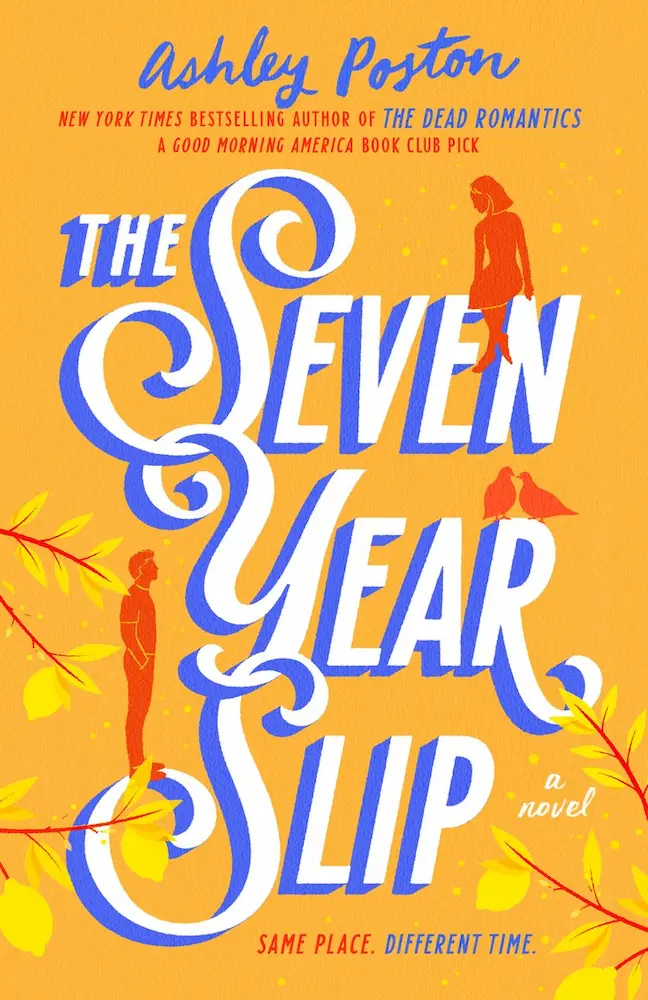 1
Publisher's Lunch
My aunt used to say, if you don't fit in, fool everyone until you do.
She also said to keep your passport renewed, to pair red wines with meats and whites with everything else, to find work that is fulfilling to your heart as well as your head, to never forget to fall in love whenever you can find it because love is nothing if not a matter of timing, and to chase the moon.
Always, always chase the moon.
It must have worked for her, because it never mattered where she was in the world, she was home. She waltzed through life like she belonged at every party she was never invited to, fell in love with every lonely heart she found, and found luck in every adventure. She had that air about her-tourists asked her for directions when she went abroad, servers asked her opinion on wines and fine whiskeys, celebrities asked her about her life.
Once, when we were at the Tower of London, my aunt and I accidentally found ourselves at an exclusive party at the Chapel Royal of St. Peter ad Vincula and managed to stay with a well-placed compliment and a knockoff statement necklace. There, we met a prince of Wales or Norway or somewhere, moonlighting as the DJ. I didn't remember much of the rest of that night since I overestimated my tolerance for too-expensive scotch.
But every adventure with my aunt was like that. She was the master of belonging.
If you aren't sure which fork to use at a fancy dinner? Go along with the person beside you. Lost in a city you've lived in for most of your life? Pretend you're a tourist. Listening to an opera after never hearing one ever before? Nod and comment on the chilling vibrato. Sitting in a Michelin-starred restaurant drinking a bottle of red wine that costs more than your monthly apartment rent? Comment on the body and act like you've tasted better.
* * *
ISBN-13: 9780593336502
Publisher: Penguin Publishing Group
Publication date: 06/27/2023
Praise for The Seven Year Slip
"I ADORED this book. Ashley is such a talent. The worlds she creates are so warm and specific and beautifully rendered. The Seven Year Slip is a gorgeous love story from one of the finest romance writers out there. I laughed, I cried, I didn't want it to end. Consider me Ashley Poston's greatest admirer!"—Carley Fortune, New York Times bestselling author of Every Summer After
"Ashley Poston has again created a world that is off-kilter, romantic, and irresistible. If you love The Lake House but also want some top notch make out scenes, this is the book for you."—Emma Straub, New York Times bestselling author of This Time Tomorrow
"Warm, funny and heartbreakingly hopeful, The Seven Year Slip is a magical love story, a devastating portrait of grief, and a loving ode to what it means to grow, evolve and blossom."—Sangu Mandanna, bestselling author of The Very Secret Society of Irregular Witches
Other Books by Ashley Poston
Other LitStack Resources
Be sure and check out other LitStack Spotlights to find what you should read. It's also always a good idea to look at New Releases, for books already released or upcoming.
As a Bookshop affiliate, LitStack may earn a commission at no cost to you when you purchase products through our affiliate links.
Subscribe to our Newsletter