Here are seven author birthdays for this week. Find your favorite or check which author shares your own special day. You can use the book links under each author to purchase their highlighted books. You can also find all the books relating to our author picks at our bookshop, on our list of Sharon's Birthday Picks. Your purchase supports independent bookstores.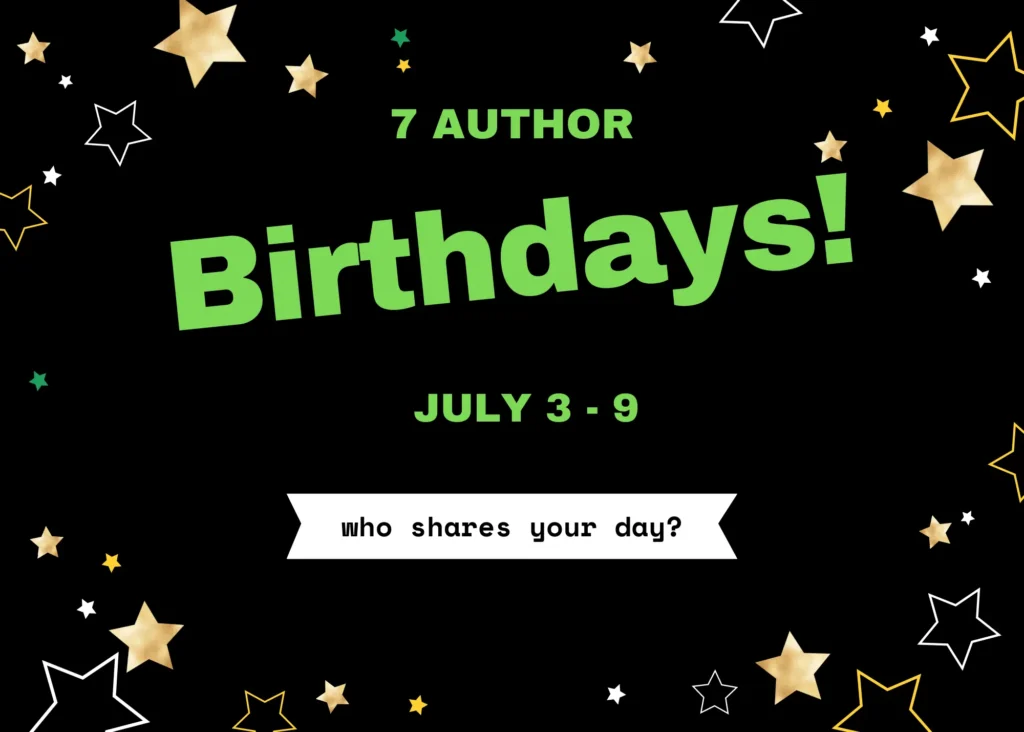 This Week's Author Birthdays
---
Franz Kafka – July 3
On this day, July 3, in 1883, Franz Kafka was born in Prague, Bohemia, Austria-Hungary. Immortalized for his novella The Metamorphosis and for his influence on existentialism, his very name conjures images of alienation, nightmares, disorientation and dystopia. Born into a country struggling between German and Czech nationality, he himself had a complicated relationship with his father, was conflicted about being a Jew, and struggled with having to maintain a day job (at an insurance company) when he wanted to be writing. 
He also was driven by sexual desire and engaged in multiple affairs, but was highly anxious of his own body image and how others perceived him. The poor man died at age 40 of tuberculosis, but he literally died of starvation; his throat had become too constricted to eat.
---
Nathaniel Hawthorne – July 4
On this day, July 4, in 1804, Nathaniel Hawthorne was born in Salem, Massachusetts. This great-great-grandson of the judge who oversaw the Salem Witch Trials became an author with anti-Puritan influences, aligned with dark romanticism. His themes often centered on the inherent evil and sin of humanity, and his works often have moral messages and deep psychological complexity – consider his best-known novel, The Scarlet Letter, as an example. 
Although he was somewhat reclusive, he was admired by other authors of the time such as Herman Melville (who dedicated Moby-Dick to Hawthorne "in admiration of his genius"). Hawthorne died of a stomach ailment in 1864 at the age of 59, while visiting his former President Franklin Pierce, a friend since college.
---
Bill Watterson – July 5
On this day, July 5, in 1958, Bill Watterson was born in Washington, DC. Creator of the popular comic strip Calvin and Hobbes, he knew from a young age he wanted to be a cartoonist; when he was in fourth grade, he wrote to Charles Schulz (the creator of Peanuts) and was highly impressed when Schulz wrote him back. The young man's focus paid off – Calvin and Hobbes was first published when he was only 27 years old. Watterson stopped writing the strip in 1995, stating that "I've done what I can do" within the medium. 
A highly private and principled man, he rarely grants interviews and eschews any attempts to license merchandise related to Calvin and Hobbes. Today he turns 65.
---
Hilary Mantel – July 6
On this day, July 6, in 1952, Hilary Mantel was born in Glossop, Derbyshire, UK. Although she seemed to burst on the scene in 2009 when her historical novel Wolf Hall was awarded the Man Booker Prize, she already had 9 other books under her belt and had been the recipient of many other literary honors prior to its publication. Wolf Hall became an acclaimed PBS television series, and its follow up, Bring Up the Bodies won a Man Booker Prize (making Ms. Mantel the first woman to win two of those prestigious awards). The third book in the series, The Mirror and the Light, was longlisted for the Man Booker Prize. 
Despite her two wins of the Man Booker Prize, her name will most likely always be linked with Thomas Cromwell. She died in 2022 following complications from a stroke.
---
Robert A. Heinlein – July 7
On this day, July 7, in 1907, Robert A. Heinlein was born in Butler, Missouri. Known as "the dean of science fiction writers" and one of the Big 3 of sci-fi authors (along with Arthur C. Clarke and Isaac Asimov), he is the recipient of 7 Hugo Awards, was named the first Science Fiction Writers of America Grand Master (1974) and was inducted into the Science Fiction and Fantasy Hall of Fame in 1998. Red Planet, Starship Troopers, The Moon is a Harsh Mistress and the iconic Stranger in a Strange Land are just a few titles in his extensive canon. 
His works had a hallmark of plausibility in their science and structure, and a high level of literary quality. He died of emphysema and heart failure in 1988 at age 80.
---
Anna Quindlen – July 8
On this day, July 8, in 1952, Anna Quindlen was born in Philadelphia, Pennsylvania. Author of thirteen non-fiction works, nine novels, two children's books and two coffee table books, she is best known for being a regular columnist at the New York Times from 1977 to 1994, for which she won the Pulitzer Prize for Commentary in 1992. In 1998, her semi-autobiographical novel, One True Thing, was made into a major motion picture starring Renée Zellweger and Meryl Streep (who was nominated for a Best Actress Oscar for her performance).
Her 2014 novel, Still Life with Breadcrumbs, was longlisted for the Bailey's Women's Prize for Fiction. Today, Ms. Quindlen turns 71.
---
Dean Koontz – July 9
On this day, July 9, in 1945, Dean Koontz was born in Everett, Pennsylvania. A prolific author and "paperback bestseller", he has been known to have written up to eight books in one year, often under a pseudonym (including one named after his beloved golden retriever), as he had been told early in his career that authors who consistently switch genres have a hard time getting published. Although his novels are usually categorized as suspense thrillers, he often employs strong elements of horror, science fiction and mystery in any given title. 
With 25 books on the New York Times Bestseller List, he is one of the highest paid authors of the last decade. Today he turns 78.
Other LitStack Resources
Be sure to look at other Author Birthdays, a weekly feature on LitStack from contributing writer Sharon Browning, and be sure and support independent bookstores – buy an author birthday highlighted book at LitStack Bookshop, in the list of Sharon's Birthday Picks.
As a Bookshop affiliate, LitStack may earn a commission at no cost to you when you purchase products through our affiliate links.
Subscribe to our Newsletter