Have you ever wondered what delicious delights Claire cooked up for Jamie in Outlander? What about those magical meals Molly Weasley made for her large family, and the various wizarding folk that sat down at her table? Sometimes, the best details writers and set designers include in our favorite books and series include the mouth-watering concoctions that put us right in those wonderful fictional worlds.
We're kicking off our week with more discussions about our favorite fall fictional worlds, and the best cookbooks inspired by them. Try some of these recipes out and let us know how you did in the comments below.
---
---
Outlander Kitchen: To the New World and Back Again: The Second Official Outlander Companion Cookbook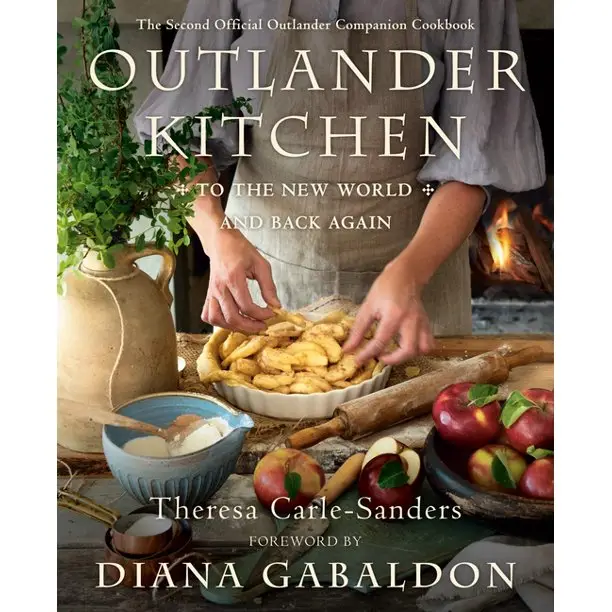 With the discovery of a New World comes an explosion of culinary possibilities. The later novels in Diana Gabaldon's Outlander series and the Lord John Grey series have Jamie, Claire, Lord John, and friends embark on their revolutionary adventures across the Atlantic and back again—and with their voyages come hundreds of new mouthwatering flavors to entice the taste buds of even the most discerning palates.

Professional chef and founder of Outlander Kitchen, Theresa Carle-Sanders returns with another hallmark cookbook—one that dexterously adapts traditional recipes for hungry, modern appetites. Interpreted with a spirit of generous humor and joyous adventure, the recipes herein are a mixture of authentic old-world receipts from Scottish settlers, new-world adaptations inspired by the cuisine of indigenous peoples, and humorously delicious character-inspired dishes—all created to satisfy your hunger and insatiable craving for everything Outlander, and with the modern kitchen in mind:

• Breakfast: Mrs. Figg's Flapjacks; Simon Fraser's Grits with Honey
• Soups: Leek and Potato Soup with Harry Quarry; Annie MacDonald's Chicken Noodle Soup
• Appetizers: Cheese Savories; Sardines on Toast for Lady Joffrey
• Mains: Benedicta's Steak and Mushroom Pie; The Cheerful Chicken's Poulet au Miel
Pork Tenderloin with Cider Sauce and German Fried Potatoes; Claire's Beans and Sass 
• Sides: Tobias Quinn's Colcannon; Fried Plantains; Corn Bread and Salt Pork Stuffing
• Breads: John Grey's Yorkshire Pudding; Corn Bread; Scones with Preserved Lemon
• Sweets: Mistress Abernathy's Apple Pandowdy; Oliebollen; Almond Biscuits

With vivid, full-color photographs and a plethora of extras—including preserves, condiments, cocktails, and pantry basics—Outlander Kitchen: To the New World and Back Again is the highly anticipated follow-up to the immersive culinary experience that inspired thousands of Outlander fans to discover and embrace their inner chefs! 

Ith gu leòir! Or, bon appétit!
Our Favorite Recipe:
We wore out our copy of the first Outlander cookbook, and that excellent bangers and mash recipe, but in the second official cookbook, our love of Annie MacDonald'schicken noodle soup stole our hearts. It is a must-try, especially with the temperatures getting lower and lower.
---
---
Gilmore Girls: The Official Cookbook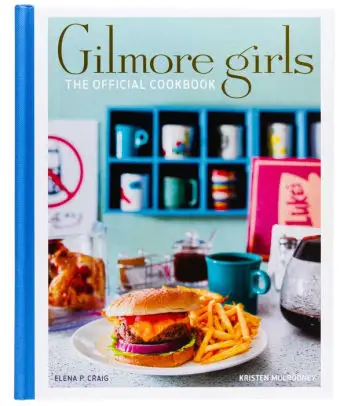 This cookbook features dishes from every corner of Stars Hollow and beyond, including the Dragonfly Inn, Weston's Bakery, Al's Pancake World, Luke's Diner, and Emily and Richard's dinner table . Fans will delight in recreating iconic dishes from the beloved series, such as Sookie's Risotto, Mrs. Kim's Flaxseed Muffins, Luke's Cheeseburger and Fries, and, of course, the perfect cup of coffee! This official cookbook also includes clever cooking tips from Sookie, hosting tips from Michel, etiquette tips from Emily Gilmore, and the wisdom from Lorelai and Rory for cooking fast and talking faster.
MORE THAN 50 RECIPES: Dozens of recipes for Stars Hollow favorites from Sookie's Risotto to Luke's Cheeseburger.
TIPS FROM SOOKIE: Recreate iconic dishes from Gilmore Girls with tips from Chef Sookie! Where easy-to-follow step-by-step directions lead, you can follow.
RECIPES FOR EVERY OCCASION: Whip up delicious dishes for everything from a mother-daughter brunch to a family dinner to a celebration for the whole town!
FILLED WITH PHOTOS: Includes gorgeous full-color photos of recipes to help ensure success, as well as beloved moments from the series.
THE FIRST OFFICIAL GILMORE GIRLS COOKBOOK: The only cookbook with official recipes direct from the set of Gilmore Girls.
Our Favorite Recipe:
Come on, it's the classic Gilmore question: Who is the better cook? Luke or Sookie. That isn't a question we want to answer so we gave it a fair shake and went with a recipe each. Our Luke's Diner favorite was the same as Rory and Lorelei's…those yummy danishes. To. Die. For. And, being the overachievers that we are, for Sookie's recipe, we tried her risotto. Gotta say, we loved it. Grab this cookbook if you're feeling a little nostalgic after your yearly Gilmore rewatch. Wait. We aren't the only ones watching again, are we? Nah, of course not. TeamJess!
---
---
Ghostbusters: The Official Cookbook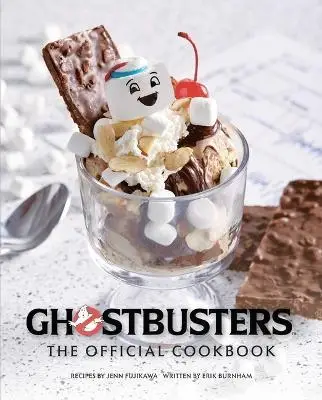 From big city bites to small town tastes, feed your interdimensional demon inside with a smorgasbord of paranormal-inspired recipes with the first-ever official Ghostbusters cookbook!
Who you gonna call… to eat?! Featuring more than 50 recipes inspired by the beloved Ghostbusters 1984 film and continuing into present day with Ghostbusters: Afterlife, this cookbook celebrates the bold personalities of Egon, Venkman, Zeddemore, and Stantz, along with the spooks, spectres, and ghosts that tried to transform New York City to a Babylonian dystopia.
But they're not alone — they've got company with a new generation of Ghostbusters like Phoebe, Trevor, Podcast, and Lucky that saved Summerville, Oklahoma from the second coming of Gozer! In fact, it's Podcast's, well, podcast that inspires this book! Now he and Ray are combing through the Ghostbusters archives and recording new episodes to bring the group's favorite new and old foods to delicious life.
With luscious full-color photography and packed with the fun and spirit of the films, Ghostbusters: The Official Cookbook is a must-have for foodies and paranormal investigative fans alike.
50+ RECIPES: Includes more than 50 exciting and tempting recipes—from savory snacks to delectable desserts; unforgettable dishes that can tame the scariest appetites.
GORGEOUS PHOTOS: Packed with mouth-watering full-color recipe photos.
RECIPES FOR EVERY SKILL LEVEL: Ghostbusters: The Official Cookbook features recipes geared toward every home cook; from beginner to experienced chef, there's something for everyone.
OFFICIALLY LICENSED COOKBOOK: Created in collaboration with Sony Pictures Entertainment and Ghost Corps, this is the only officially licensed Ghostbusters cookbook.
Our Favorite Recipe:
Well, since the launch date isn't until tomorrow, we can't say for sure that the recipes are great. But we just finished a proper Ghostbuster movie marathon, so we're gearing up for some decadent baking fest this week. Up first for us? Slimer Salad!
---
---
Star Wars: Galaxy's Edge: The Official Black Spire Outpost Cookbook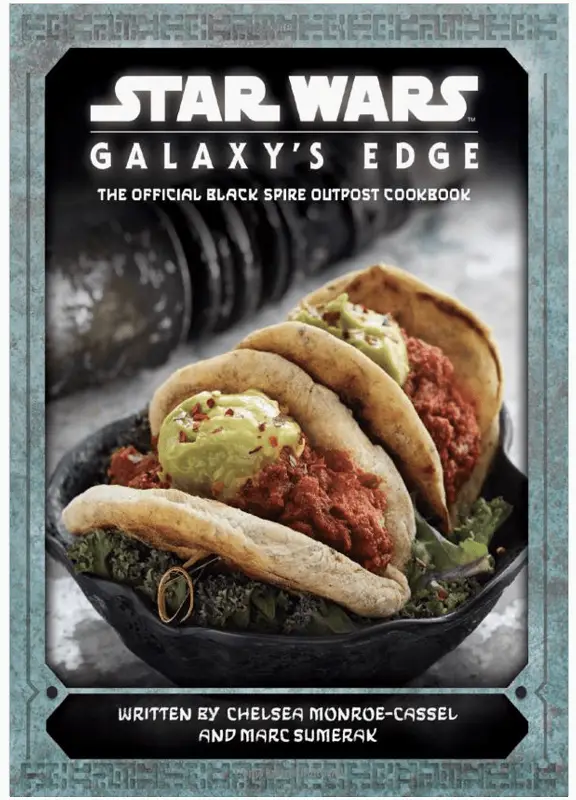 Inspired by the cuisine from the Star Wars: Galaxy's Edge themed lands at Walt Disney World and Disneyland, Star Wars: Galaxy's Edge: The Official Black Spire Outpost Cookbook is the ultimate source for creating out-of-this-world meals and treats from a galaxy far, far away.
Join intergalactic gourmet Strono "Cookie" Tuggs for a mouthwatering journey into the cuisine of Black Spire Outpost and beyond.
From the swamps of Dagobah to the forests of Endor and the deserts of Jakku, chef extraordinaire Strono "Cookie" Tuggs has traveled countless light-years to compile the galaxy's most delicious recipes into this unique volume.
With Cookie as your guide, journey to the streets of Black Spire Outpost and discover delectable delicacies such as Braised Shaak Roast, Nerf Kebabs, Mustafarian Lava Buns, Huttese Slime Pods, Spicy Mandalorian Stew, and much more.
Featuring seventy recipes—including sides, sauces, soups, breads, main courses, desserts, and drinks—this comprehensive cookbook is a hyperspace route to the tastiest treats in the galaxy, bringing a little taste of Black Spire Outpost right into your own home.
Our Favorite Recipe:
Guys, we'll be honest: not only are we Star Wars freaks, but we're Disney nerds as well. (We're heading to mouse-land in two weeks, actually). On our itinerary is definitely Galaxy's Edge so it was no big chore for us to grab this book and dig into these recipes. The best we've tasted so far? Hands down, Nerf Kabobs. So delicious!
---
---
The Unofficial Wizard's Cookbook: 100+ Amazing Recipes Inspired by the Films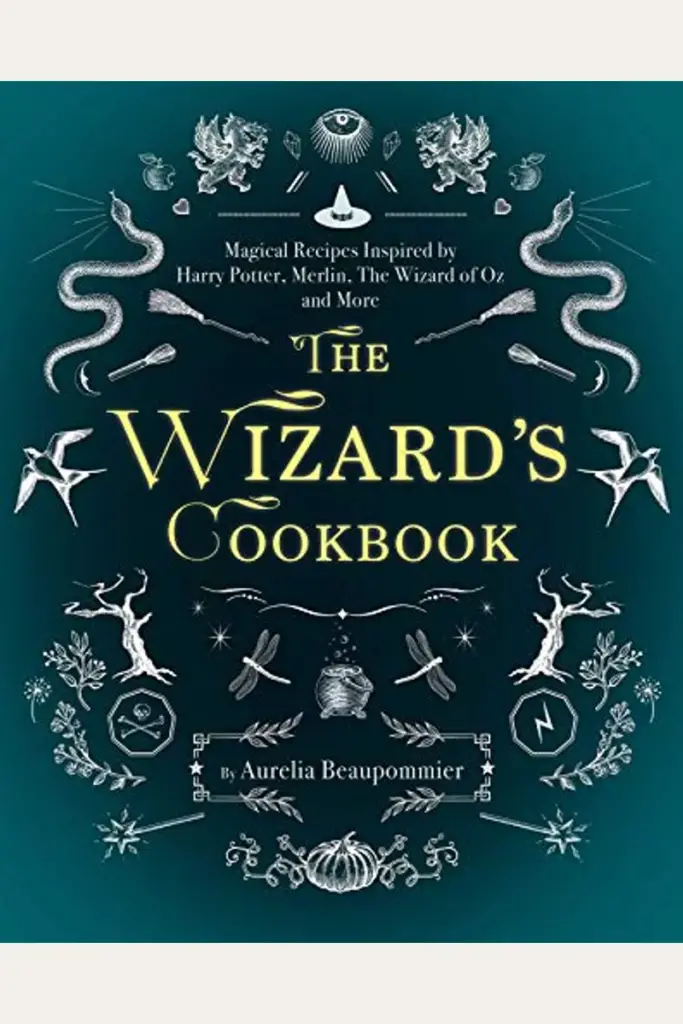 Many of the foods in the magical world are not much different than what people really eat in various areas of the world, especially Europe. Of course, there are some dishes only found in magical world, especially sweet treats.
Have you ever wondered what Magical Bacon Sandwiches taste like? Or experience the joys of a creamy cold Knickerbocker treat? How about a Golden Snitch Cake? You'll find all of that in this book as well as exclusive recipes unique to us!
The book contains a rich collection of food inspired by the magical series, include evening nibbles, desserts, cocktail, and more.
With a dash of creativity, a sprinkle of fun and a light dusting of magic, this book will help you whip up everything, from magical world approved breakfasts, to lunches and appetizers, to magical academy dinners and tasty desserts!
Easy, step-by-step recipes are perfect for any Wizards or Muggles and will have you prepping feasts worthy of both your magical academy teachers and students.
Our Favorite Recipe:
This one was a treat to dip into. There are lots of baked goods that will recall lots of the best feast scenes from the Potter films. However, we were most pleased with the Magical Meat pies (replacing ground beef with ground chicken) and it was delicious. Thumbs up all around for this enchanting cookbook.
---