As a middle-aged, monogamous white CIS woman, it may seem strange that I'm recommending LGBTQA books in the scifi/fantasy genre to LitStack readers. But at the risk of seeming insincere, it doesn't matter to me if the sexuality of players in a tale are straight, gay, non-binary, gender fluid or asexual (or anything in between or further out) as long as the story line is well written and engaging. And in fact I'm heartened that there are so many good books that have come out recently that do have alternative sexualities and lifestyles as part of their narrative, because even I can understand how important representation is to gaining acceptance for those who live their truths outside the mainstream.
What also I find very encouraging is that in all these books, the sexuality of the characters is an accepted part of who they are. In a few of the books, this awareness is hard won, or even a hill on which to take a stand; in others, it is a journey. But for all of them, it simply is.
So, here are a dozen good reads, all with LGBTQA elements, all of which I heartily recommend.


Pet by Akwaeke Emezi
One of the most exceptional books I've read in a long time, a young adult book about a girl who becomes a monster hunter in order to save her friends and community. Oh, and being trans is just an accepted part of who she is.
Starless by Jacqueline Carey
The queen of erotic fantasy literature spins a new tale about Kahi, who in accordance with prophecy has been raised by warrior-priests since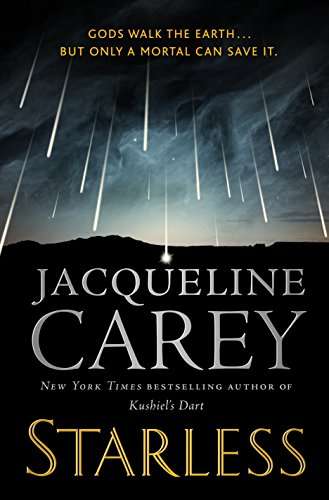 birth to be the shadow/protector of Zariya, the Princess of the Sun-Blessed Court. In true Jacqueline Carey style, this standalone novel is ambitious in scope yet eloquent in sensual awareness.
The Priory of the Orange Tree by Samantha Shannon
An epic fantasy that has warrior nuns, wily alchemists, court intrigue, conquest and lots and lots of dragons. Plus lots and lots of strong female characters. The pacing on this one is a bit uneven, and it gets kind of trope-y, but it still is quite entertaining, and, well, epic.
A Memory Called Empire by Arkady Martine
I admire science fiction where the author builds a world that may feel like ours, but is so different that the reader is constantly being thrust into new ways of thinking about culture and society. This book excels in this both in scope and intricate detail. Mahit is the ambassador from a small space station who is called to the center of the vast Teixcalaanli Empire upon the suspicious death of her predecessor. She must learn to navigate the rough waters of galactic politics even while trying to keep her station from being absorbed into the Empire itself.
The Sol Majestic by Ferrett Steinmetz
A somewhat frothy and yet very entertaining book about the galaxy's most exclusive restaurant and the down-on-his-luck scion of a fading religion who ends up naively fluking his way into the good graces of its eccentric/genius executive chef, this book is full of food and family, and is hopepunk at its very best.
The Stars Are Legion by Kameron Hurley (also anything by Kameron Hurley)
This sci-fi book is remarkable; its dark and difficult and absorbing and at times very ugly. Oh, and it contains no men. They simply don't exist…and it doesn't matter. Beyond that, trying to describe it is futile. Suffice it to say that Kameron Hurley is the queen of queer sci-fi, and this is an amazing work even among her lexicon of amazing works.
Dreadnought by April Daniels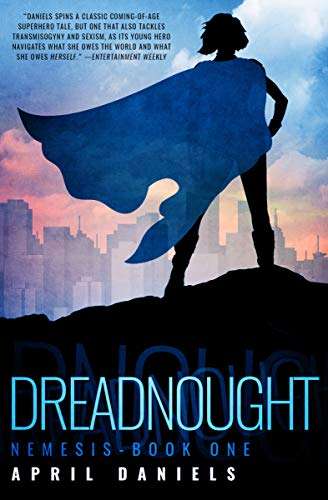 Probably the most overt work on my list, Danny is a boy who always knew she was really a girl but was afraid to let anyone else know. That is, until the superhero Dreadnought unexpectedly dies at her feet and his powers are transferred to her – including manifestation of her true self. Now she not only has to deal with the reactions of her family and friends to the person she is, but save the world, as well.
This is How You Lose the Time War by Max Gladstone and Amal El-Mohtar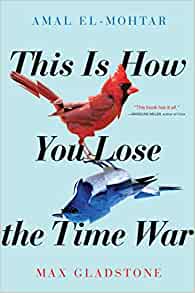 A haunting and beautiful love story spanning ages told through clandestine letters written by time-traveling agents on opposite sides of a war between two powers struggling for control of time itself.
Gideon the Ninth by Tamsyn Muir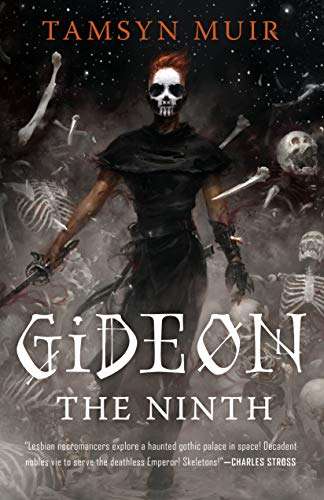 Gideon Nav is an indentured servant to the necromancers of the Ninth House; she also is irreverent, crass and a total badass. When she is given the opportunity to leave her servitude by becoming the cavalier to Harrowhawk, Reverend Daughter of the Ninth House (and her nemesis since childhood), in a trial amongst the greatest necromancers of the great houses, she grudgingly agrees. This is a grimdark fantasy that is amazingly redemptive, and just plain amazing.
A Song for a New Day by Sarah Pinsker
A dystopian fantasy that suddenly doesn't seem that far away. Rosemary, a girl who has lived her life in isolation dictated by a society wracked by a pandemic and terrorism, and Luce, who in the Before was the lead singer in a rock and roll band who was just on the cusp of making it big must each have to navigate this new world and all the threats it holds in order to learn how to be true to themselves.
The Empress of Salt and Fortune by Nghi Vo
One of the first books I've read that seamlessly uses they/them not to hide a gender but to identify how meaningless that gender is. In this poetic tale, the story of the exiled Empress of the Dragon Court, In-yo, unfolds through items left after her passing as cataloged by the Cleric Chih and related by an old peasant woman who lives down the road.
Empress of Forever by Max Gladstone (in progress)
I've just started this one, but its already amazing, and it's by Max Gladstone, so I know it will be amazing. "A smart, swashbuckling, wildly imaginative adventure,"… yeah, that sums it up nicely so far.
Enjoy!
---
—Sharon Browning
A voracious reader who loves to share her thoughts on all things wordy, Sharon Browning has been a contributor at LitStack for eight years, including penning the weekly  feature Gimbling in the Wabe from 2012 to 2017. She is happiest when sitting on her porch in Minneapolis, Minnesota with a good book in hand, a cup of coffee nearby and her golden retriever at her feet.
Subscribe to our Newsletter