In, I Heard A Fly Buzz When I Died, when a literary icon stays with the Dickinson family, Emily and her housemaid Willa find themselves embroiled in a shocking murder in this new mystery from USA Today bestselling and Agatha Award–winning author Amanda Flower.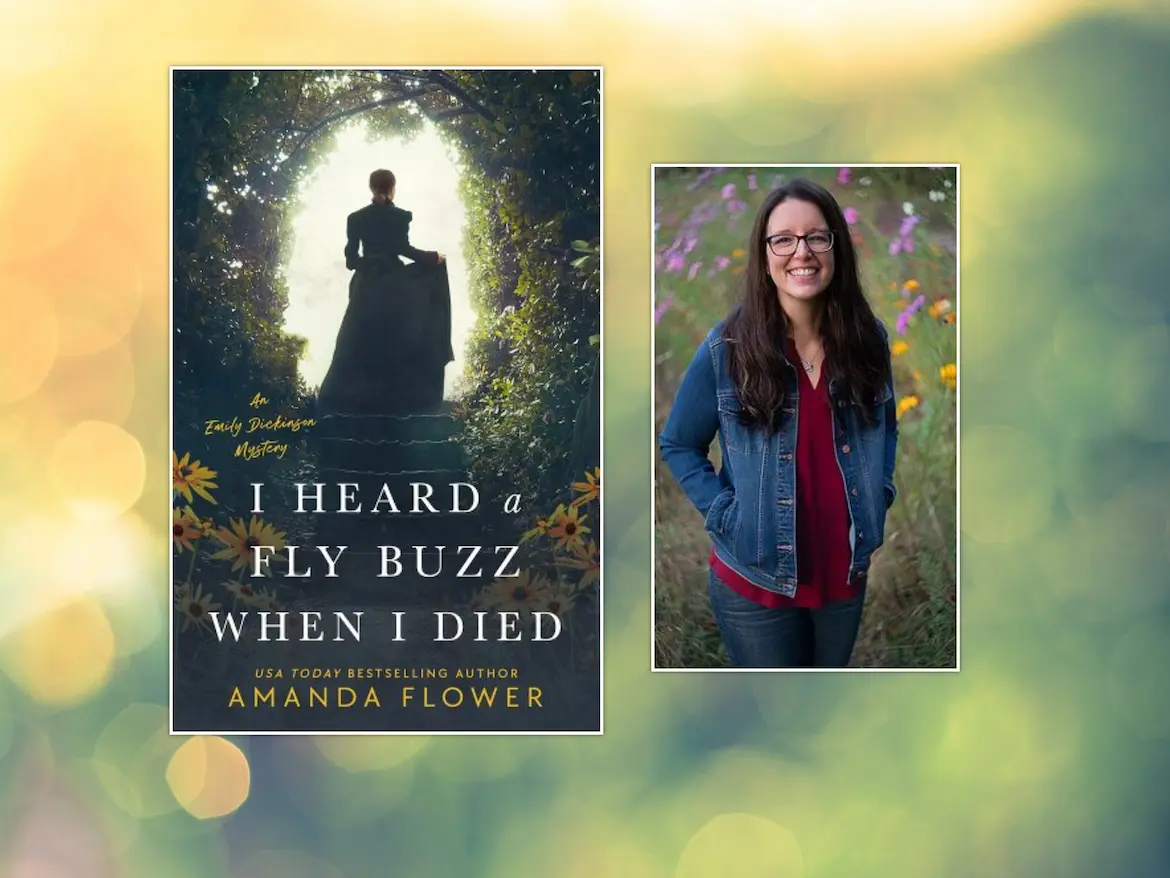 In This Spotlight On I Heard A Fly Buzz When I Died
About "I Heard A Fly Buzz When I Died"
August 1856. The Dickinson family is comfortably settled in their homestead on Main Street. Emily's brother, Austin Dickinson, and his new wife are delighted when famous thinker and writer Ralph Waldo Emerson comes to Amherst to speak at a local literary society and decides he and his young secretary, Luther Howard, will stay with the newlyweds. 
Emily has been a longtime admirer of Emerson's writing and is thrilled at the chance to meet her idol. She is determined to impress him with her quick wit, and if she can gather the courage, a poem. Willa Noble, the second maid in the Dickinson home and Emily's friend, encourages her to speak to the famous but stern man. But his secretary, Luther, intrigues Willa more because of his clear fondness for the Dickinson sisters.
Willa does not know if Luther truly cares for one of the Dickinson girls or if he just sees marrying one of them as a way to raise himself up in society. After a few days in his company, Willa starts to believe it's the latter. Miss Lavinia, Emily's sister, appears to be enchanted by Luther; a fact that bothers Emily greatly. 
However, Emily's fears are squashed when Luther turns up dead in the Dickinson's garden. It seems that he was poisoned. Emerson, aghast at the death of his secretary, demands answers. Emily and Willa set out to find them in order to save the Dickinson family reputation and stop a cold-blooded fiend from killing again.
Excerpt of I Heard A Fly Buzz When I Died
Excerpt. © Reprinted by permission. All rights reserved.
Chapter One
I thrust the tip of my spade into the earth and had images flash through my mind of digging a grave, a grave dug in stone. The tiniest bit of dirt came loose from the combination of my force and the steel blade. The small amount of soil hardly seemed worth the effort. I closed my eyes for a moment. Trying to plant these daylilies in August was a bad idea. This was the driest and hottest month of the year, not a good time for planting much of anything. However, when my mistress, Emily Dickinson, saw the lilies growing on the side of an abandoned road, she had to have them for her new garden at the Dickinson homestead. One way or another, I had to get them in the ground before they languished in the heat.
Sweat trickled down both sides of my face. My only recourse was to wet the ground and then plant the daylilies. I knew Emily would not want to change the location of the plants. When she made up her mind about something, it was as good as done. The only trouble being when I was the one who was supposed to make sure it got done. At least I wasn't alone on this particular assignment.
Cody Carey, the family's yardman, stood a few feet away and looked as hot as I felt. He wiped at his brow. The pair of us had toiled in companionable silence for a long while. Cody was a few years younger than my twenty-one years. He had a dusting of freckles across the bridge of his nose and cheeks. The blond mustache on his upper lip could only be seen when the light hit it directly. His attempt at a mustache was the same straw color of his hair. He had just started to work at the Dickinson home that summer, and Emily hoped to train him up as a proper gardener, both for the homestead and for the Evergreens, the neighboring property that was home to Emily's brother and his new wife.
"Willa!" a breathy voice called.
I jumped and dropped my spade onto the hard ground. The handle bounced and struck me in the ankle. I bit my lip to keep from crying out.
"Willa!" Emily called again. "Susan and Austin are home!" The jubilation in her voice was clear. My mistress Emily wasn't one to do anything by halves. If you were someone she loved, like her family, then it was wholly and fiercely.
Editorial Reviews for I Heard A Fly Buzz When I Died
Publishers Weekly – 09/25/2023
Flower's spirited second whodunit featuring Emily Dickinson and her maid, Willa Noble (after 2022's Because I Could Not Stop for Death), sees the pair solving the murder of Ralph Waldo Emerson's secretary. 
It's 1856, and Emerson is preparing to visit Amherst, Mass., to speak at the town's literary society. To the delight of the Dickinson family, Emerson and his secretary, Luther Howard, have decided to lodge with Emily's brother, Austin, and his new bride, Susan. 
Shortly after the men arrive in Amherst, however, complications arise.
First, a peddler punches Luther in the face outside Austin and Susan's home and warns the couple that their guest is a "monster" who will ruin their lives. Then, Willa becomes disturbed after Luther suggests that she share some of Emily's writings with him, ostensibly as a way to get Emerson's opinion on them. When Luther turns up poisoned to death in Austin's garden, placing the Dickinson family's reputation (and possibly their lives) under threat, Willa and Emily must delve into the peculiar man's past to ferret out the killer. 
Flower plays scrupulously fair with readers and evokes the period marvelously. Fans of Stephanie Barron's Jane Austen mysteries will be thrilled.
Library Journal – 08/01/2023
When Emily Dickinson's brother and new sister-in-law move into their house across the street in Amherst, they announce that their first guest will be Ralph Waldo Emerson, the nation's premier writer, who will be lecturing at the local college for a week. Emily welcomes him with flowers, but Emerson's secretary Luther Howard rejects them, saying the writer has terrible hay fever. 
Howard sticks around long enough to turn the town upside down: He's attacked by a peddler; the younger Dickinson sister, Lavinia, falls for his smooth ways; and Emily's maid Willa overhears Emerson accusing Howard of stealing his writing. 
Soon Luther Howard is dead, killed by a poison in the Dickinson garden. Emily isn't upset by his death but ropes Willa into the investigation because she doesn't want the family reputation ruined. While Willa worries about her role in the case, Emily, being a Dickinson, presumes that she's entitled to meddle and find the killer. 
VERDICT The sequel to the Agatha Award—winning Because I Could Not Stop for Death brings back Emily and Willa as sleuths in an absorbing literary mystery of social class, women's roles, and the abolitionist movement.—Lesa Holstine
Kirkus Reviews – 09/09/2023
Maybe all writer Emily Dickinson needed to become a crime-solver was the help of her household maid.
Emily's not a big fan of change. She's only just recently been adjusting to her brother Austin's marriage, even though his wife, Susan, is her closest friend. Now that the couple have returned from their honeymoon, they're already preparing to welcome their first guest to their home, the Evergreens: famed author Ralph Waldo Emerson, who could either lift up local writers or dash their hopes when he speaks at the Amherst Literary Society. 
Willa Noble, Emily's household maid and secret friend despite their class differences, can't help but worry that Mr. Emerson's presence will put undue stress on Emily, whose admiration for him runs deep. It turns out that Emily's been more stressed by the presence of Mr. Emerson's secretary, Luther Howard, who's been devoting the week to securing the affections of either Emily or her sister, Lavinia, whomever's head he can turn first. 
The sudden death of Mr. Howard is something Emily neither welcomes nor mourns, though she's sad for Lavinia's sake. When it appears that Mr. Howard has been deliberately poisoned, Emily and Willa work together to solve the case, each exploiting her social position as an asset in her investigation. Along the way, they rub shoulders with several other writing luminaries, especially scene-stealing Miss Alcott, whose candor about writing's bottom line is notably refreshing.
Aside from a few zingers, Dickinson's a better poet than cozy detective.
About Amanda Flower, Author Of I Heard A Fly Buzz When I Died
Amanda Flower is a USA Today bestselling and Agatha Award-winning author of over thirty-five mystery novels. Her novels have received starred reviews from Library Journal, Publishers Weekly, and Romantic Times, and she had been featured in USA Today, First for Women, and Woman's World. She currently writes for Penguin-Random House (Berkley), Kensington, Hallmark Publishing, Crooked Lane Books, and Sourcebooks. 
In addition to being a writer, she was a librarian for fifteen years. Today, Flower and her husband own a farm and recording studio, and they live in Northeast Ohio with their two adorable cats.
Visit her at www.amandaflower.com
Titles by Amanda Flower
Other LitStack Resources
Be sure and check out other LitStack Spotlights that shine a light on books we think you should read.
As a Barnes & Noble, Booksamillion, and Lumas affiliate, LitStack may earn a commission at no cost to you when you purchase products through our affiliate links.