Amy Tannenbaum began her book publishing career with a brief stint at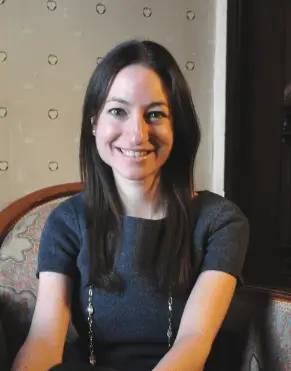 Harlequin where she edited romances that were far more entertaining than the books she read while earning her English degree at Wesleyan University. She then joined Atria Books, a division of Simon & Schuster, where she edited a diverse list of bestselling non-fiction and fiction books, including several indie-published titles. The first time she stepped inside the Jane Rotrosen Agency she thought she had died and gone to book publishing heaven. So she was thrilled when Jane offered her a position. Amy is building her client list and is particularly interested in new adult, romance and women's fiction that falls into that sweet spot between literary and commercial.
Amy can be reached at atannenbaum@janerotrosen.com.
LS: Did your decision to go into publishing stem from a love of books as a child? What was your favorite book when you were growing up?
As a child I spent many, many hours reading one Baby-Sitters Club book after another—to the point where a librarian pulled my mother aside and suggested that she encourage me to read something else. Those were the first books I remember being obsessed with and I'm sure they inform the way I evaluate books today.
LS: I read that you started out as an editor before gravitating toward agenting. What made you decide to switch?
I worked at Harlequin for about a year and then moved to Simon & Schuster where I stayed for over eight years. I loved being an editor, but my favorite part of the job was advocating on behalf of my authors, and I knew that I could more effectively advocate as an agent.
LS: Do you consider yourself an editorial agent and what is that process like?
Having been an editor for so many years, it's almost impossible for me to read something without thinking about how it can be tweaked. I take on a lot of indie authors, so if a book has already been published, I only make minor edits. But if an author wants me to take a look at a manuscript before she delivers it to her editor, I'm more than happy to offer my editorial input.
LS: The indie/self published industry seems to have opened a few doors for you, particularly with the success you've had selling previously self-published and indie titles. What was the appeal of these books and what about these titles made you want to rep them?
For years I worked on fantastic debut novels that had a difficult time finding an audience, which was enormously frustrating. But now, because of the rise of indie-publishing, a publisher can take on a debut author who has essentially been market-tested.
That said, I won't sign on a client purely because he or she has an impressive sales record. The writing still needs to grab me and I have to feel confident that it makes sense for the author to sign on with a traditional publisher. Some authors prefer overseeing every aspect of the publication process and don't want to hand over that control to a publisher. Those authors should continue to self-publish.
LS: What advice do you have for writers thinking about self publishing?
Although many self-published authors have succeeded, there are many, many more who have failed. If you're going to take the self-publishing route, and want a good shot at success, you need to put a lot of work into it. Hire a professional editor, a cover designer, a publicist. That's what the majority of those who are successful are doing.
LS: What questions should writers ask their potential agents prior to signing with them?
It's important to know exactly what kind of service your agent is going to provide. When deciding to become an agent, I knew I wanted to join a full service agency—an agency that didn't just negotiate the contract and then disappear. Having worked on the publishing side, I knew that the Jane Rotrosen Agency had a great reputation for adding value to their authors' careers—every step of the way, from preparing a manuscript for submission to ensuring that the publishers, domestically and internationally, do everything they can to help an author succeed.
LS: Once upon a time there was a rumored formula to romance novels-some elements that were assumed necessary to "qualify" as romance, but with the success of titles like Beautiful Disaster and Tiffany Reisz's Original Sinners series and many, many others, that seems to be changing. Do you think the genre is heading into "anything goes" territory?
Rules are definitely being broken, but I wouldn't say that anything goes—there are still certain things that are off limits. But at the end of the day, readers just want a good story—an escape.
What's great about self-publishing is that authors are now able to prove that there is an audience for their books, even if publishers think otherwise. For example, publishers used to steer clear of New Adult because they didn't think there was an audience for it. The problem was that they were publishing NA through their YA divisions, and NA readers aren't generally YA readers. By self-publishing Beautiful Disaster, my author Jamie McGuire was able to tap into the book's natural audience, which turned out to be adults. Without the ability to self-publish, it's possible that Beautiful Disaster—a massive bestseller—would have never seen the light of day.
Thanks for chatting with us, Amy!