Use screenwriting books to learn how to bring extra dimensions to your fiction.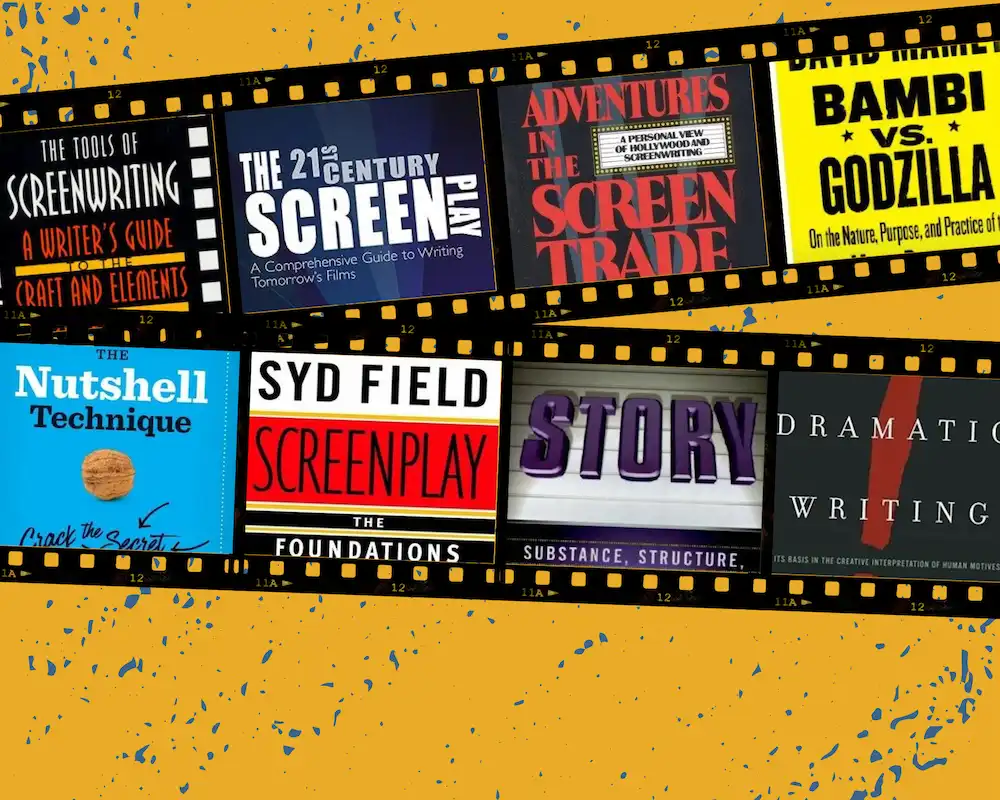 In This Article:
Think Outside The Box
There are a thousand craft books that purport to help writers cultivate strong plots and well-developed characters. There are craft books that offer clever ways to mix formulas and offer "sure fire" plans promising you'll produce the next bestseller. It's important, though, to concentrate on dramatic storytelling–the techniques used to transport a reader along a steadily rising dramatic arc towards a climactic finish.
There are, of course, some phenomenal craft books on the market. They are popular. They may even live up to their "sure fire bestseller" promises. Experience tells me that the best craft books marry genre and dissect craft in a way that requires you to think outside of the box. 
Want an exciting, fully realized story that rises in tension and engagement? Want to make that story live beyond the page? We recommend applying dramatic storytelling techniques used in screenwriting to your fiction.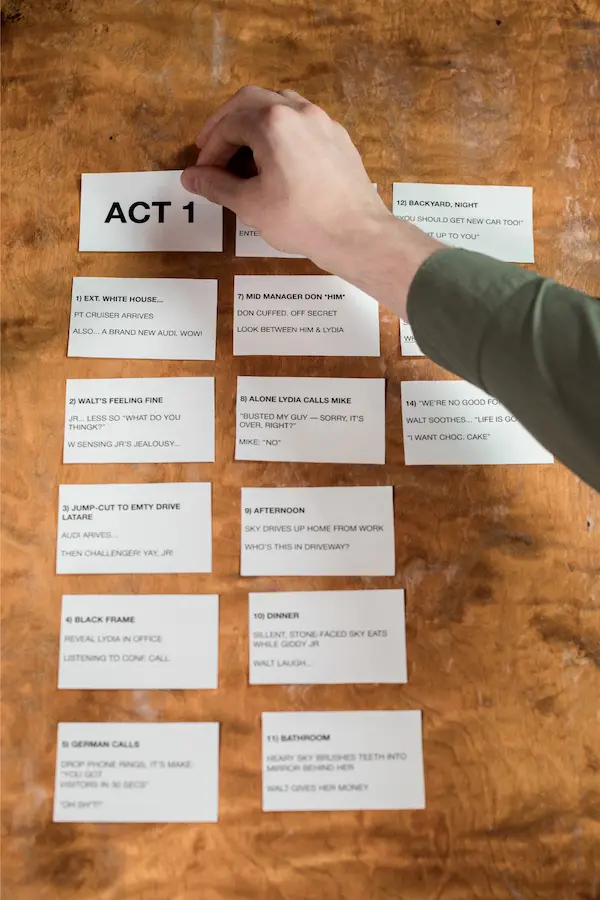 Benefits of Screenwriting for Fiction
We often encourage writers to remember the viewpoint, or focal point, of the narrator. Controlling and modulating the narrative voice implies that what the reader sees, hears, feels, tastes and smells depends on what you show through that focal point narrator on the page. You are in control of the sensory lens, a five-sense (sometimes six sense) focal camera through which the reader inhabits the world you create and the characters who live in it. 
Here are a few books we believe will help you accomplish deeper, more involved dramatic storytelling using screenwriting techniques:
The Tools of Screenwriting: A Writer's Guide to the Craft and Elements of a Screenplay by David Howard, Edward Mabley
By dissecting how the tools of the screenwriting trade work in various films, writers David Howard, (known for a favorite of ours, Galaxy Quest), and Edward Mabley (Planet Earth: The Future) teach the elements they deem essential in crafting a great story.
Summary: In The Tools of Screenwriting, David Howard and Edward Mabley illuminate the essential elements of cinematic storytelling, and reveal the central principles that all good screenplays share. The authors address questions of dramatic structure, plot, dialogue, character development, setting, imagery, and other crucial topics as they apply to the art of filmmaking.
Howard and Mabley also show how, on a practical level, the tools of screenwriting work in sixteen notable films, including Citizen Kane, E.T., One Flew Over the Cuckoo's Nest, Rashomon, The Godfather, North by Northwest, Chinatown, and sex, lies, and videotape.
The 21st-Century Screenplay: A Comprehensive Guide to Writing Tomorrow's Films by Linda Aronson
Linda Aronson (Kostas, Something in the Air) wrote The 21st Century Screenplay as a counter to the teaching method in film schools and among screenwriting books for writing in linear fashion. This title focuses on a non-linear, multi-character style and reviews several films that follow the same format. 
Summary: The 21st Century Screenplay is the much-expanded successor to the author's Scriptwriting Updated. Many books in one, it offers a comprehensive, highly practical manual of screenwriting from the classic to the avant-garde, from The African Queen and Tootsie, to 21 Grams, Pulp Fiction, Memento and Eternal Sunshine of the Spotless Mind. Whether you want to write short films, features, adaptations, genre films, ensemble films, blockbusters or art house movies, this book takes you all the way from choosing the brilliant idea to plotting, writing and rewriting. Featuring a range of insider survival tips on time-effective writing, creativity under pressure and rising to the challenge of international competition, The 21st Century Screenplay is essential reading for newcomers and veterans alike.
Adventures in the Screen Trade by William Goldman
William Goldman (Butch Cassidy and the Sundance Kid, Misery) is a Hollywood legend and, perhaps, the person anyone wanting to learn about screenwriting should go to for a master class. However, his book Adventures in the Screen Trade goes beyond the obvious. Goldman takes you behind the curtain, and into the private conversations of Hollywood legends, diving deep into their (and his) theories on story, craft and what makes a great story. 
Summary: No one knows the writer's Hollywood more intimately than William Goldman. Two-time Academy Award-winning screenwriter and the bestselling author of Marathon Man, Tinsel, Boys and Girls Together, and other novels, Goldman now takes you into Hollywood's inner sanctums…on and behind the scenes for Butch Cassidy and the Sundance Kid, All the President's Men, and other films…into the plush offices of Hollywood producers…into the working lives of acting greats such as Redford, Olivier, Newman, and Hoffman…and into his own professional experiences and creative thought processes in the crafting of screenplays. You get a firsthand look at why and how films get made and what elements make a good screenplay.
Bambi vs. Godzilla: On the Nature, Purpose, and Practice of the Movie Business by David Mamet
David Mamet (Glengarry Glenross, Hoffa), doesn't hold back telling it like it is. From story concept to the business of film, Mamet explains how his screenplays went from idea, to screenplay, to business meeting, to finally, (after many egos got bruised) film. 
Summary: From the Academy Award-nominated screenwriter and playwright: an exhilaratingly subversive inside look at Hollywood from a filmmaker who's always played by his own rules. 
Who really reads the scripts at the film studios? How is a screenplay like a personal ad? Why are there so many producers listed in movie credits? And what on earth do those producers do, anyway? Refreshingly unafraid to offend, Mamet provides hilarious, surprising, and refreshingly forthright answers to these and other questions about every aspect of filmmaking from concept to script to screen. A bracing, no-holds-barred examination of the strange contradictions of Tinseltown, Bambi vs. Godzilla dissects the movies with Mamet's signature style and wit.
The Nutshell Technique: Crack the Secret of Successful Screenwriting by Jill Chamberlain
Script doctor Jill Chamberlain's Nutshell Technique has become a popular title added to the syllabus of many film programs across the country. Mixing beat points with conflict perfecting elements, Chamberlain's own formula streamlines any you may have read before and presents readers with a unique and constructive way to develop a strong, successful story. 
Summary: Veteran script consultant Jill Chamberlain discovered in her work that an astounding 99 percent of first-time screenwriters don't know how to tell a story. What the 99 percent do instead is present a situation. In order to explain the difference, Chamberlain created the Nutshell Technique, a method whereby writers identify eight dynamic, interconnected elements that are required to successfully tell a story.
Now, for the first time, Chamberlain presents her unique method in book form with The Nutshell Technique: Crack the Secret of Successful Screenwriting. Using easy-to-follow diagrams ("nutshells"), she thoroughly explains how the Nutshell Technique can make or break a film script. Chamberlain takes readers step-by-step through thirty classic and contemporary movies, showing how such dissimilar screenplays as Casablanca, Chinatown, Pulp Fiction, The Usual Suspects, Little Miss Sunshine, Juno, Silver Linings Playbook, and Argo all have the same system working behind the scenes, and she teaches readers exactly how to apply these principles to their own screenwriting. Learn the Nutshell Technique, and you'll discover how to turn a mere situation into a truly compelling screenplay story.
Always Be Improving – Even When You Take A Step Back
Whether you write screenplays, short stories or novels, you want to always be improving your craft. Growing your skill sets and taking an active role in your personal and professional development are tasks you want to always keep at the top of your daily to-do list. Even when you fail at something, look for the little successes, what you've learned by failing, how you'll do things differently. Doing that will absolutely help you move forward. We hope these books help with your continuing development as a writer.
Three Bonus Screenwriting Books on Dramatic Storytelling
Here are three bonus books which detail the technique of dramatic storytelling. While these are books largely dealing with screenwriting, we highly recommend you also seek out books on playwriting.
Other LitStack Resources
Be sure and check out othe LitStack articles on creative writing in our LitStack Toolkit.
As a Bookshop affiliate, LitStack may earn a commission at no cost to you when you purchase products through our affiliate links.
Subscribe to our Newsletter