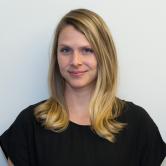 Prior to joining LGR in 2016, Sarah began her publishing career in trade fiction editorial at Crown and Hogarth. There, she worked with a range of bestselling and award-winning novels, including Han Kang's HUMAN ACTS and Man Booker International Prize winning debut, THE VEGETARIAN, as well as the New York Times bestselling novel, THE LITTLE PARIS BOOKSHOP by Nina George. Sarah loves most types of literary and upmarket commercial fiction, especially novels that show powerful imagination, compulsive plotting and unique voices. Epic family dramas, cross-genre narratives with notes of magical realism, darkly Gothic stories that may lead to nightmares and twisty psychological suspense are among her favorite things to read. A southerner at heart, she can't help but love books set in the south, but she's a die-hard for any world immersive enough to make her miss her stop on the train, cry in public, or desperately unable to sleep.
Sarah hails from North Carolina, where she graduated from UNC Chapel Hill with a double major in Psychology and English. She spent her first three years in New York teaching high school English in the Bronx and earning an MS in Education from Hunter College. While she misses the warm weather and oversized oak trees of her first home, she wouldn't trade the inspiring, beautiful energy of "The City" and of publishing for just about anything (short of the beach). When she isn't reading, Sarah loves to hike and go camping, travel abroad, cook new recipes, and practice photography.
Her favorite authors include Sarah Waters, Shirley Jackson, Matthew Thomas, Maria Semple, Emily St. John Mandel, Erin Morgenstern, and Victor Hugo.
LS: Sarah, thanks so much for joining us today on LitStack. We're happy you're here. I'd like to start out by discussing your earliest influences. What in your childhood informed your decision to go into publishing? Did it stem from a love of reading? What were your favorite books as a child?
Thank you so much for having me! My decision to go into publishing absolutely began with a love of reading. I thought that everyone and anyone who loved reading became English teachers, so that's what I did too, at first. After teaching for three years, I decided to shift my love of books from the education side to the publishing side. My favorite books as a child were A WRINKLE IN TIME, ISLAND OF THE BLUE DOLPHINS, and FROM THE MIXED-UP FILES OF MRS. BASIL E. FRANKWEILER. I could name so many others, but these are the first that come to mind.
LS: Much of what you seem to enjoy in the books you represent deal with immersive, high-concept universes. How important is world building and the idea of setting as a character to you as both a reader and an agent?
World building and setting are crucial – I love atmosphere and feeling transported, so I think setting the stage is vital. But even more so, I like to see how and why those new and/or interesting environments matter to a story. How do they become a character, in and of themselves? From stories rooted in the deep south and dripping with Gothic nuances to novels like STATION ELEVEN or THE AGE OF MIRACLES, in which the world has spun slightly off-axis, setting must not only be vivid and feel real, but fully involved in the story itself, too.
LS: You list Shirley Jackson and Erin Morgenstern as two of your favorite authors to read. What about these type of stories draws your attention as a reader? (Sidebar: The Night Circus and The Lottery are definitely on my personal Top Ten Re-read list, especially if I need a little inspiration).
Shirley Jackson and Erin Morgenstern just totally blew me away – they're vastly different but I love them immensely. I deeply enjoy how singular and dark their work is, for totally different reasons, and how these dark premises tend to tell us something about reality and human nature. Circuses are just innately frightening (for me), and I love the love story that Erin juxtaposes against the magical circus that goes on at night and all the forces against this young couple. The Lottery is flat-out nerve-wracking in that it tells us something realistic about society, and kind of like in THE HANDMAID'S TALE, it touches on elements and consequences of groupthink that scarily ring true to this day.
LS: What qualities do you look for in a writer before signing?
I can't emphasize unique enough. I'm drawn in, before anything else, to voice and style, and those just absolutely must feel different and stand-out. I'm also looking for uniquely pitch-able novels – stories that aren't derivative or familiar – that are high-concept enough to feel eye-catching (I don't mean fantasy, I mean imaginative and different, but rooted in enough reality). I tend to gravitate towards dark, twisty psychological tales, but it really just depends on what the story is and how it's told. It always goes back to the writing for me.
LS: I don't think we can say that a "perfect query" exists. However, there are elements that certainly make a query strong. What should a strong query contain in order to grab your attention?
I think a strong query begins with a reason why they're pitching me, specifically. Followed by a summary of their work that's succinct and well-written. I don't love humor or too much personality in a query letter – it should sound professional and immediately gripping. We don't have much time! Comps are great to see – they show an author's understanding of the market and where they might fall in it, and they help me immediately place where a book could fit. And I like seeing author bio's that show some effort to be active in the writing world, but that's not totally necessary.
LS: What's one question you wish potential clients would ask but never do?
My clients are wonderful and have asked all the great questions – like what can I do to help, how can we make this the best manuscript it can be, how does this work, etc. But I guess industry-wide, we're always hoping our clients and potential clients come into book publishing knowledgeable and realistic about the process, and timing, and subjectivity; that sometimes books just don't sell. One question that might be great is – is this personal? Because unless it's an extenuating circumstance, the answer is not at all. Since writing a book is so deeply personal, sometimes rejection can feel personal too, but it isn't.
LS: There's been such a shift in the industry in terms of successful independently published authors and the change of distribution models with the popularity of the e-book. How do you think these changes will impact editors and agents and how will you navigate this change?
I think writers are always going to write, no matter the medium or format. And this change in format likely won't change the fact that authors need editing, whether that's from an agent or an editor or a friend, and they're likely going to need help navigating the process of getting their book out into the world. I don't see e-books or self-publishing as negative changes – if anything, I'm grateful for having diverse ways to bring stories to people. I'm also glad to see a rise in audiobook popularity, as well as podcasts. All of these modes bring stories to more readers and listeners, and as long as the demand for content remains, things will be okay.
LS: When a manuscript comes across your desk, what are some elements that will make you want to represent it?
Singular ideas and strong voices. Immediate, gripping beginnings. I don't love dialogue-heavy openings, I've realized. I like descriptive beginnings that might take you somewhere else — building atmosphere and context initially – it gives me a chance to get a sense for the author's style and the tone of the novel. Starting right off with dialogue seems to circumvent those things, at least at first, for me.
LS: What's the one thing you wish writers knew before they begin the query process?
That nothing is certain and so they should put their absolute best foot forward!
LS: Can you finish this sentence for us? "It would be my dream to represent the next__________."
It's painful to choose just one, but I'd have to say Emily St. John Mandel.