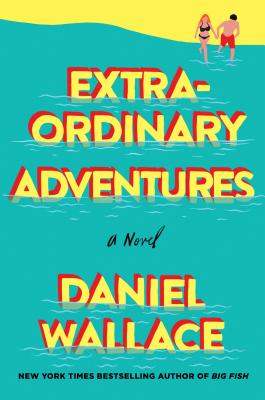 Extraordinary Adventures, by Daniel Wallace
From the author of Big Fish: A Novel of Mythic Proportions (the basis of the lovely Tim Burton film Big Fish) comes another wonderful tale about how even the most ordinary of lives can change, given the chance to believe that something unlooked for might actually be possible.
Edsel Bronfman lives a pretty lackluster life. A 34 year old shipping clerk in Birmingham, Alabama, he's the type of fellow who floats through his life, rarely wondering if there is more to living than what is held in his dead end job, his seedy apartment and his collection of complimentary ball point pens.
Then one day, something amazing happens. Out of the blue, he gets a call from a company called Extraordinary Adventures, telling him that he's won an expense paid weekend stay in Destin, Florida at the Sandscape Condominiums, complete with complimentary continental breakfast. All that needs to be done in order to claim this prize is for him and his companion – wife, girlfriend, partner, whatever – to attend a one hour time-sharing seminar once they arrive at the beach front property.
Bronfman (he rarely goes by Edsel) takes this as a sign that his life is about to change. There's only one problem. It's a couples-only opportunity, and he's never in his life been part of a couple, and currently has absolutely no potentials in his life. None, zero, zilch. Hasn't for years – actually, not ever. Now, he has 79 days to find someone willing to spend a weekend on the beach with him. And amazingly, he decides to make it happen.
What follows is an absolutely wonderful tale of Bronfman as the days until the offer expires count down. But it's not just his quest to secure a girlfriend – or, in fact, any woman who would be willing to share a condo in Florida with him for the weekend. It's also a glimpse into Bronfman's life, and the people he shares it with: his free-spirited mother who is quickly spiraling down into dementia, his shifty neighbor and the chain smoking young woman who hangs around next door, the smarmy co-worker who is the bane of Bronfman's working life but also one of his only friends. Then there is the quirky receptionist in the building where Bronfman works, who he thinks might be companion material, until she disappears the very day he's worked up enough courage to ask her out.
It's a charming, quietly unfolding tale where we see Bronfman subtly change from a forgettable man who had been content to let life slide by into someone who suddenly has potential for something more – perhaps even something extraordinary, regardless of possessing none of the skills to grasp it. Extraordinary Adventures is an uplifting (and sometimes heartbreaking) novel that will make you realize that even the most ordinary of lives can harbor amazing stories, if you simply take the time to listen.
Highly, highly recommended.
—Sharon Browning
Save
Save
Save
Save
Save