LitStack Recs: A Brief Look at Father Memoirs & Blueberry Girl
Blueberry Girl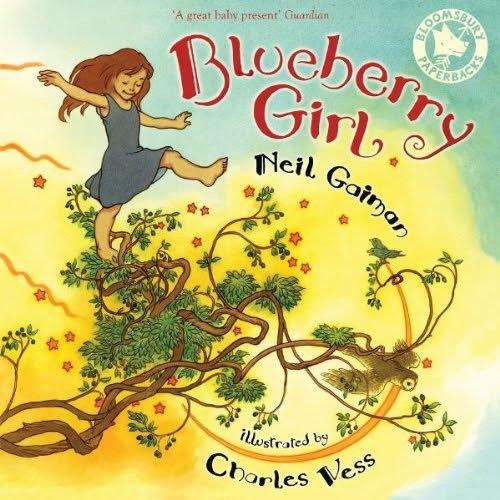 Written by Neil Gaiman
Illustrated by Charles Vess
For some reason, newborn babies seem to be pervasive in my world lately. Not for me and mine, thankfully, yet! But all around me, in my tactile world and on social media. So this week I thought I would share my recommendation for a marvelous book to give to the parents of a newborn girl (and honestly, to the parents of any newborn, or any parents, of any girl at any time, or to anyone who ever was a girl, or ever loved a girl, or ever had a girl in their lives, or whoever appreciates beautiful writing, period).
The book is an illustrated version of a poem that Mr. Gaiman's wrote to celebrate the impending birth of the first child of musician and long time friend, Tori Amos. The text is quintessential Gaiman: a touch of the mystical and a dash of fairy tale, lovingly cadenced, clear of intent and purpose yet beautifully nuanced.
Ladies of light and ladies of darkness and ladies of never you mind,
This is a prayer for a blueberry girl.
First, may you ladies be kind.
Keep her from spindles and sleeps at sixteen,
Let her stay waking and wise.
Nightmares at three or bad husbands at thirty,
These will not trouble her eyes.
Dull days at forty, false friends at fifteen–
Let her have brave days and truth,
Let her go places that we've never been,
Trust and delight in her youth.
The poem could echo the hopes and wishes of any parent (or relative or friend) for a young child, but it also speaks to the innocence and joyful naivety that (hopefully) we all have experienced at one time or another in our lives, and that we conjure up when we think of our own childhoods, or at very least, that we hope to glimpse in those much younger than what we have become.
Words can be worrisome, people complex, motives and manners unclear,
Grant her the wisdom to choose her path right, free from unkindness and fear.
Let her tell stories and dance in the rain, somersault, tumble and run,
Her joys must be high as her sorrows are deep.
Let her grow like a weed in the sun.
The illustrations are also simple and beautiful, quintessential Charles Vess (who has illustrated other Neil Gaiman works, including – in my humble opinion – the consummate version of Stardust). They enhance the text beautifully, and hearken back to a simpler, more magical time, while still holding a vitality and a whimsy that bursts from the colors as vivid as a child's imagination. The text may be written for adults, but the illustrations will captivate those of any age.
Blueberry Girl is a perfect gift for an expectant mother, a new family, an established family with a newborn, a young girl just learning to read or just coming into feminine awareness, or anyone who can remember or see what it was like to stand on the cusp of possibility – or anyone who needs to be reminded that these things still exist. And a lovely read at any time for those of us who yearn for that which is simple, and beautiful, and achingly hopeful.
—Sharon Browning