LitStack Recs: A Writer's Notebook & The Glamourist Histories
The Glamourist Histories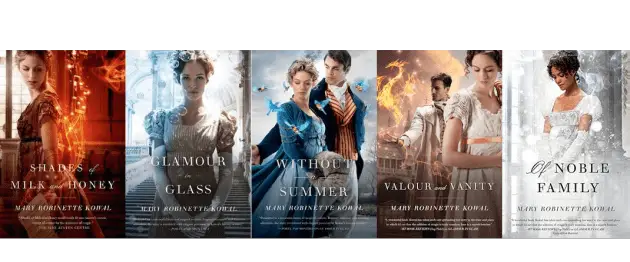 Mary Robinette Kowal
This week, I'm not going to recommend a single book: I'm going to recommend an entire series of books!
Mary Robinette Kowal's fantasy fiction series, The Glamourist Histories, is a deceptively simple yet effortlessly complex group of books that takes a fanciful turn through European history during the Regency Era. The books themselves do not involve an epic sweep of chronicled events, but instead focus on the affect of the times on the main protagonists.
To label the books of The Glamourist Histories as "alternate history" would do them a disservice; instead, I prefer to call them "enhanced history". Wonderfully written in the style of Jane Austen, everything in The Glamourist Histories is familiar, with one major exception: the existence of a particular type of magic known as "glamour". Glamour exists just outside the normal realm of the senses, within the "ether". It can be accessed by those trained to do so, and manipulated in subtle ways, utilizing threads and folds of light and sound to create lifelike images with some movement: leaves quaking on trees, breezes blowing, water flowing, bird song.
Usually, glamour is used to create "tableaus" – picturesque representations of nature scenes, pastorals, or scenes from mythology, etc, often employed during fancy dinner parties or balls, or sometimes used to dress up drab rooms in well-to-do mansions. Any young lady of gentle breeding is trained in the use of glamour, in the same way she is taught to play the pianoforte or embroider pillows, or to make polite dinner conversation.
In Shades of Milk and Honey, the first book in the series, we meet Jane Ellsworth, the eldest daughter of a family of minor standing. Jane has a pleasant personality and a noble heart, but she is also plain of face and figure, especially when set next to her beautiful younger sister, Melody. Resigned to the role of spinster, she finds contentment in her ability to utilize glamour, where her talent is quite evident even with it being mostly self-taught. When the famous glamour artiste David Vincent is employed at a nearby holding, she thrills at the chance to view the workings of glamour from a master, something that has heretofore been far beyond her reach.
Unfortunately for Jane, Mr. Vincent is aloof and brooding, with a tempestuous temper that not only keeps her at arms' length, but rebuffs her when she shows an interest in the deeper workings of his art. However, since this book has been written firmly in the style of Jane Austen, we know where the story will lead: Mr. Vincent will prove to be a man with a tortured past, a family emergency will force him and Jane to work together, and in the end they will find that they are meant to spend their lives together. As with Ms. Austen's best tales, the draw is not the story itself, but the way in which it is told.
Ah, but with subsequent books, Mary Robinette Kowal does something wonderful. As Jane and Vincent continue their adventures, their growing status as premiere glamour artistes – and an occasional penchant for being in the wrong place at the wrong time – has them interacting with major political and cultural upheavals of the day such as Napoleon's emergence from exile, the Luddite uprisings, the ascendency of Venetian glass artistry, the "Poverty Year" of 1816, even piracy on the high seas! "Everyday" conventions also come into play, both routinely and with startling revelations: class hierarchy, social proprietary norms, prejudice against others such as the Irish and Catholicism, the marginalizing of women, slavery, all meticulously researched and seamlessly utilized by author Kowal. But always, always, at the heart of the story is the relationship of Jane and Vincent – a true romance of the very best kind.
The five books of this series – Shades of Milk and Honey, Glamour in Glass, Without a Summer, Valour and Vanity and Of Noble Family – are astute, compelling, surprising and utterly charming. Although the first and the last volumes are my particular favorites, I heartily endorse each and every one of them.
—Sharon Browning