Spare, by Prince Harry
The phenomenon known as Spare is barely a week old, but the memoir by Prince Harry, Duke of Sussex, is already entrenched in the culture—in this first week, the book has sold 3.2 million copies. The millennial prince, now living north of Santa Barbara on the California coast, tells of a life that reads as history even as it's still unfolding.
Privileged but unparented
Born to Charles, Prince of Wales, in 1984, and Princess Diana Spencer, his first moments on earth were a signifier that the monarchy's succession is now secure, as spare to his elder brother's William's heir. In spite of Diana, who was determined to raise her sons with closeness and affection, both William and Harry undergo the gauntlet of boarding schools, elite (we learn that at the Ludford School in Berkshire, each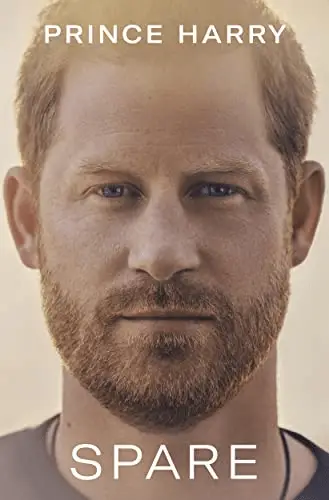 boy had a matron to wash his hair), and often harshly rigorous. There's a palpable sense of how weighty that history is—Henry VI, after all, founded Harry's secondary school in 1441—but at the same time, Harry grows up with very little of that history explained or illuminated for him, and what's expected of him, let alone any emotional support. There's little guidance from the dreamlike Charles, who loves his history books, his gardening, and of course, Camilla Parker-Bowles. The scene is heart-rending when Charles comes to Harry's room at Balmoral at dawn to break the news about his mother's death, then leaves him alone until midmorning. Diana, in contrast, was a force of love and attention, but the machinery of the Institution, as the family business is called, intervened. Of these boyhood years, there's wonderful detail, especially of the idyll that was Balmoral, the Queen's retreat in the Scottish Highlands:
"To me, Balmoral was always simply paradise, a cross between DisneyWorld and some sacred druid grove."
Balmoral is where the brothers, with their cousins, run wild in the fields, race on bikes and in go-carts, and where dinners of fish fingers are delivered to their rooms under silver cloches. On one go-cart race, Princess Euguenie is chased into the only streetlamp on the property (she suffered only minor injuries).
The young prince's formal education includes history and literature, but there's also the mandatory training toward service, and the unwritten rules of serving the public interest. The monarchy, after all, is funded by the people, and in exchange, Harry writes, there's an expectation that the royals be accessible, via those famous walkabouts certainly, but mostly through stories in the press—and this is where the antagonist of the story appears. The British press—that is, the tabloids—have exclusive access to the monarchy's day-to-day public movements (and also to their private lives, as it turns out), and has what can only be called a toxic relationship with their employers. The press corps, called the Royal Rota, we learn, have separate offices that represent the Queen, Prince (now King) Charles and Camilla, William and Kate, and Harry and Meghan. These offices must compete with each other for positive stories about their principles, as well as leak negative stories about others as a way to keep the press happy and selling papers. Spare clearly means to expose this corrupt system (which leads to false stories) the paparazzi hounding to his mother's death, and to the harassment of Harry, and later, his wife. This reader feels he's made a more than compelling case.
Chapters rich with detail
The memoir is divided into three parts. Part 1 covers his childhood, Part 2 his training and career in British Army's Royal Air Corps, and Part 3 his marriage to Meghan. The chapters in each are short in length but long on detail, and a wonder of this book is the fusion of its ghostwriter, J.R. Moehringer (author of his own memoir, The Tender Bar, as well as his collaboration with Andre Agassi on the tennis player's 2009 Open: An Autobiography), and the sensibility of its subject. Harry's emotion and point of view seem unfiltered here in the most authentic way, and elevated by Moehringer's elegant prose style and razor-sharp tone, as here, late in the memoir when the machinations of the competing Palace press offices become Machiavellian:
I spent my life dealing with courtiers, scores of them, but now I dealt mostly with just three—all middle-aged white men who'd managed to consolidate power through a series of bold Machiavellian maneuvers. They had normal names, exceedingly British names, but they sort more east into zoological categories. The Bee, the Fly, and the Wasp.
Britain its own kind of battle
In this memoir, Harry contributes to the larger conversation about loss, grief, and how trauma, especially when it remains silent, shapes children. That internalized pain is palpable in these pages. Harry writes that as a boy, roughhousing and risk-inclined, he "didn't feel pain the way that other boys did." And later, in his youth, made regrettable mistakes (the Nazi uniform debacle, the racial slurs) from what was clearly a lack of guidance and positive role models. When he finds a home and community in military service, the trauma is by then engrained, and of boot camp, he says, "I never wavered in my belief that I was exactly where I needed to be. They can't break me. Is it, I wondered, because I'm already broken?" Later, serving in Afghanistan, he writes, "I was eager. War, death, whatever—anything was better than remaining In Britain, which was its own kind of battle."
Reading Spare, with its bittersweet, happy ending, the British monarchy looks very different from the polished, staged pictures we're used to seeing. The story retrains our eyes and ears to look beyond that, to the Shakespearean-level schemes that take place behind the curtain. Harry writes that he doesn't want to see the monarchy end, but after reading Spare, this reader wonders what narrative the palace could offer that would be half as compelling as his.
Read Rebecca Mead's short take on the Shakespearean motifs in Spare, here.
—Lauren Alwan